Final Bow: Nostradamus Looks Back as Brad Oscar Says Goodbye to Something Rotten!
Night after night, Brad Oscar gets to bring down the St. James Theatre as the soothsayer Nostradamus in Broadway's Something Rotten! Right in the middle of the first act, Oscar leads the show's talented ensemble in the gigantic production number "A Musical," which pays loving homage to the history of musical theater. For his work, which literally stops the show, Oscar received a Tony Award nomination and the kind of acclaim that makes a performer feel not just lucky, but fortunate.
As the show gets ready to end its nearly two-year run, Oscar, who also starred at the St. James in The Producers, talks RuPaul, his love for the St. James house crew, and casting Brian d'Arcy James in Omelette.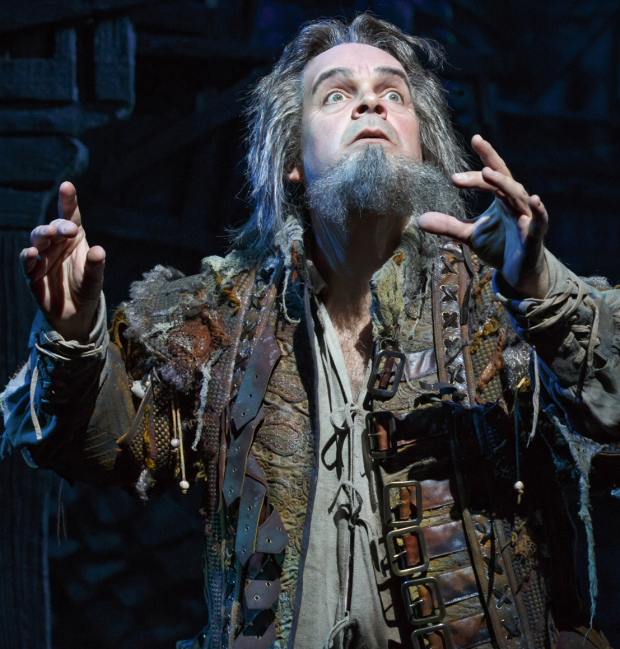 1. What is your favorite line that you deliver?
The brothers have a little fight, I have a vision, and I say "Yoko." The audience then gets it to whatever degree they get it, Nick says "What?" and I say, "I have no idea." It's my favorite line because of the way it varies night to night, the reaction that it gets, and then the subsequent tag of the line. That is such an interesting barometer [of the audience].
2. Everyone loves inside jokes. What is the best one from your show?
The big joke through opening, because we were working on the show every day, was "new courtroom pages." The running gag for a while after that was "Oh, there are new courtroom pages."
3. Every show experiences technical difficulties. What was the worst technical difficulty experienced during your show and how was it handled?
I'd say the worst was when one of the Vera lights, out in the house over a box on stage right, started going crazy, making this loud flapping [noise]. We were waiting to stop the show, but we didn't. And it felt like it went on forever.
4. What was the most "interesting" present someone gave you at the stage door?
An absolutely fabulous, very well detailed little Nostradamus doll. Also, this dear girl did caricatures for several company members…so an amazing caricature.
5. Who is the coolest person that came to see your show? (You can't say your family!)
RuPaul is a huge fan and has seen the show, I think, three times now. I'm a fan, so that's always fun when someone you admire comes back. It's been great to meet Mama Ru.
6. What is it like to bring down the house with the production number "A Musical" every single night?
Like every dream I ever had as a child, pretty much. I still will never ever really forget the reaction that number got for previews and several months after we opened. We thought people were going to dismiss it or pooh-pooh it: "We've seen musical numbers about musicals." That was my fear. But because the way the number is done, through our own voice, everybody loved it. And those initial nights, when we first got in front of an audience, I will never forget that as long as I live. Of course we had to hold, because they were on their feet. It was just thrilling.
7. Has the St. James Theatre changed at all in the time between when you did The Producers there and now Something Rotten!?
Not a lot. It's the theater where I saw my first Broadway show, much less the whole Producers experience. A lot of stuff goes into making a theater and a house, not just the physical, the theater owner and how its kept up, and the staff that's there through every show. The house crew, many of whom were there when I was in The Producers, are a great bunch of guys. Every show becomes a family. It's so great when everybody does get along, and this house crew is fantastic. It's been thrilling to be back here.
8. What is your favorite musical-theater allusion within the score?
I love the hidden ones. I love that at the very end of ["A Musical"], there's a Sweeney Todd [allusion] in the orchestration. I think ninety percent of the people don't hear it. Also, because I'm such a big theater geek, to get to stand there onstage and do the Chorus Line pose at the end of the number, holding the pictures in front of our faces. That's so fun because it's something I'd never get to do.
9. What do you think the Bottom Brothers write when they get to America?
I think they write…Let's just say Prettybelle. Really obscure and random.
10. Who would star in an actual musical version of the show-within-the-show Omelette?
I think Brian d'Arcy James. Brian d'Arcy James should star in every show, for the audience and company backstage.