Celebrate Freedom With a Showtune: Broadway's Independence Day Week Schedule
This 4th of July, all of Broadway's shows will be taking a much needed break to celebrate our nation's birth. But in the days leading up to the holiday, New Yorkers and NYC visitors will have the opportunity to take in a wide range of plays and musicals. TheaterMania has compiled a list of the holiday week's theatergoing schedule, from today through July 3. On Monday, July 4 itself, the off-Broadway productions of The Fantasticks and Perfect Crime, will be among the shows in Midtown's theater district with performances.
Several of these shows are also running an Independence Day discount. Chicago, Arthur Miller's The Crucible., The Curious Incident of the Dog in the Night-Time, Fun Home, Kinky Boots, She Loves Me, and Something Rotten! are providing a $40 discount on tickets for July 4th weekend, as part of the "Star-Spangled Broadway" initiative.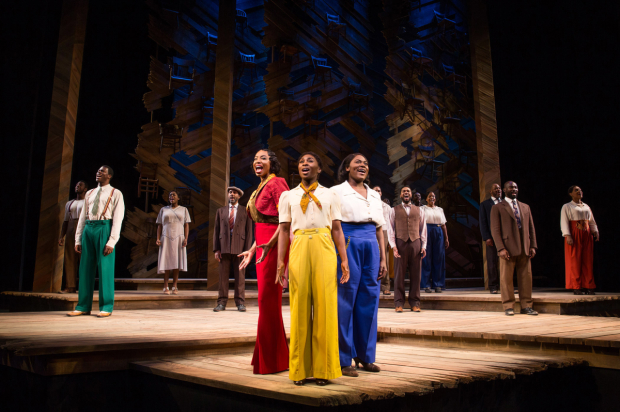 Wednesday, June 29
An Act of God — 2pm and 7pm
Aladdin — 1pm and 7pm
An American in Paris — 2pm and 8pm
Beautiful — The Carole King Musical — 2pm
The Book of Mormon — 7pm
Chicago — No performance
The Color Purple — 2pm and 8pm
Arthur Miller's The Crucible. — 2pm and 8pm
The Curious Incident of the Dog in the Night-Time — 2pm and 7:30pm
Fiddler on the Roof — 2pm
Finding Neverland — 2pm and 7:30pm
Fully Committed — 2pm and 8pm
Fun Home — 2pm and 7pm
Hamilton — 2pm and 8pm
The Humans — 2pm and 8pm
Jersey Boys — 2pm and 7pm
Kinky Boots — 2pm and 8pm
Les Misérables — 2pm and 8pm
The Lion King — 2pm and 7pm
Matilda The Musical — 2pm and 7:30pm
On Your Feet! — 2pm and 8pm
Cirque du Soleil Paramour — No performance
The Phantom of the Opera — 8pm
School of Rock — 2pm
She Loves Me — 2pm and 8pm
Shuffle Along — 2pm and 8pm
Something Rotten! — 2pm and 8pm
Waitress — 2pm and 7:30pm
Wicked — 2pm and 7pm
Thursday, June 30
An Act of God — 7pm
Aladdin — 7pm
An American in Paris — 7pm
Beautiful — The Carole King Musical — 7pm
The Book of Mormon — 7pm
Chicago — 8pm
The Color Purple — 7pm
Arthur Miller's The Crucible. — 7pm
The Curious Incident of the Dog in the Night-Time — 7pm
Fiddler on the Roof — 7pm
Finding Neverland — 7:30pm
Fully Committed — 8pm
Fun Home — 7pm
Hamilton — 7pm
The Humans — 7pm
Jersey Boys — 7pm
Kinky Boots — 7pm
Les Misérables — 7pm
The Lion King — 7pm
Matilda The Musical — 7pm
On Your Feet! — 7pm
Cirque du Soleil Paramour — 7:30pm
The Phantom of the Opera — 2pm and 8pm
School of Rock — No performance
She Loves Me — 8pm
Shuffle Along — 7pm
Something Rotten! — 7pm
Waitress — 7:30pm
Wicked — 8pm
Friday, July 1
An Act of God — 8pm
Aladdin — 8pm
An American in Paris — 8pm
Beautiful — The Carole King Musical — 8pm
The Book of Mormon — 8pm
Chicago — 8pm
The Color Purple — 8pm
Arthur Miller's The Crucible. — 8pm
The Curious Incident of the Dog in the Night-Time — 8pm
Fiddler on the Roof — 8pm
Finding Neverland — 8pm
Fully Committed — 8pm
Fun Home — 8pm
Hamilton — 8pm
The Humans — 8pm
Jersey Boys — 8pm
Kinky Boots — 8pm
Les Misérables — 8pm
The Lion King — 8pm
Matilda The Musical — 8pm
On Your Feet! — 8pm
Cirque du Soleil Paramour — 8pm
The Phantom of the Opera — 8pm
School of Rock — 7:30pm
She Loves Me — 8pm
Shuffle Along — 8pm
Something Rotten! — 8pm
Waitress — 8pm
Wicked — 8pm
Saturday, July 2
An Act of God — 2pm and 8pm
Aladdin — 2pm and 8pm
An American in Paris — 2pm and 8pm
Beautiful — The Carole King Musical — 2pm and 8pm
The Book of Mormon — 2pm and 8pm
Chicago — 2:30pm and 8pm
The Color Purple — 2pm and 8pm
Arthur Miller's The Crucible. — 2pm and 8pm
The Curious Incident of the Dog in the Night-Time — 2pm and 8pm
Fiddler on the Roof — 2pm and 8pm
Finding Neverland — 2pm and 8pm
Fully Committed — 2pm and 8pm
Fun Home — 2pm and 8pm
Hamilton — 2pm and 8pm
The Humans — 2pm and 8pm
Jersey Boys — 2pm and 8pm
Kinky Boots — 2pm and 8pm
Les Misérables — 2pm and 8pm
The Lion King — 2pm and 8pm
Matilda The Musical — 2pm and 8pm
On Your Feet! — 2pm and 8pm
Cirque du Soleil Paramour — 3pm and 8pm
The Phantom of the Opera — 2pm and 8pm
School of Rock — 2pm and 7:30pm
She Loves Me — 2pm and 8pm
Shuffle Along — 2pm and 8pm
Something Rotten! — 2pm and 8pm
Waitress — 2pm and 8pm
Wicked — 2pm and 8pm
Sunday, July 3
An Act of God — 3pm
Aladdin — 3pm
An American in Paris — 3pm
Beautiful — The Carole King Musical — 2pm and 7pm
The Book of Mormon — 2pm and 7pm
Chicago — 2:30pm and 7pm
The Color Purple — 3pm
Arthur Miller's The Crucible. — 3pm
The Curious Incident of the Dog in the Night-Time — 3pm
Fiddler on the Roof — 2pm and 7:30pm
Finding Neverland — 3pm
Fully Committed — 3pm
Fun Home — 3pm
Hamilton — 3pm
The Humans — 3pm
Jersey Boys — 3pm
Kinky Boots — 3pm
Les Misérables — 3pm
The Lion King — 3pm
Matilda The Musical — 3pm
On Your Feet! — 3pm
Cirque du Soleil Paramour — 2pm and 7pm
The Phantom of the Opera — No performance
School of Rock — 1pm and 6pm
She Loves Me — 2pm
Shuffle Along — 3pm
Something Rotten! — No performance
Waitress — 3pm
Wicked — 3pm