Review: The Popular Sesame Street Musical Returns Off-Broadway in a New Theater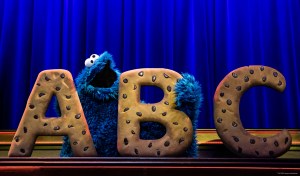 Sesame Street: The Musical has returned to New York this summer in a production that's similar to the one that played at Theatre Row last year (a few cuts were apparently made to bring down its running time to 60 minutes, from its previous 75). From the set (by Tyler Schank) to the well-known songs to the endearing Muppets bouncing behind a wall and on top of a small stage within stage, it's basically a return engagement of what you and your family may have seen last year.
What's different now is the theater where it's playing — Theater 555. This venue occupies the space that used to be known as the Pearl, which was where you would find excellent revivals of Shakespeare, Ibsen, and Shaw on a regular basis. The great thing about the venue itself, though, is the steep rake of the seating, which makes it the perfect place to stage a show for kids (though the first row might be a little more difficult for small ones to see from). I came to Sesame Street with my 6-year-old friend Nadia and her parents, and from Row F she didn't need the booster seat to have a clear view of the stage (we got her one anyway). You don't realize how important sightlines are until your child can't see a show. Thankfully, that's much less of a problem here.
As for the musical itself, if you've watched Sesame Street on TV even a little bit, you'll probably find yourself smiling and singing along with the squealing tots around you. In the show, some of Sesame Street's most popular characters — Ernie, Bert, Elmo, Gabrielle, the Martians, Grover, and a host of others — are basically putting on a musical about putting on a musical (it's very meta). The conflict arises when they forget to find a guest star for the final number, so they recruit a lost audience member (endearingly played by Genevieve Joers) to join them.
Along the way we watch the Muppets do their thing. Cookie Monster sings "'C' Is for Cookie," Elmo dances to "Elmo's Got the Moves" accompanied by spinning disco balls, and Ernie coos his "Rubber Ducky" number while bubbles swirl out into the audience and youngsters jump up from their seats to grab them. As you can imagine, the theater gets loud and rambunctious, and that's all part of the fun. It was the biggest indication to me that the show is not a dud. The kids loved it.
Are the new songs memorable? No, you can't compete with the classics. But one of the things director Jonathan Rockefeller has done especially well is fill the stage with color and lively movement. Are the kids paying close attention to what's happening when the talking starts and the music and dancing stops? I know I wasn't — except for one scene in which Joers gets some helpful advice about how to belly-breathe when you feel anxious: Put your hand on your stomach, inhale through your nose, and exhale through your mouth. Good for kids, but I couldn't help thinking that scene was directed at the adults in the audience.
At 60 minutes, Sesame Street: The Musical is probably right on the edge of where kids and grown-ups start to teeter into fidget mode, so it's good that it ends when it does. But I know that for Nadia, it was definitely a fun hour. She gave it two thumbs up. That's good enough for me.