Review: Five Sisters Face a Disappearing Legacy in Bernarda's Daughters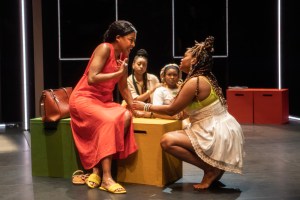 "What's the name for a mother whose kid is dead?" asks Lena (played by Kristin Dodson), the youngest and most opinionated of the five sisters in Diane Exavier's quietly powerful Bernarda's Daughters, a play about silences, destroyed legacies, and the painful efforts of six Haitian women to fill the voids left by betrayal. The play, now running in a production by the New Group and National Black Theatre, revels as much in humor and lyrical language as it does in asking about other words that we've failed to create for one reason or another. More often than not, the play implies, women's experiences go unnamed because they have so often been devalued and disenfranchised by society — Black women's experiences in particular.
Exavier takes inspiration from Federico García Lorca's The House of Bernarda Alba, which looks at a mother and her ironfisted control over her daughters. Exavier forgoes anything resembling Lorca's scenes of high drama and turmoil, focusing instead on the suffocating atmosphere created by societal forces around the five Abellard daughters and their grandmother.
There's no need to show us turmoil when we can sense it happening all around the sisters' Edwardian house on a hot summer day in Flatbush, Brooklyn. A young Black man has been killed by police, and protests are taking place on the street (Kathy Ruvuna's sound design lets us hear the shouts in the background like they're everyday traffic noise). Harriet (Alana Raquel Bowers) is very much about minding her own business, but Adela (Taji Senior) feels like they should be out protesting, even though she admits to never having been to a march herself. Eldest sister Louise (Pascale Armand) takes a practical approach. "I can't be marching down Nostrand talking about 'Fuck the police,'" she says. "I'm a nurse for a city hospital. I have a pension to care about."
Though the play takes place in an Edwardian house, there's nothing about the set to suggest that. The building's walls (set design by Carlos J. Soto) are made of transparent scrim, suggesting a structure that is disappearing before our eyes. In a certain sense, it is. The neighborhood is gentrifying, tall buildings with expensive apartments are going up, and white folks are walking down streets they never would have dared walk down before. "I saw this white girl — blonde hair, blue eyes, the whole thing — she got off at Newkirk the other day," says the middle daughter Maryse (Malika Samuel). "I almost wanted to ask if she was lost."
But more than the neighborhood is changing. Their father has just died, and their mother has taken him back to Haiti to be buried. Louise, daughter by another woman, wants to use land she owns in Haiti to open a resort. She then comes to discover that her father made some bad business decisions and lost not only her land but also the house that they are all presently living in. Armand captures Louise's frustration with an expression of outraged fatigue, and soon after stiffens her eyes with determination as Louise comes up with a plan to marry a white man for his money. Marrying for love? So American.
Directing an exceptional cast, Dominique Rider creates an atmosphere that balances the women's sense of dignity with a blistering rage, an anger that they tend to hide with humor. The play's opening scene bursts with laughter as the sisters banter with one another even while they talk about the things that are bothering them most (during the play's longer speeches, lighting designer Marika Kent creates shadowy refuges for them to express themselves).
This is especially true of the women's grandmother, Florence Delva, played with oracular grandeur by Tamara Tunie (her hair, designed by Courtney Cody Alney, and dresses, by Rodrigo Muñoz, suggest her ties to another time and place). Tunie's rolling voice is like a wave breaking on a beach as Florence tells Adela about their family's history back in Haiti and reveals Adela's true name — a single letter of which gives Adela a new connection to her past.
Bernarda's Daughters doesn't provide tidy resolutions for the women's stories. We're left instead watching them await the return of their mother as they speak their world into existence. Words, at least, remain theirs.