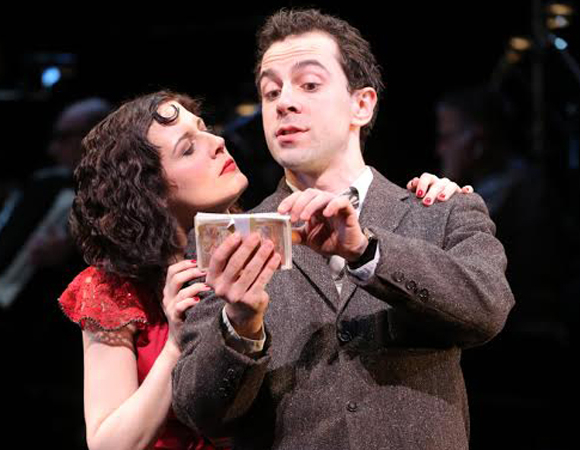 It's tragic when comedy falls flat, especially when performers are trying so hard. Such is the unfortunate case with John Doyle's revival of Irma La Douce, a long-forgotten French musical farce now being presented as the closer of the current New York City Center Encores! season. Despite a more-than-game cast led by Rob McClure, humorless direction gets in the way of earning the production the thing it most yearns for: laughs.
Irma La Douce holds the distinction of being the first musical to be produced by Encores! that did not originate in America. The music is composed by the estimable French songstress Marguerite Monnot —best known for her collaborations with singer Edith Piaf — specifically the songs "La Vie En Rose" and "Hymne a l'amour." The original French book and lyrics are by the poet Alexandre Breffort; his efforts were later translated into English by the trio of Julian More, David Heneker, and Monty Norman. The show premiered on Broadway in September 1960 after a four-year run in Paris and a subsequent three-year run in London. It hasn't been seen since closing in 1961.
What the show's five authors crafted was a silly trifle of French farce. The story concerns the relationship between Nestor (McClure), a French law student, and the titular Irma La Douce (Jennifer Bowles, the only female in the cast), the streetwalker with whom he falls in love. Jealous at the thought that Irma sleeps with other men, Nestor concocts an alternate identity, an older fellow who becomes Irma's only client. Soon, Nestor becomes wildly jealous of this fake persona and must do away with him — a feat that lands him in scalding-hot water.
Everything involved with this storyline should be funny, and it's clear that we're supposed to be laughing, but we're not. As New York audiences have past seen, director Doyle is a master at creating impactful productions of serious musicals, but in his first real foray into musical comedy, he doesn't show the same adeptness he has for dramas. Tonally, this production is confusing, taking itself way too earnestly to be funny, and yet not seriously enough for you to care about the romance. It feels as if there are no stakes within the relationship of Nestor and Irma, even when he's mistakenly shipped off to prison in the second act. McClure, a Tony nominee for his performance as the title role in Broadway's Chaplin, and Bowles, a Broadway hoofer in her first principal role, work very hard, but they fail to ignite the requisite sparks. The same can be said of the 11-member ensemble, all of whom have turned in more memorable performances elsewhere.
One could suggest that all of the problems are by-products of this being a concert staging, but in actuality, Irma La Douce is the most fully staged musical Encores! has ever presented. The actors don't use scripts, and Ann Hould-Ward's costumes and Paul Miller's lighting are of the sort that you would see in complete production on Broadway. Rob Berman's Encores! orchestra is top-notch as always, and Chase Brock's choreography is pleasant, if needlessly athletic. And for the first time, in celebration of his 63 consecutive Encores! shows, of which this is his last, John Lee Beatty has provided an extravagant, stage-filling barroom set. If only this staging of Irma La Douce were more worthy of the great send-off that Beatty has provided for it.