Interview: Eddie Redmayne on the Joys, Fears, and Learning Experiences of Cabaret
Eddie Redmayne is in Croatia while we're Zooming together. The project he's working on — which he doesn't mention but is easily Google-able — is a far cry from what we're about to discuss: John Kander, Fred Ebb, and Joe Masteroff's Cabaret. Redmayne was one of the glittery artists who helped reopen the West End after the prolonged Covid shutdown in an all-new immersive production of the classic musical, taking on the role of the Emcee opposite Jessie Buckley (Sally Bowles), Liza Sadovy (Fraulein Schneider), Elliot Levey (Herr Schultz), and Omari Douglas (Cliff Bradshaw).
Rebecca Frecknall's revival was the toast of London when it opened in November 2021, taking home seven Oliviers, including Best Revival. Redmayne himself won the Olivier, as well as a WhatsOnStage Award, for his performance. Redmayne is no longer with the West End mounting (he will — ahem — reportedly star in the upcoming Broadway mounting this spring, but mum's the word), though his performance lives on in the Grammy-eligible live recording, which captures the anarchic spirit of his performance. Here, he tells us about building his own Emcee and how difficult it really was to stick the landing.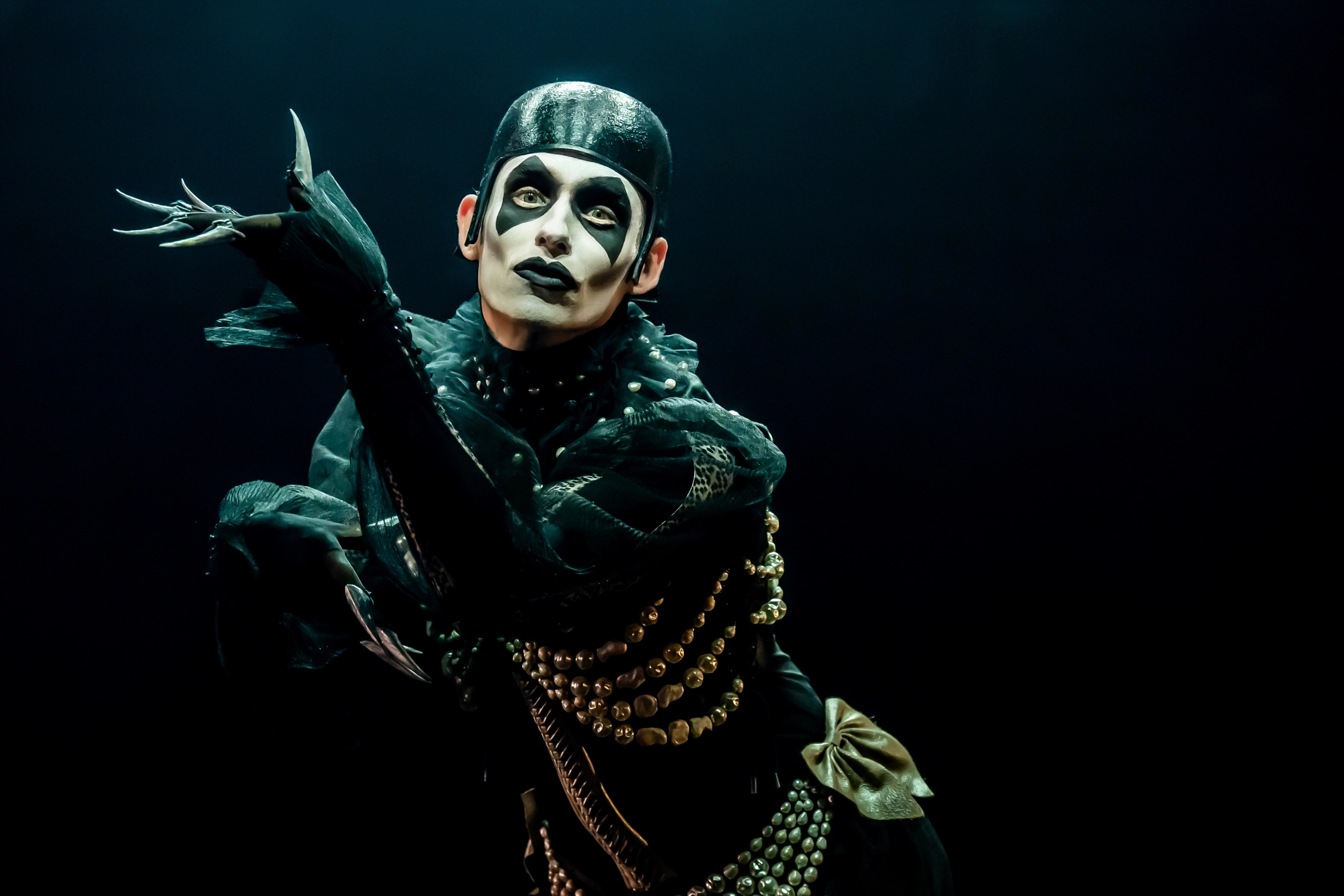 This conversation has been condensed and edited for clarity.
Cabaret is one of my favorite shows, and it's one of yours too, right?
It absolutely is, yeah. It's a scary one to undertake, Cabaret, because it's a lot of people's favorite show.
Looking backwards on your run, looking forward to whatever happens next, what has this whole experience been like for you?
One of the most amazing things about the production that [director] Rebecca Frecknall put together and dreamed up with [designer] Tom Scutt is that it's in the round, which makes the audience a literal part of the piece. It changed every night, and it changed every moment of every night. And given that, for the Emcee, the other character in the scene with him is often the audience, it just was one of the most alive, vibrant theatrical experiences I've ever had. You had extraordinary audience members, you had joy, you had anarchy, it changed every day. And that was completely thrilling.
I've been back to see every cast that's taken over since I left. What Rebecca has crafted is a piece that has a form, but also allows for absolute individuality to flourish within that. Every Kit Kat member has their own personality, their own costume, their own vibrancy. I honestly feel, at this point, thrilled to be part of this amazing legacy.
I know a lot of actors don't enjoy looking at themselves in a project — have you listened to the live album and what did you think?
You're absolutely right that a lot of actors do not enjoy hearing themselves, but I have listened to the album. I tend to dwell more on other people's songs than my own, because it takes me back to the memories of standing in the wings, waiting. Every night, I would introduce Jessie Buckley to sing "Cabaret" and would go and peek through the curtain to watch her deliver this roar of a song. Those are the memories that I take away, and having that captured in the live recording is everything for me. When I listen to it, it's about going back to a wonderful place in my memory.
Live recordings are especially rare on Broadway, and much less so for the West End. So this album almost feels like you're there. I listened to it while exercising the other day.
Which song has a good rhythm to it?
I mean, all the Kit Kat Club numbers do. "Money Makes the World Go 'Round."
Yeah. It's really important that it was a live recording because the Emcee, in some ways, falls flat if he doesn't have something to interact with, given that the audience is the other character. The idea of canned laughter is sort of absurd. I love that there are moments in it that people are laughing and the person listening, unless you've seen the show, has no idea what's going on.
What kind of toll did this show take on you as an actor and singer, eight times a week?
Physically, it was an extreme toll. I'm not going to lie. I've not done anything like this. First thing in the morning, you're in the shower checking that all the vocal pieces are there, and you fear that they're not. My struggle was always finishing the anarchy of "Two Ladies," because the Emcee would scream and be all over the place, and then I would have to find the poise to come into this choral version of "Tomorrow Belongs to Me," where I sing the top vocal part over three of my own recorded voices.
I really struggled with that for the first couple of weeks. It was our brilliant choreographer, Julia Cheng, who is a stunning dancer and a brilliant spirit, who helped me when I appealed to her. One night, she took me from when I came off stage after "Two Ladies" and walked my track with me to where I had to come on for "Tomorrow Belongs to Me," giving me breathing exercises and almost a meditation, because it was my anxiety that I was struggling with. That was very helpful.
Ok, to be cheeky about this last question…
[Laughs]
What can't you tell me about your future with Cabaret in a city called New York…
[Laughs again]
I know, I know.
You know, I'm thrilled that Broadway is going to get this production. I'm really thrilled for Rebecca. She's one of the great directors of our time. She's stunning. And Tom and Julia and the designers…I'm so excited to Broadway to hear their voices in some ways. And Jordan, our associate director. These are brilliant voices and I feel lucky to have spotted some of their work early in London, and for Broadway to get to be introduced to their work, I'm just really excited.