"Daddy" Goes Skinny-Dipping in Interracial Waters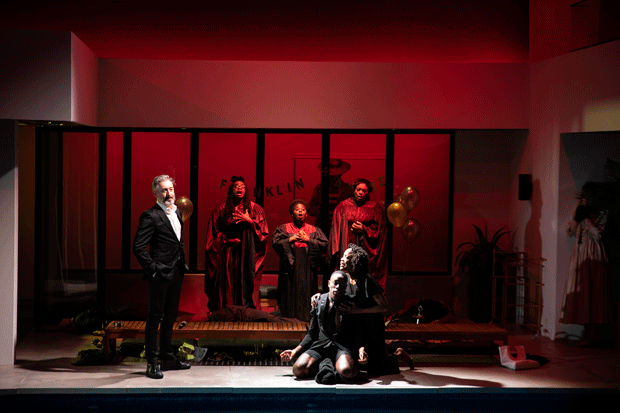 Few playwrights working today have done more to derail what people think they know about race than Jeremy O. Harris. His sensational Slave Play thrilled, outraged, and offended audiences as it forced them to look at the legacy of American racism through the prism of a sexual fetish while examining the secrets that that fetish revealed about human desires. He has done something similar in his new play, "Daddy", now running in a New Group and Vineyard Theatre production at the Pershing Square Signature Center, but here Harris has turned his attention to a "daddy-son" relationship, in which an older and a younger man partner up. With its trenchant inquiry into black and white relationships and the historical dynamics that influence them, the play packs a wallop. But "Daddy" falters in the end by explaining too much.
Set in the rarefied world of Bel Air, "Daddy" takes place at the sleek, Basquiat-filled home of art collector Andre (Alan Cumming), a white middle-aged man who wears Thom Browne (costumes by Montana Levi Blanco) and falls hard for a young black artist named Franklin (Ronald Peet). Franklin is on the verge of cracking the Beverly Hills art scene with his "weird dolls of black boys, possibly me" that are featured in an exhibition that he has titled, provocatively, "Daddy."
As his work begins to catch on with white art buyers, Andre and Franklin's relationship quickly evolves into a daddy-son relationship, with Andre taking on the role of Franklin's father, teacher, protector, sexual partner, and occasional spanker. But with the unexpected arrival of Franklin's deeply religious mother, Zora (Charlayne Woodard), a tug of war ensues between her and Andre, causing Franklin to regress into a childlike state in order to reconcile his two "parents" and bring the three of them together as a family. The two powerful forces of this father and mother, however, threaten to tear him apart.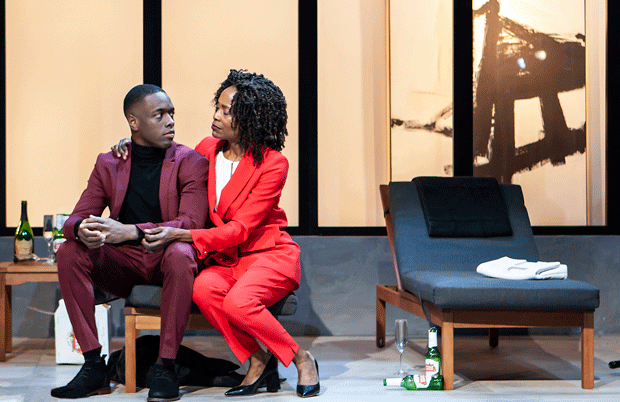 "Daddy" promises a lot from the beginning — and it mostly delivers. Harris raises questions of money and power, the politics of sexual submission and domination, art and its commodification, and the relation of white privilege to all of these in the first couple of scenes alone (I counted more than a dozen heady issues in the three-act, three-hour play). He then blends them in an ornate tapestry of evocative, often religious symbolism, including a large swimming pool that makes up a big part of Matt Saunders's extraordinary set — at times it's a baptismal font, at other times a womb. (If you sit in the first few rows, you will get wet.) Lee Kinney's synthesized music — think the Twin Peaks theme à la John Carpenter — gives an ominous effect to the ripples of reflected light from the pool.
The performances are rich with implications, too. From the opening scene, Cumming and Peet create a fiery yet dysfunctional dynamic that we can see is headed nowhere good. We're never in doubt about what the middle-aged man wants as he rubs his face against Franklin's leg like a cat on a scratch post. But when they're naked onstage (as they often are) and locked in a sexual pretzel, we see Franklin's ambivalence about the relationship. What does he want from this older man? Why does he need this white man?
Three friends try to help him figure it out: Franklin's twinkish BFF Max (Tommy Dorfman as an occasionally insightful party boy), Bellamy (a hilarious Kahyun Kim as a selfie-obsessed millennial), and Alessia (Hari Nef as a gallery curator who wants to stick it to the heteronormative patriarchy). But it's not till Franklin begins constructing a larger-than-life doll family of his mother, Andre, and himself that the answers begin to appear.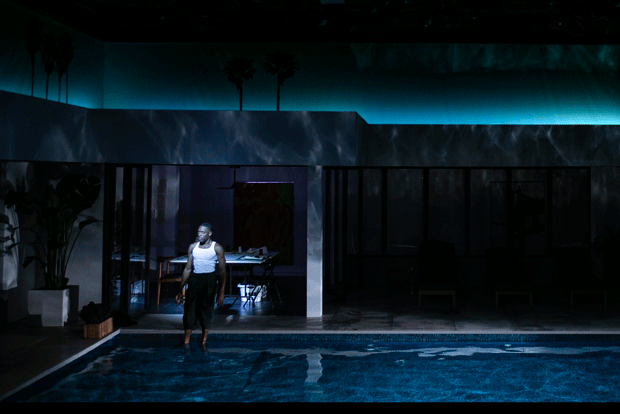 Woodard is wonderfully venomous as Franklin's domineering mother, who serves up generous helpings of passive-aggressive guilt that works Franklin's subconscious into a frenzy. In a play brimming with all sorts of threesomes (trinities, if you prefer), Harris inventively uses a three-member gospel choir (Carrie Compere, Denise Manning, and Onyie Nwachukwu) to show us how Zora's and Andre's obsessive claims to Franklin affect his inner life. Director Danya Taymor, who masterfully directed Antoinette Nwandu's masterpiece Pass Over last year, effectively executes Harris's other theatrical experiments, particularly later in the play in a phantasmagoric Last Supper-like scene, nightmarishly illuminated by Isabella Byrd.
It's around that scene, unfortunately, that the play goes awry. In the first two acts of "Daddy", Harris creates dramatic tension with ambiguous visuals, such as Franklin's life-size doll of a faceless Andre. But in the final scenes, the spell is broken when Franklin talks lucidly about what's bothering him, and Zora offers a forced, dreamlike rehash of her relationship with her ex-husband (Cumming, with an unconvincing accent, tackles that small role as well). The result is an extended, anticlimactic denouement — an example of ruining the magic by explaining too much. Even so, "Daddy" is an important, must-see work for all the things that it does well, not least of which is providing a safe place for uncomfortable discussions about race in America. Harris still has much to teach us.