5 Questions With Lara Pulver, Star of The Cradle Will Rock, Gypsy, and Sherlock
"It's weird, actually," British-born actor Lara Pulver admits of her career path, which has taken her from the West End to Los Angeles and back, only now stopping, for the first time, in New York City.
Back home in England, Pulver became known for a series of excellent stage performances: Lucille Frank in the Donmar Warehouse's 2008 production of Jason Robert Brown and Alfred Uhry's Parade; and Louise, opposite Imelda Staunton as Rose, in Gypsy in 2015, for which Pulver won an Olivier. A flurry of screen roles happened in between: Sookie Stackhouse's fairy godmother Claudine in Season 3 of True Blood; counterterrorism agent Erin Watts on the BBC's Spooks; and, most notably, the sly dominatrix Irene Adler in the Emmy-nominated Sherlock episode "A Scandal in Belgravia. "
Pulver and her family first settled in New York City this past September, only moving to this coast because her husband, actor Raza Jaffrey, landed a TV show that shot here. In short order, Pulver lined up her New York theatrical debut: the role of Moll in John Doyle's new production of Marc Blitzstein's legendary operetta The Cradle Will Rock at Classic Stage Company. There were a few logistics to work out, of course; Pulver and Jaffrey are parents to a two-year-old son. His filming ended when her rehearsals began, and after a "baby handover," Pulver embarked on the next phase of a wide-ranging career.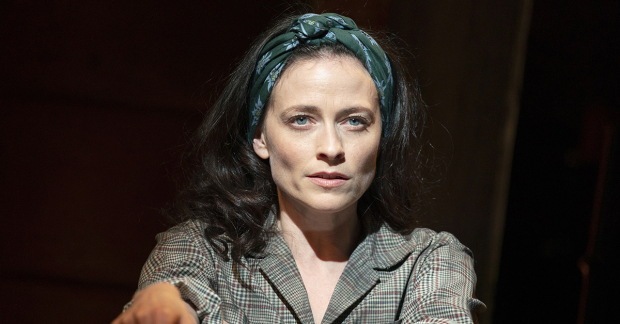 1. What was your first reaction to The Cradle Will Rock when you read it?
I read it not knowing its relevance in history for Americans, and not knowing it was sung-through. It's an odd, interesting piece. I'm not totally sure I still fully get it, but I'm OK with that. It was quite a trailblazer. Some of the things Marc Blitzstein was putting out there in 1937, I can imagine, would have ruffled some feathers. Still, you look at the audience and some people are very uncomfortable. You see its relevance and the connections with where we are today and you go, "As a species, we never bloody learn."
2. What is it like to be in one of John Doyle's no-frills, stripped-down productions?
John has a really interesting mind. He's a book of knowledge. The stories and tales he has to tell, and the facts that he pulls out of god knows where, are extraordinary. It has just been fantastic to not only work with this company, but with John. I feel like I've gained something as a person.
3. You appeared in two buzzy London revivals of classic American musicals, Parade (2008) and Gypsy (2015), for which you won an Olivier. Is there a chance those projects will ever come to New York?
I think the Roundabout Company really wanted to bring Gypsy over, but the theater we were offered, Studio 54, didn't have an orchestra pit. Our production of Gypsy was so interactive with the conductor that a pit was quite integral to the production. Parade at the Donmar was what took me to Los Angeles. Rob Ashford's production was so beautiful. Let's make them happen!
4. Your episode of Sherlock is widely regarded as one of the show's very best. What was the experience like, and do you get recognized from it?
I don't know if it's specifically from Sherlock, but sometimes. The other day, people thought they were being really discreet on the subway. "Do you think that's…," and I wanted to say, "I can hear you!"
There was something quite magical about "A Scandal in Belgravia." It was just fun, and Andrew Scott and all of those guys were just brilliant. It was beautifully written, it was fantastically shot, and everyone within their department was at the top of their game. I really think, regardless of whether I was in it or not, that it was the best episode of the series.
5. As someone who has worked on stage and screen, what is the ultimate career goal for you?
First and foremost, I'm a theater actor, and then my career went in a different direction. When I left drama school, it was at the very start of celebrities being put into leading roles to get bums in seats. I was in my third or fourth contract when I started thinking that if I didn't make a name for myself, there's a ceiling to where I could go within theater. So it was a deliberate choice to then go into television and film.
I've got all the tools for the right project on Broadway, I think, but for me, it's not even a case of if I want to do Broadway. I just want to work with really interesting, creative, nice, good people.