Tina Fey and the Company of Mean Girls Meet the Press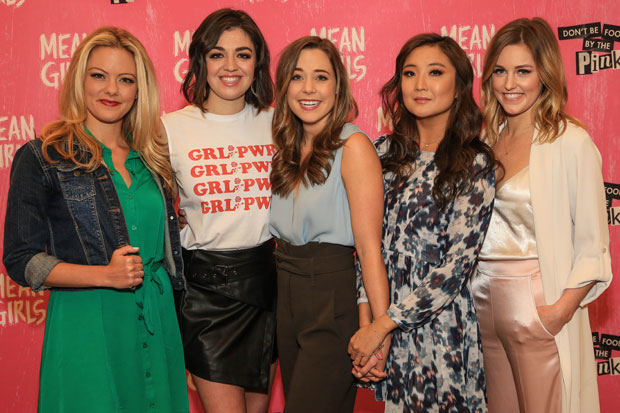 The company of Broadway's Mean Girls met the press today in advance of performances set to begin March 12. Check out photos from the event in the gallery below.
Featuring a book by nine-time Emmy winner Fey, a score by three-time Emmy winner Jeff Richmond and Tony nominee Nell Benjamin, and direction and choreography by Casey Nicholaw, Mean Girls is set to open on April 8.
The cast of Mean Girls is led by Erika Henningsen as Cady Heron, Taylor Louderman as Regina George, Ashley Park as Gretchen Wieners, Kate Rockwell as Karen Smith, Barrett Wilbert Weed as Janis Sarkisian, Grey Henson as Damian Hubbard, Kerry Butler as Ms. Norbury, Kyle Selig as Aaron Samuels, Cheech Manohar as Kevin Gnapoor, and Rick Younger as Mr. Duvall.
The ensemble includes Stephanie Lynn Bissonnette, Tee Boyich, Collins Conley, Ben Cook, DeMarius Copes, Kevin Csolak, Devon Hadsell, Curtis Edwin Holland, Myles McHale, Chris Medlin, Brittany Nicholas, Becca Petersen, Nikhil Saboo, Jonalyn Saxer, Brendon Stimson, Kamille Upshaw, Zurin Villanueva, Gianna Yanelli, and Iain Young.
The creative team for Mean Girls includes Scott Pask (set design), Gregg Barnes (costume design), Kenneth Posner (lighting design), Brian Ronan (sound design), Finn Ross and Adam Young (video design), Josh Marquette (hair design), Milagros Medina-Cerdeira (makeup design), Mary-Mitchell Campbell (music director), John Clancy (orchestrations), Glen Kelly (dance and incidental music arrangements), Jeff Richmond and Glen Kelly (additional music arrangements), and Howard Joines (music coordinator).
After years of living with her zoologist parents in Africa, Cady Heron moves to Illinois and must find where she fits in the social hierarchy. A sweet, naive newbie, Cady quickly attracts the attention of the Plastics, a trio of popular frenemies led by the vicious and calculating Regina George. When Cady devises a plan to end Regina's reign, she learns that you can't cross a Queen Bee without getting stung.