Three Young Black Women Navigate Sex and the City in BLKS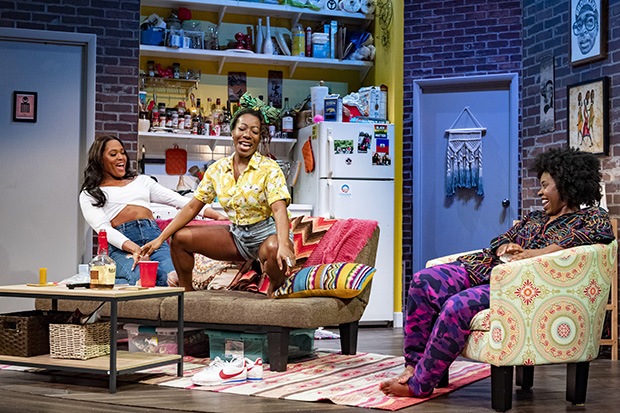 There's no better time in life than your early 20s to be a hot mess, and no better place to be one than in New York City — specifically the Bushwick neighborhood of Brooklyn (I know: I lived off Halsey in my early 20s). That's where three messy roommates live in a messy apartment off the Kosciuszko stop of the J train in Aziza Barnes's BLKS. Unvarnished and totally uninhibited, this New York debut at MCC is hilarious in the most uncomfortable ways. It's the kind of comedy you watch with one hand covering your eyes, and the other suspending your dropped jaw.
We know this is going to be a raunchy affair from the opening moments, when we hear the sound of roommate one, Octavia (Paige Gilbert), climaxing in her bedroom. She's in there with Ry (Coral Peña), her collaborator on an indie film that we suspect will never be made. Roomie two, Imani (Alfie Fuller), can totally hear them, but she's busy memorizing an old Eddie Murphy stand-up routine to perform at the Nuyorican Poets Cafe. Both roommates are between jobs, but the gainfully employed (at Deloitte!) third roommate, June (Antoinette Crowe-Legacy), doesn't seem to be doing much better: She has just broken up with her boyfriend for the 11th time after discovering a used condom in a box of Popeyes in his apartment. Even though Octavia is having a mole removed from her clitoris the following morning, the three roomies decide to drown their sorrows in Maker's and embark on a wild night on the town.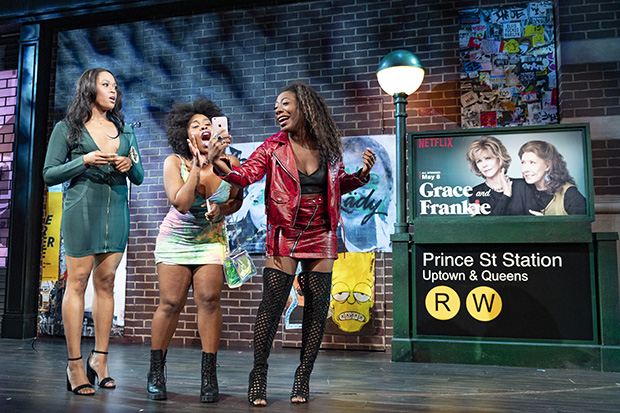 Featuring a group of young women navigating life and love in New York City, BLKS seems to take place in the same universe as Lena Dunham's Girls. But BLKS spotlights the black girls that were mostly absent from that HBO series, showing how their lives are both similar to and different from their white counterparts.
Marié Botha dives headfirst into an intense portrayal of one such white cohabitant, named in the program only as "That Bitch on the Couch." Rich and prone to apologize for racial "microagressions" she's not even making, she literally takes Imani up on her sarcastic offer to be her "black person survival guide" for a fee of $50 per question, sending the money via Venmo. Imani worries this makes her a "ho," to which June replies, "That's a dumb thing to keep you from a new line of revenue."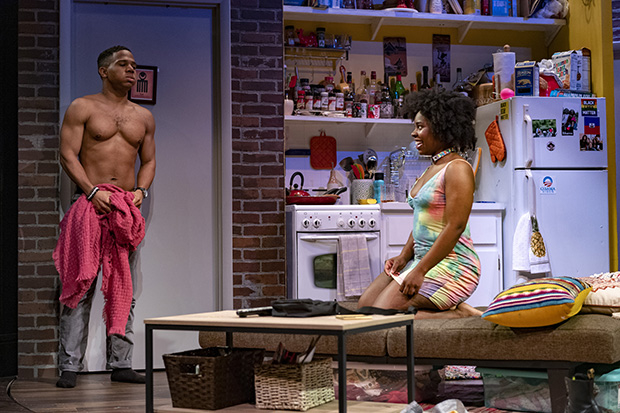 Under the snappy direction of Robert O'Hara, the three lead actors savor Barnes's salty language. Gilbert, Fuller, and Crowe-Legacy rival Rue McClanahan, Betty White, and Bea Arthur in their roommate rapport, a love-hate friendship born out of an uncomfortable level of intimacy that keeps us laughing for 90 minutes. As if to emphasize the ancillary role of men, Chris Myers plays every male role, becoming completely different (and always ridiculous) characters for each of them.
Dede Ayite's costumes assist in that impressive transformation, but they also give us a sense of how the women would like to be seen (or what parts of their bodies they want to show off). Sound designer Palmer Hefferan exuberantly underscores a montage of the women primping with Big Sean's "Blessings," resulting in several audience members dancing in their seats. Set designer Clint Ramos facilitates the multiple locations of Barnes's script with a rotating stage, delivering remarkable detail in each segment. The set of the Bushwick apartment is particularly telling: This is one of those New York apartments in which the "kitchen" is a wall in the living room, featuring a stove, sink, and zero counter space. Resourcefully, the women have built a storage shelf over the sink, and this is occupied by spice canisters, bottles of booze, and a single pack of Jell-O.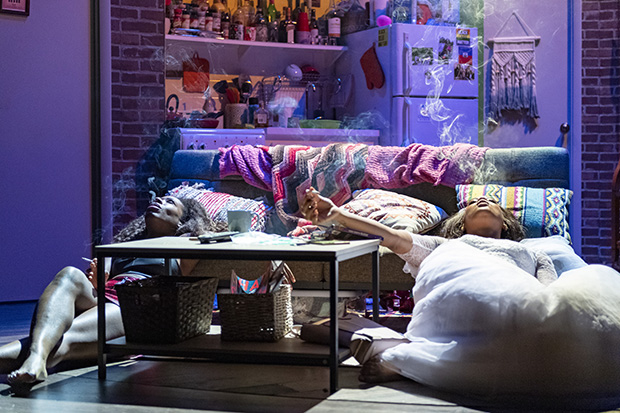 Barnes's lack of fear as a writer is what makes BLKS a particularly joyous experience. The theater has become "woke" in recent years, presenting more plays than ever about black and brown people — but the audiences still skew older and white. One often gets the sense that playwrights are writing for the benefit of that audience, leading with contrived topicality (like in American Son) or putting an unfamiliar community in the best possible light (in the case of India Pale Ale). Barnes seems to be under no such compunction: Topicality springs organically from the story, as the personal is always political in America. Also, there are no saints in BLKS. Each of Barnes's characters is a mess in his or her own special way, and it is in their flaws that we are best able to see reflections of ourselves — and laugh-cringe at the mirror's harsh truth.