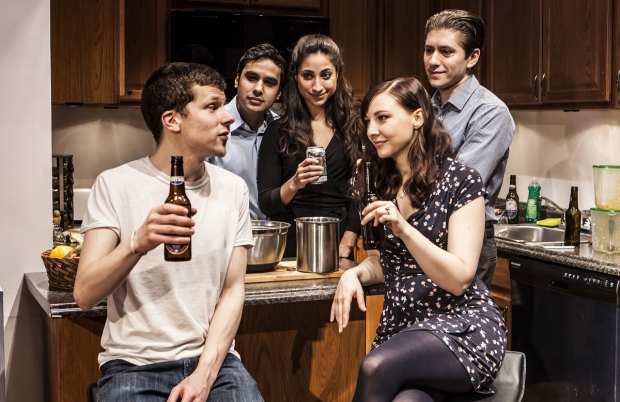 They say the third time is the charm. In the case of Oscar-nominated actor and dramatist Jesse Eisenberg, that idiom couldn't be truer. Eisenberg has finally hit his stride as a writer in The Spoils, a play not only more complete than his previous works, but also one that is significantly better than the last two combined.
Those were Asuncion (2011) and The Revisionist (2013). The former is a comedy that isn't particularly funny; the latter worked only because Vanessa Redgrave was its star. Here, in a New Group production at the Pershing Square Signature Center directed by Scott Elliott, Eisenberg proves himself an astute chronicler of millennial misery, satisfying a dramatic craving we didn't realize we were having until the lights went down.
Set in one of those sleek New York City apartments that exist only onstage (Derek McLane is the master scenic designer), The Spoils explores the internal jealousies that rear their ugly heads when everyone else seems to get what they want. The protagonist is Ben (Eisenberg), one of those holier-than-thou rich kids from the suburbs who thinks he's better than the rest of bougie society because he hasn't sold out, even though he's been booted from film school and lives off his parents' money.
Chief among the targets of Ben's wretchedness are Kalyan (Kunal Nayyar), his Nepalese, business school roommate, and Kalyan's MD-in-training girlfriend, Reshma (Annapurna Sriram). When Ben finds out that Sarah (Erin Darke), his elementary school crush, is marrying Ted (Michael Zegen), their former classmate who's now a banker, he decides, naturally, to destroy their relationship.
Ben is an all too recognizable figure these days, the person who does bad things to pump up his own self-esteem, only to be mortally wounded when people call him a jerk. And yet, in true-to-life fashion, everyone keeps giving him second and third chances, even when he's alienated them in heinous ways. Eisenberg has spent years perfecting this lost soul, both onstage and in films like The Social Network, and his volatile, live-wire performance in The Spoils shows a level of mature understanding that comes only with time.
Elliott, whose past productions have either been massive hits (like the all-star Hurlyburly revival of 2005) or major misfires (the Amanda Peet-led Barefoot in the Park), brings his A-game here, guiding the actors to meticulously real performances. When Reshma, nicely played with Valley Girl brightness by Sriram, gets fed up listening to Ben's tirades, she heads out onto the apartment's balcony and, of course, takes a selfie. Darke's performance is similarly genuine, and almost painfully authentic, especially in the play's single most awkward scene, which she shares in the second half with Eisenberg.
Nayyar, perhaps best known for his work as Raj on TV's The Big Bang Theory, makes an impressively sensitive New York stage debut as Kalyan, whose earnest struggle is to make a better life for himself in a country where that is actually attainable. Zegen is highly amusing as Ted, a moneyman who's not particularly interesting but wears a suit well (Susan Hilferty's costumes look like they'd appear on the denizens of a midtown Manhattan bar).
As a writer, Eisenberg seems to have taken a few cues from Kenneth Lonergan's This Is Our Youth, a similar work that examines the cruelty of contemporary life among adolescents struggling to find their footing in the world. Namely, he creates a circle where adults are ever-present, but grown-ups don't exist. The characters in The Spoils have real relationships and real jobs (mostly), but they're adults the way all twentysomethings are adults, the kind who don't have to worry about childcare and can spend all night drinking and still have the stamina to get up for work the next morning.
The Spoils fills the same theatrical void that This Is Our Youth (which was originally produced by the New Group) did in the mid-1990s. In a theatrical landscape filled with plays about fiftysomethings, it's refreshing to see a play that speaks to this generation of young people, one that unabashedly puts forward the sad truth of what it's like to find a place in a society that doesn't want them.