Rosie O'Donnell Talks About Her Music Man Memories and Funny Girl Fantasies
Rosie O'Donnell doesn't care that she's usually called upon to keep a show from closing. "I'm actually thrilled when a show that's about to close asks me to go in," she says with a laugh. "A lot of people would be insulted if they were the sixth replacement for Golde in Fiddler on the Roof. But that's fine with me! Put me right in there."
She's even happy putting on a show with only eight days of rehearsal — but mostly because the Kennedy concert staging of Meredith Willson's The Music Man, where she plays Mrs. Paroo, stars Tony nominee Norm Lewis and Tony winner Jessie Mueller. So she gets to spend a week listening to them sing all day long.
At a recent rehearsal for the production (which runs February 6-10), O'Donnell described how heavenly this experience actually is — and told us about her future Broadway dreams in the process. (Hint: It's still Funny Girl.)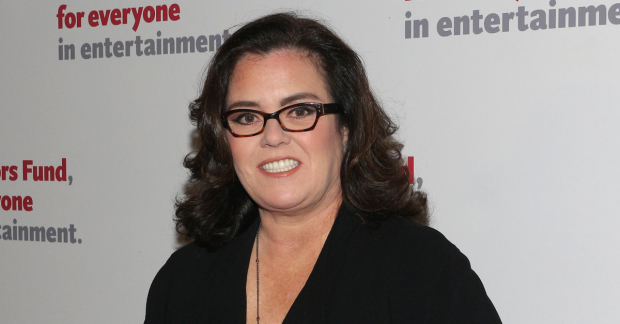 This interview has been condensed and edited for clarity.
What was your first exposure to The Music Man?
My mother had the original Broadway cast album. She would put it on sometimes, and we would look at the pictures on the jacket. You knew coming home from school that if there was a Broadway musical on, she was in a good mood. And if it was Simon and Garfunkel, it was a dark day.
With such a short rehearsal period, is the pressure on?
It doesn't feel like pressure for me. I knew the part was tiny, and I know people are not coming here to see me. I'm the bonus. For the rest of the cast? Maybe. The amount of words! I'm like, "Norm, how are you gonna learn all those words by then? You realize we have eight days?" But for me to get two weeks to just sit in a room with these extraordinarily talented Tony winners and unbelievably gifted chorus people, and just listen to them do it? It's shocking.
It's been a while since you were last on Broadway. Do you still have shows that you want to do?
Nothing would make me happier than to do another musical, but I have limited vocal ability. For a long time, I wanted to do They're Playing Our Song. The only song I really have to "sing" sing is "I Still Believe in Love," and I could do a pretty good Lucie Arnaz impression, so I feel like I could pull that off.
Why They're Playing Our Song?
I loved that show when I was a kid. I wrote letters to Lucie Arnaz, and she wrote me letters back on yellow stationary, which I kept for my whole life. I showed them to her when she was on my show 20 years ago. When you're 16 years old, do you know what that means to a kid? When I saw the yellow envelope, it was like my heart stopped.
You've been pretty vocal about wanting to play Fanny's mom in Funny Girl, too.
We've been talking about it for a while. When I spoke to [director] Michael Mayer, I said, "If this goes, you better give me that goddamn role!" I had heard that it was Gaga [playing Fanny], and then they were like, "No, it's not; she's going to Vegas." So I guess I know nothing. But that would be my dream of all dreams.