Review: Peter Pan Goes Wrong, a High-Flying Comedy of Disaster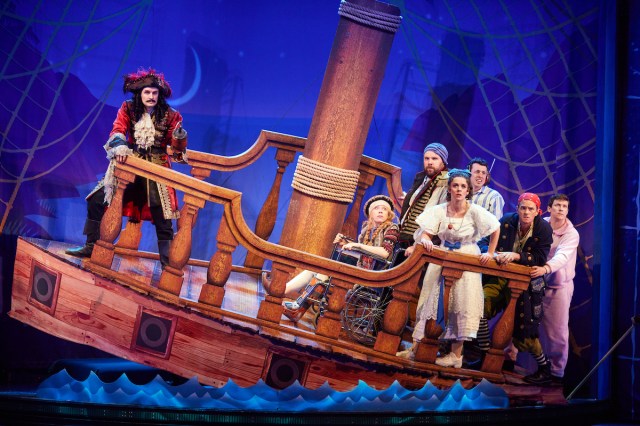 The director stalks the aisles, whispering nervously into a headset. A stagehand climbs over several audience members to "fix" a seat. And a man in a bathrobe runs an extension cord from the back of the house up to the stage. If you believe in electrical fires, clap your hands. This is just the preshow for Peter Pan Goes Wrong, now at Broadway's Ethel Barrymore Theatre, but it perfectly sets the tone for the following two hours of artfully choreographed chaos.
Peter Pan Goes Wrong is from Mischief, the UK-based team behind the long-running Play That Goes Wrong and premier purveyors of onstage stunts that will make you gasp and howl with laughter. Once again, we encounter the Cornley Drama Society, led by director Chris Bean (Henry Shields) and his assistant director (read: rival) Robert Grove (Henry Lewis). They have used a generous donation from the rich uncle of Max (Matthew Cavendish) to put on their most technically ambitious production yet: J.M. Barrie's Peter Pan, complete with a rotating stage, flying actors, and a light-up dress for Tinker Bell (Nancy Zamit). What could go wrong?
Plenty. And it's not just the DIY electrical work. Max isn't content with his role (Michael/crocodile) and has learned all of Peter's lines in hopes of getting to share an onstage kiss with Sandra (Charlie Russell), who plays Wendy. Corney Drama Society needs Max's family's money, but they have already cast Jonathan (Greg Tannahill), a real-life boy who won't grow up who is presently enjoying a showmance with Sandra. Meanwhile, Dennis (Jonathan Sayer) wears a large headset to feed him his lines; but in a place as densely packed as midtown Manhattan, you never know when you're going to stumble onto another show's frequency. And then there's poor, overworked stage manager Trevor (Chris Leask), who spends much of the evening trying to keep the set from collapsing. Their backstage drama seeps into the spotlight as comic mishaps arrive with the frequency of jokes in a normal comedy.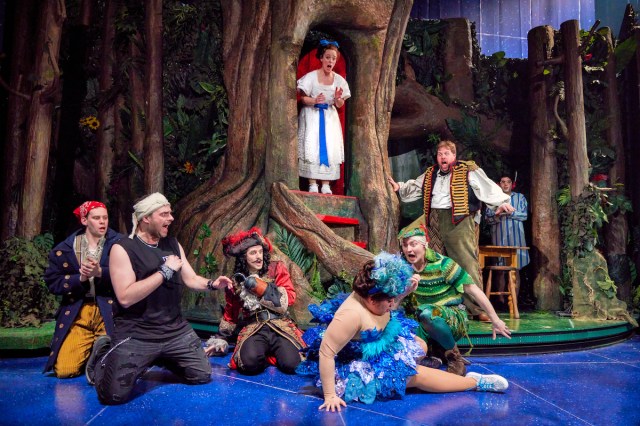 If the proliferation of Mischief productions is any indication, audiences love seeing actors in peril: Peter Pan Goes Wrong first appeared in London in 2013 and has since returned for multiple West End runs and a UK tour. It is just one of the company's popular Goes Wrong titles, which include A Christmas Carol Goes Wrong (for the BBC) and Magic Goes Wrong. Mischief seems to have devised a golden formula, but this is no case of slapping a new title on the same old material.
Shields, Lewis, and Sayer (founders of Mischief who are all credited as co-authors) have written a script that is notably more sophisticated than Play That Goes Wrong, with an ever-mounting bill of calamity that entirely derives from the thinly veiled motives and perverse incentives of the characters. Just when you think they cannot possibly top themselves, they do. And under the airtight direction of Adam Meggido, this creates a platform for some of the most inventive performances of the season.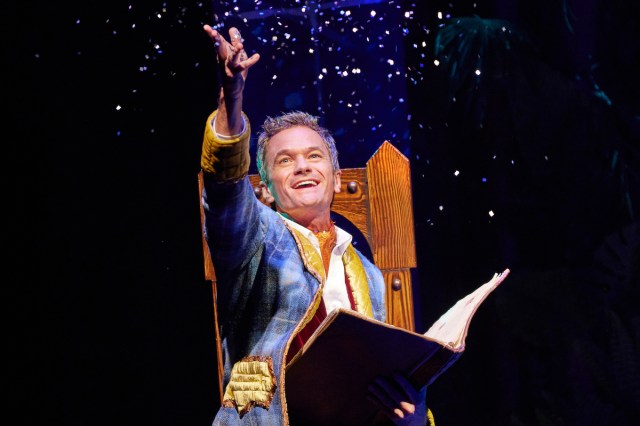 As the fictional director Bean, Shields fully embodies the serious thespian desperately clinging to the remains of his dignity as he treads through a sea of dropped lines and improvised props. He also takes on the role of Captain Hook, lustily jousting with the booing audience in a manner reminiscent of a panto villain (you will either love or hate the high level of audience participation in this show, depending on your stomach for that kind of thing).
As Robert, Lewis leaves all pretense of dignity behind when he gets stuck in Nana's doggy door during the first scene. Upper lip stiffened, he boldly throws his entire body into each moment, and that means donning some truly ridiculous costumes by Roberto Surace.
Neil Patrick Harris, who has temporarily assumed the role of Francis (a narrator in a cheap smoking jacket), has seamlessly integrated into the cast, as if he has been performing these dangerous-looking stunts for years.
In an evening of great performances, Zamit stands out in the double role of Mrs. Darling/Tinker Bell, successfully executing some of the quickest changes I have ever seen, and turning the instances when she doesn't quite make it into comic gold. She proves that the pleasure of watching a Goes Wrong show is not so much in seeing the actors fall on their faces as it is witnessing the creative ways they overcome adversity and go on with the show.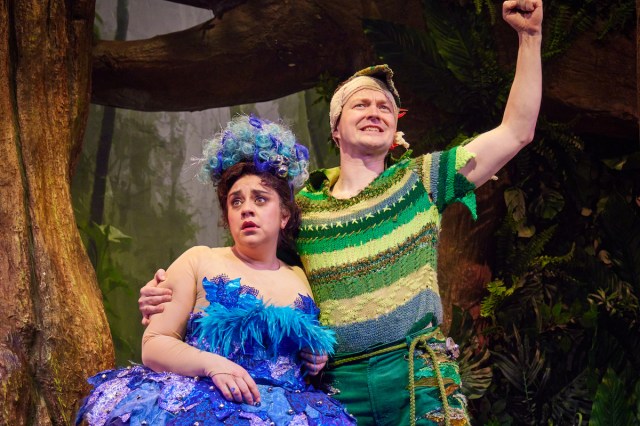 There are so many obstacles for them lurking on Simon Scullion's three-sided funhouse of a set, which delivers constant sight gags throughout the play's two hours. He has beautifully collaborated with lighting designer Matthew Haskins to ensure that our eyes are always trained exactly where they should be and away from the brilliant sleights-of-hand every member of the cast must perform to make this disaster feel frighteningly, hilariously real.
You're guaranteed to laugh at Peter Pan Goes Wrong, a show that soars precariously into the fly system, but is rooted in a universal truth: While thwarted ambition can be the source of great tragedy, it can also result in tears-in-your-eyes comedy.