Review: Margaret: Shakespeare's Warrior Queen Is a Bloodbath in the Park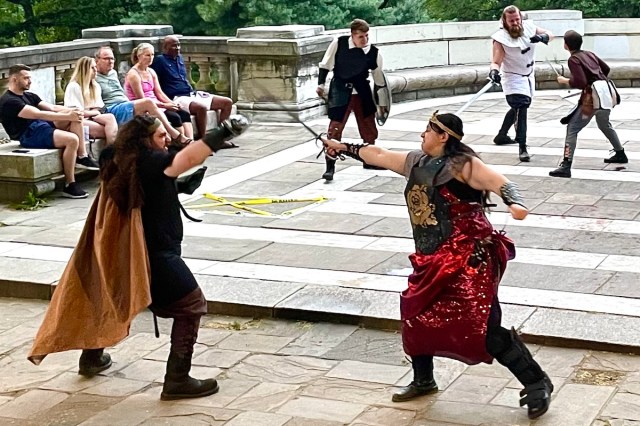 Curious faces peek over the wall of the north patio of the Soldiers' and Sailors' Monument in Riverside Park, drawn by the clang of clashing steel and the hiss of withering Shakespearean insults. If these bystanders linger long enough, they're likely to witness a spectacular fountain of blood — there are several in Margaret: Shakespeare's Warrior Queen, the condensed staging of William Shakespeare's War of the Roses tetralogy, which is the grand finale of Hudson Classical Theater Company's 20th season.
Ambitious, imaginative, and brimming with memorable performances, Margaret encapsulates the qualities that have made Hudson Classical Theater Company (formerly Hudson Warehouse) a favorite on the Upper West Side. Director and adapter Nicholas Martin-Smith (with editor Joseph Hamel) had managed to squeeze four plays (Henry VI, Parts 1, 2, and 3 and a tiny bit of Richard III) into a brisk 100 minutes, with only a couple of heartbreaking omissions: There's no Joan la Pucelle, and the lowborn rebel Jack Cade is only mentioned in passing. But the essence of the story, especially as it revolves around the indefatigable Margaret (a fire-breathing Katherine Lerner-Lam), comes across loud and clear.
Margaret opens near the end of Henry VI, Part 1 with the Duke of Suffolk (Daniel Harray) capturing Margaret, a French princess and future bride of the hapless King Henry VI (Travis James). Struggling to hold on to their claims in France so gloriously won by Henry's more impressive father and surrounded by internal enemies, the most dangerous of which is the revenge-hungry Richard Plantagenet (Vince Phillip), the Lancastrians are clearly a house in decline. But can a competent and ruthless queen reverse their fortunes? Margaret gives it her all.
While Shakespeare's web of courtly titles and shifting allegiances can be confusing for those unfamiliar with 15th century English history, Martin-Smith does a good job of identifying the essential opposing forces in this simmering (and then violently boiling) conflict, often by having one party (usually the one with the upper hand) stand at the top of the monument steps, facing down at the besieged party below. We, the innocents of the audience, are trapped precariously between. It's a great visual metaphor for civil war.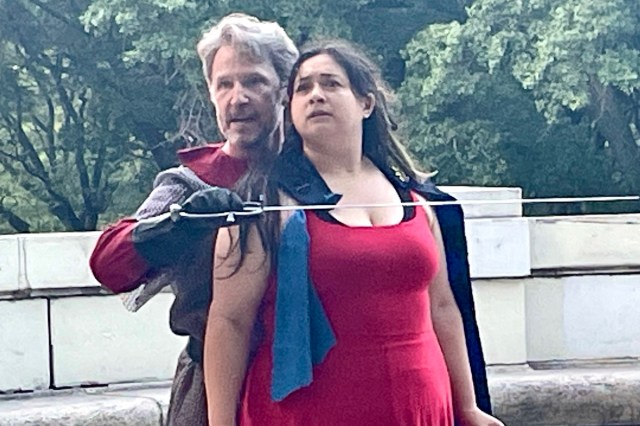 On the Yorkist side, Phillip makes a darkly beguiling Richard, part scheming Roger Stone, part anger daddy. He's clearly an inspiration to his limping younger son and namesake (Bryan Bryk, who makes us wish we got more than just the first line of his play). Playing both sides of the fence is the Earl of Warwick, whom Kate Clay endows with a wide-eyed intensity that lets us know she is 100 percent committed to whatever faction she is fighting for that day.
And we don't blame her when Henry isn't her first choice. As played by James, the King is a vastly more sympathetic version of Jared Kushner, thrust into a job for which he is wholly unqualified, unable to escape the shadows of his ancestors, and made to look even smaller next to an extraordinary wife.
Lerner-Lam is striking as Margaret, leading the troops into battle with her rousing speech and then backing up her words at the point of a sword (naturally, her fight sequences are the most thrilling in the play). Her rage is terrible, and her grief is inconsolable. Lerner-Lam makes a compelling case for Margaret as the greatest of Shakespeare's queens.
The battle scenes, choreographed by New York Combat for Stage and Screen, envelop the audience, with fearsome warriors lurking all around (Matthew Harmon plays the most terrifying of these as Young Clifford, a handsome, grinning sadist). Pools of stage blood dot the patio by the play's conclusion, a disquieting scene for passing runners and cyclists. But the location, a monument to the combatants of America's civil war, couldn't be more appropriate. Aside from the thrills, Margaret is a chilling reminder that we're always only a few bad decisions away from total instability.