Review: Beetlejuice Is the Perfect Show for Getting Back to the Theater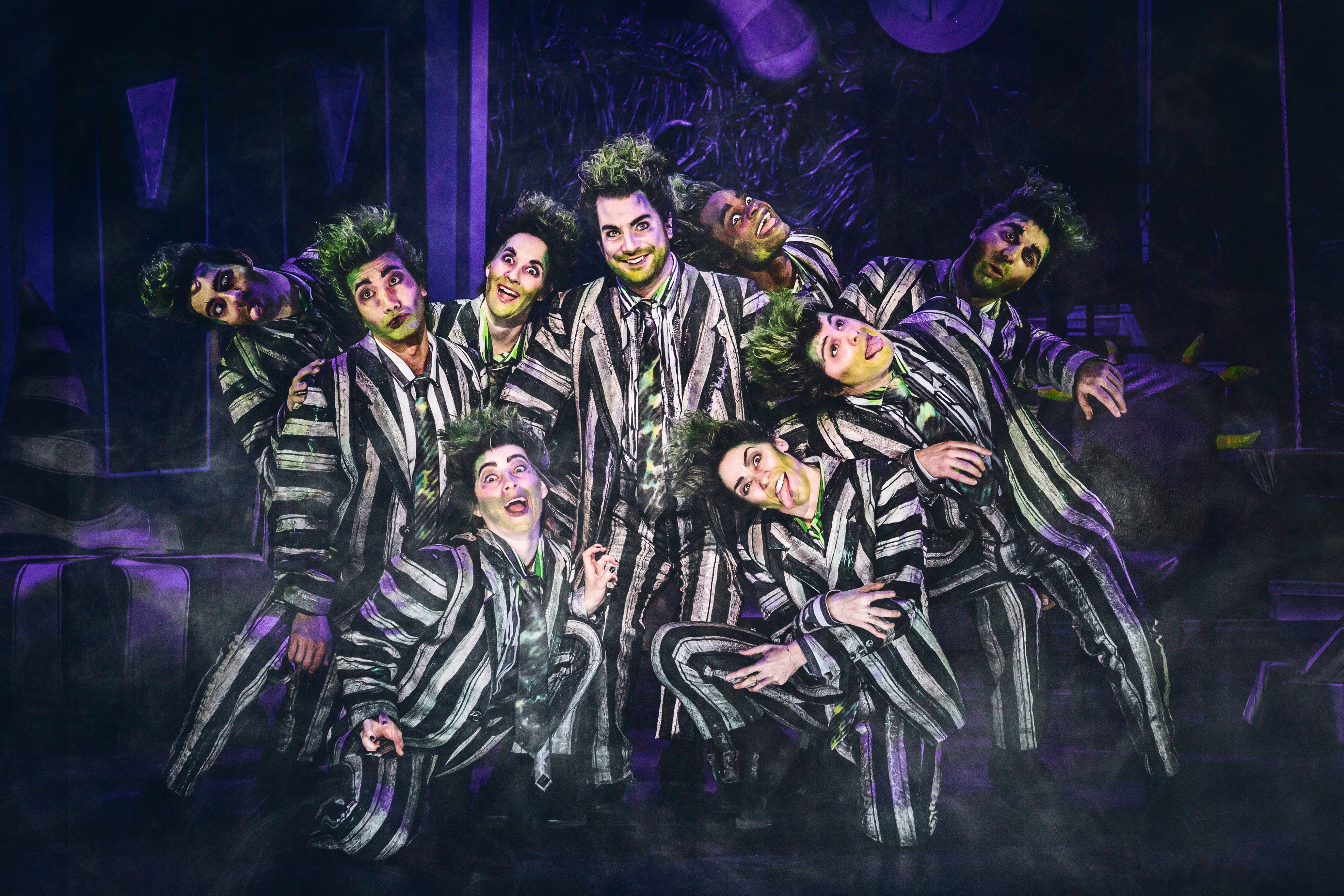 Broadway hit Beetlejuice, now running at the Hollywood Pantages Theatre before making more stops on its North American tour, features a delightful score and book along with hysterical performances. It's the must-see show of the season. Director Alex Timbers and his crew have morphed the beloved film into a fun house of a musical, with surprises hiding under every footlight.
As in the Tim Burton film, two squares from a small-town (Britney Coleman and Will Burton) die and are trapped in their house while an overbearing family moves in and destroys their home with tacky architecture and art. Forced into a war between the living and the dead, the recently deceased call upon an evil spirit, Beetlejuice (Justin Collette), to rid their house of these pesky humans, causing destruction with riotous results. He cons even the precocious, sad-sack Lydia (Isabella Esler) into doing his bidding. Yet Lydia, still despondent over her mother's passing, has her own schemes in mind.
A human version of the Tasmanian Devil, Collette is naughty in all the right ways in the role Michael Keaton made famous. With a gravelly voice that could rip apart steel, Collette pokes at the audience until they're raw with laughter. As the goth-child, Esler has innate charm and an outstanding voice, capturing Lydia's vulnerability and obsession with death.
Coleman and Burton are funny as the nerdy ghosts who aren't frightening enough to scare a mouse, but they can only rise so far above the thankless roles. Kate Marilley has fun as the bird-brained therapist, but she mimics the voice of her film counterpart, Catherine O'Hara, to distraction. In a small role, Danielle Marie Gonzalez leads a rousing showstopper, "What I Know Now," as the Netherworld's former beauty-pageant winner turned dead receptionist.
Eddie Perfect's tunes are satirical and boisterous. Not many of the songs will wind up at the top of people's song list, but they service the story and provide the wit and tone this musical requires. Scott Brown and Anthony King's book is satirical and randy, using the original movie script as a jumping off point for a work that stands on its own.
Director Alex Timbers fills the theater with magic, with actors rising in the air, fire shooting from hands, smoke pouring out of slashed necks, and gargantuan multicolored snakes crashing the party. David Korins's set is a collision of garish greens and black color schemes, creating a grotesque atmosphere, a perfect home for animated dead bodies. William Ivey Long's dazzling costumes include a suit oozing with slime that it could walk around the stage on its own, and a striking, red quinceañera dress. Connor Gallagher's choreography is zany and zips with a Latin flair. On the tour, possibly because of props or set limitations, the climax doesn't impact as well as it did on Broadway, causing the pace to lose steam, but audiences are so spent with laughter, it allows breathing room before the standing ovation.
Beetlejuice is the perfect antidote to get audiences back into the theaters, and get them cheering and laughing. With nothing on its mind but filthy humor and delightful charms, this is as lively as a musical about the dead as you can get.