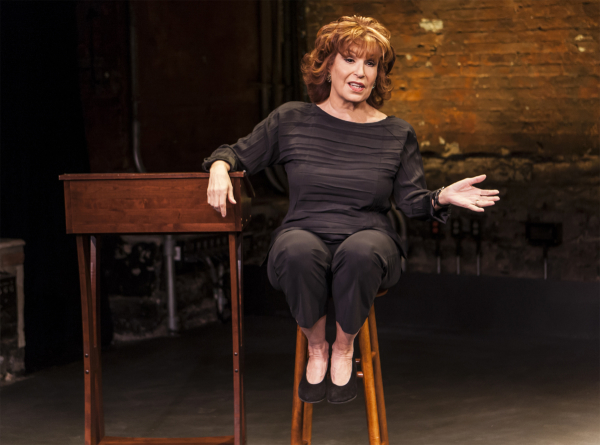 The cover of the program for Joy Behar's solo show Me, My Mouth & I features Behar on the set of The View, her mouth covered by the hand of none other than Barbara Walters. It's an apt metaphor for the 16 years during which she appeared on the morning television gabfest. Behar claims she was allowed to say "pretty much anything I wanted," but the FCC and ABC standards and practices probably beg to differ. Now that she's out from under the dominion of Babs (the show's executive producer), one might expect to see the hand come off the mouth and hear Joy uncensored.
True, Behar's language is a lot bluer than you'd ever hear at 11am (EST) on a television network owned by The Walt Disney Company. And her observations about public figures are just as unfiltered as ever. But with the exception of a few lighthearted jabs at her fellow ladies of the round table — she claims, "I had to leave the show because of the contact high I was getting from sitting next to Whoopi every day'' — Behar remains tight-lipped about the show and its much-publicized palace intrigue. That may be disappointing to those looking for the inside dirt on one of America's most popular TV programs, but for most people, Behar's ample humor and prodigious sass will be enough.
Me, My Mouth & I takes the form of a stand-up comedy act crossbred with a college lecture. Stage left sits a modern, circular light orange chair, not unlike something you might see on the set of a talk show. Stage right is a lectern. A large screen occupies the upstage wall. Behar uses this to show family photos, which she highlights with a laser pointer, so it looks like she's giving a TED Talk on her own life.
"A lot of people think I'm Jewish," she says early in the show. "I'm actually Italian." She goes on to tell us about her childhood in Williamsburg, Brooklyn (back when the neighborhood was mostly Italian), the drudgery of her first marriage off exit 60 (Behar uses off-ramps on the Long Island Expressway to delineate geography), her job as a receptionist for Good Morning America, and her ascent to morning-TV fame. She peppers this personal story with witty observations and gossipy tangents.
Behar has a personable demeanor that doesn't feel as affected or stagey as most comedians. Her act feels more likes sitting in a kitchen with your opinionated native New Yorker friend and hearing the latest dirt. Seriously, Behar is dishier than Wendy Williams. She skillfully alloys her encyclopedic knowledge of pop culture with references to Jean-Paul Sartre and Euripides so that no one walks away from this event feeling dumber for having seen it. Granted, some of her hot topics feel out of a different era. (Bob Dole and Lorena Bobbitt both get a mention.) Still, you can't help but be charmed by Behar's off-the-cuff approach, which makes you feel she's speaking only to you.
That's why it is unfortunate her sound has been amplified for a space five times larger. A persistent microphone echo runs through the space, making the Cherry Lane feel more like a hotel conference room than an intimate downtown theater.
But that minor technical quibble shouldn't do much to dampen your experience. You'll laugh heartily and often during this irreverent romp through the mind of Joy Behar, a seasoned comic with a winning style.