Kevin Kline and Israel Horovitz: Old Pals, Old Jokesters, and Collaborators on My Old Lady
The new film My Old Lady combines two of the theater world's most prolific talents: Kevin Kline, the Tony- and Oscar-winning actor who goes back and forth from musicals to Shakespeare without batting an eye, and Israel Horovitz, the playwright and screenwriter whose absurdist drama Line has run continuously at the 13th Street Repertory Theater since 1974.
My Old Lady, adapted by Horovitz from his 2002 stage play, follows Mathias Gold (Kline), a depressed recovering alcoholic who inherits his father's apartment in Paris. But when he arrives, with nary a penny to his name, he finds someone else living there: 94-year-old Madame Girard (played by Maggie Smith), from whom Mathias' father bought the apartment and pays a monthly rent.
As far as Kline and Horovitz remember, this is their first time working together. Surprising, because at a press junket for the film, which is in cinemas now, the pair had the rapport of two people who have known each other for years. Here they discuss their collaboration amid jokes, pithy retorts, and a whole lot of finishing each other's sentences.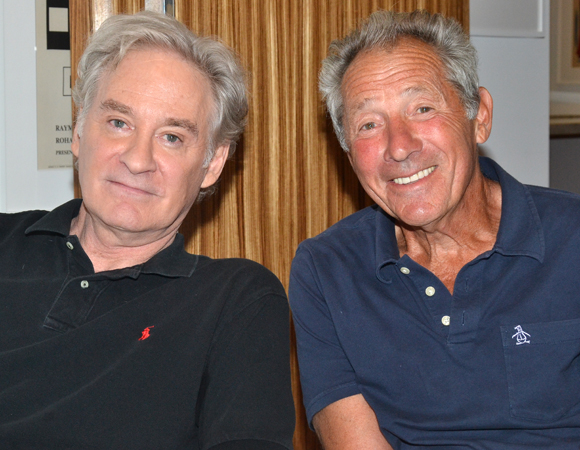 The principal cast of My Old Lady is made up entirely of theater actors. Is there a benefit to casting a film with that breed?
Israel Horovitz: When it's all theater people, it feels like family. How many times have I seen Kevin in a play? Fifty. And how many times have I seen Maggie in a play? It took about twelve seconds to establish an intimacy that might have taken weeks among people who aren't theater people. It really is like a religion.
Kevin Kline: Once you become an internationally infamous icon—
Israel Horovitz: Prostitute.
Kevin Kline: Prostitute and reprobate. [laughs] If you started in the theater, you can't put on airs. Whereas if you're a child sensation at nineteen and you've been a movie star ever since and you're used to being coddled and spoken to like you're some sort of god, I think you're less inclined to…We've all shared dressing rooms and paid our dues.
Israel Horovitz: People asked me if I was intimidated by Maggie Smith being Maggie Smith and it didn't even occur to me because we shared so many stories and so many friends. You start rehearsing a play and a week later you feel like these are my closest friends and the damn thing closes and you go into mourning. It felt that way with this movie. We all know each other. And you get to work quicker. And you want to impress Maggie and she wants to impress you.
Kevin Kline: I guess actors are always trying to impress one another.
Israel, what goals did you have in mind when you were adapting your play for the screen?
Israel Horovitz: I never really like plays that are adapted to movies. I knew that I wanted to write a movie that was a movie, and not an adaptation of a play. Most adaptations end up being not quite a play and not quite a movie. Given the fact that I started with the idea that Paris had to be a character, I started with an almost producible script that had so much detail about Paris and whittled that down.
Kevin, how did you come into the project?
Kevin Kline: Very obliquely. Some imaginative French producer offered me the play to do in Paris, in French. I could not do that. My French is not that good. The French production came and went without me and played for a couple of years. [pause] Did you call me up and tell me you were making a film of it? Tell the story of Café de Flore.
Israel Horovitz: So. I had a meeting in Paris with [French actor-producer] Dominique Besnehard. We were upstairs in Café de Flore. We were talking…and he said to me, "If you had your choice of any actor in the world to play Mathias, who would you choose?" And I said Kevin Kline. And Kevin walked up the staircase and appeared in the room. I thought I had been set up. I said, "What the f*ck is going on?"
Kevin Kline: The men's room is upstairs.
[laughter]
Kevin Kline: I was with a friend downstairs and they were the only ones upstairs. I said, "Oh, there's Dominique." He produced this film I was in called Queen to Play. And they said, "We were just talking about you." It was totally freaky.
Israel Horovitz: Twelve seconds after I said Kevin Kline. The staircase is such that he just appeared.
Kevin Kline: It seems to have my name written all over it.
Kevin, what was it that interested you in the material?
Israel Horovitz: He needed work. [laughs]
Kevin Kline: It excited me. I was constantly intrigued by it. I just knew that Israel has a way of, with seemingly colloquial locutions, creating people just talking and they remind us of ourselves. I couldn't explain it. There was something thematically dramatic, and yet comedic and light, and a particular combination of elements that were original to me. I had never played anyone like him…I just wanted to see where this goes.