Here Lies Love to End Broadway Run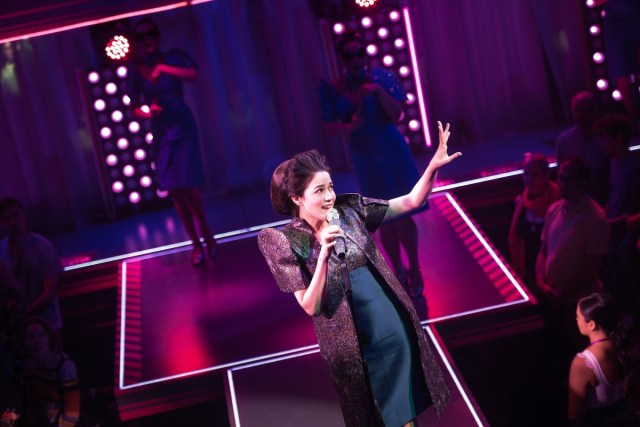 Here Lies Love, the David Byrne-Fatboy Slim musical about Imelda Marcos, will end its run at the Broadway Theatre on November 26, having played 33 previews and 149 regular performances.
The musical tells the story of Imelda Marcos as she goes from beauty queen to First Lady of the Philippines beside her husband, the authoritarian Ferdinand Marcos. Marcos saw herself as the person to bring art and culture to her country, while also representing The Philippines on the international stage by rubbing elbows with the power brokers and glitterati of the latter 20th century. The musical invites audience members to party with Imelda while witnessing her spectacular downfall during the People Power Revolution of 1986.
To offer a feel of what the party around Marcos was like, set designer David Korins transformed the Broadway Theatre into a nightclub by removing the orchestra seating, allowing audience members to move around during the performance. TheaterMania's review called it "the party to end all parties."
The show's producers courted some controversy over the summer with their plans to use pre-recorded music rather than live musicians, arguing that the canned music fit better with the karaoke form it was trying to capture. You can read more about the conflict with the musicians' union here. The dispute was resolved in early June, with the producers agreeing to hire some live musicians.
Here Lies Love debuted off-Broadway at the Public Theater in 2013, returning for an encore engagement.
The Broadway cast features Arielle Jacobs as Imelda Marcos, Jose Llana as Ferdinand Marcos, and Conrad Ricamora as Ninoy Aquino. The company also includes Melody Butiu, Moses Villarama, Jasmine Forsberg, Reanne Acasio, Jaygee Macapugay, Julia Abueva, Renée Albulario, Aaron Alcaraz, Carol Angeli, Nathan Angelo, Kristina Doucette, Roy Flores, Timothy Matthew Flores, Sarah Kay, Jeigh Madjus, Aaron "AJ" Mercado, Geena Quintos, Shea Renne, and Angelo Soriano.
Alex Timbers directs, with design by David Korins (scenic design), Tony Award winner Clint Ramos (costume design), Tony Award winner Justin Townsend (lighting design), M.L. Dogg & Cody Spencer (sound design), and three-time Tony Award® nominee Peter Nigrini (projection design).