Review: David Byrne and Fatboy Slim's Here Lies Love Is the Party to End All Parties
And just like that, a decade went by. Politics have changed, the world has transformed, and the theater industry is certainly different than it was back in the simpler time of 2013. But one thing's certain in this smoggy summer of 2023: David Byrne and Fatboy Slim's Here Lies Love — you know, the immersive Imelda Marcos disco musical — is on Broadway for the first time and it is the party to end all parties.
Those who saw Here Lies Love at the Public Theater (and have spent the subsequent 10 years talking wistfully about how fun it was) will be pleased to know that this souped-up version of Alex Timbers's remarkable original production fits effortlessly into the massive Broadway Theatre on 53rd Street. Scenic designer David Korins — one of the many artists who've been along for the ride since its inception — has turned the venue into a multi-level discotheque, ripping out all the seats in the orchestra to create a giant mosh pit where audience members can dance along with Annie-B Parson's expressive choreography. There are roving staircases so the actors can climb into the mezzanine. The whole place is tricked out with video screens. With Justin Townsend's neon lights pulsating in time with the subwoofers, we're in a state of delirium from the moment we enter the room.
Having line-danced my way through Here Lies Love twice during its original run, I chose to sit this time around, aiming to receive the full perspective. For review purposes, I think that was the best option for me. But I'd still recommend prospective ticket buyers to pick the floor for one simple reason: It's an experience unlike any other you've ever had on Broadway. The amount of thought, planning, detail, and money that went into this is insane, and it's not hyperbole to say that you won't believe your eyes. I want to live in the brains of Alex Timbers and David Korins.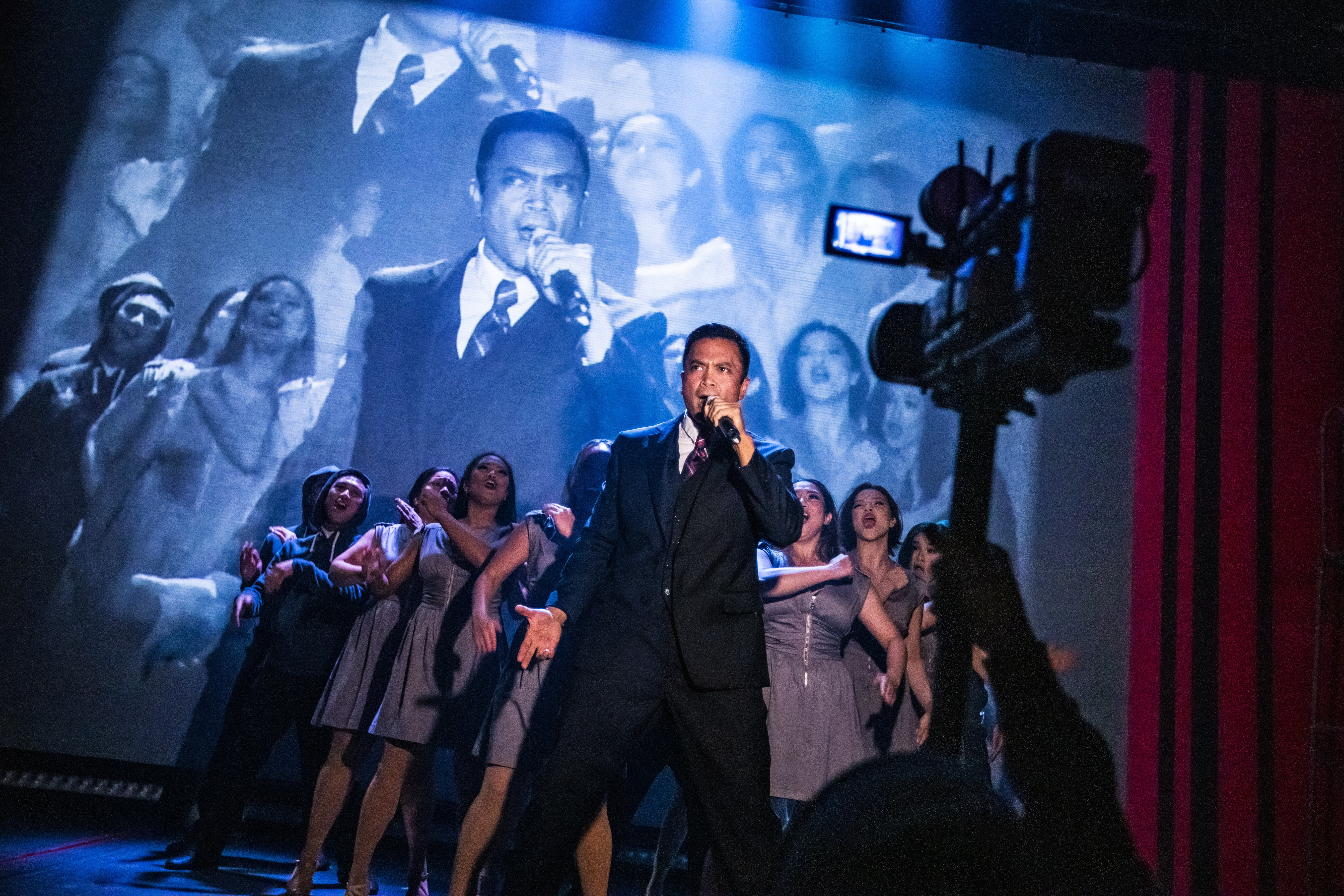 Here Lies Love outlines the rise and fall of Imelda Marcos, former first lady of the Philippines. A beauty queen from Leyte, we meet Imelda (Arielle Jacobs) as she's dating liberal politician Ninoy Aquino (Conrad Ricamora). When their relationship ends, she marries Senate candidate Ferdinand Marcos (Jose Llana), who eventually ascends to the presidency. We flash our way through her glamorous lifestyle — popping pills, partying with Andy Warhol at Studio 54 — until Aquino, now a Senator, begins an opposition movement in response to the Marcos's personal grandeur at the expense of the citizenry. Eventually, Ferdinand and Imelda attempt to seize power permanently, and the populace fights back to restore democracy.
Originally a song cycle and concept album written by Byrne and Slim (with additional music by Tom Gandey and José Luis Pardo), what's more apparent about Here Lies Love when you're not experiencing it the first time is its dramaturgical roughness. Byrne and longtime director Timbers lean heavily on Peter Nigrini's all-encompassing, cinematic projections to not just provide historical context, but string together the plot points that aren't dictated by the largely dialogue-free 85-minute text.
This is the rare show that could afford to be expanded, as we feel the slightness of the storytelling more on this grand scale than we ever did downtown. And although the techno score is a parade of terrific songs, the sound (by M.L. Dogg and Cody Spencer) has a flatness, a result of the music being entirely prerecorded, save for one number at the end. This is conceptual on Byrne's part — it was the same way at the Public — but it would only enhance the evening to rock out with a live band. Regardless, you will have an absolute blast. I certainly did.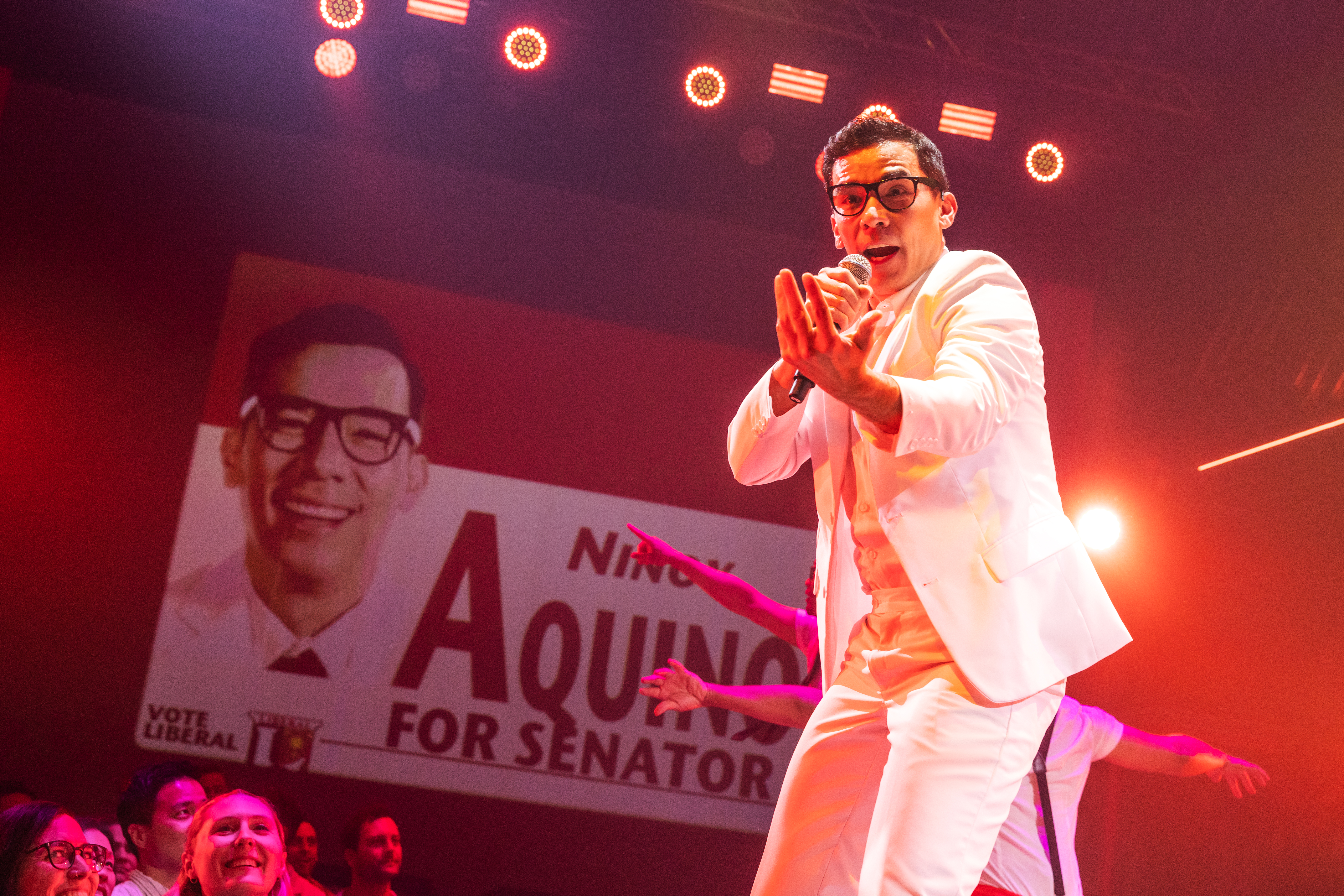 A handful of original cast members have returned to complete the journey, and it's an extra treat to see how much deeper Llana, Ricamora, and Melody Butiu have dug in their portrayals of Ferdinand, Ninoy, and Imelda's betrayed childhood friend Estrella. Llana imbues the Ferdinand with the kind of slow-burning sinister political energy you'd expect to see on an ultraconservative news channel, while Ricamora's Ninoy gives off the dynamism of a grassroots political upstart. Their opposing viewpoints are expertly captured by Clint Ramos's costumes, a stern black suit for Llana and a neon white one for Ricamora (the rest of Ramos's designs are as eye-popping as the spectacle that Timbers has devised). Butiu devastatingly delivers her numbers to the rafters and then some.
The luxury casting of the Broadway run is Lea Salonga, who appears through August 13 as Ninoy's mother, Aurora Aquino. Salonga, also a producer, has the sweetest gig on Broadway: she sings exactly one song at the very end (the wrenching power ballad "Just Ask the Flowers") and not just brings down the house, but stops the show. Timbers harnesses her megawattage to perfection.
But Jacobs is the main event, and she's sensational (the role was memorably originated by Ruthie Ann Miles, now performing in Sweeney Todd). She brings a deceptive sweetness to Imelda that lures us onto her side, only to pull the rug out when we eventually realize that she's been a completely self-centered tyrant all along. It's such an intelligent and thoughtful performance, not to mention vocally flawless.
There was controversy when the Broadway run was announced that the show would glorify the Marcos regime at a politically fraught time (Imelda's son is now president of the Philippines), but it very much does not, and it never has. Drawing on the contemporary political parallels that Byrne also built into his American Utopia, Here Lies Love excoriates the Marcos regime and provides a chilling warning: We're dancing our way toward the end of the world, and it's up to us to change it.