Interview: Jose Llana and Conrad Ricamora's Journey to the Here Lies Love Finish Line
Not all actors have the luxury of returning to roles they originated, especially not after 10 years, but Jose Llana and Conrad Ricamora are experiencing that long-hoped-for sensation right now. After more than a decade since originating the roles of Ferdinand Marcos and Ninoy Aquino in David Byrne and Fatboy Slim's Here Lies Love, the pair are back at it in the much anticipated Broadway mounting. Both actors took part in a 2012 workshop at Mass MoCA, before starring in the Alex Timbers-helmed production at the Public Theater (2013 and 2014). (Ricamora also journeyed with the show to Seattle Rep in 2017, while Llana toured as the King in The King and I.)
Now, with all that experience up their sleeves, they both get to dig deeper and go harder as they take over the Broadway Theatre. And they're having a blast.
This conversation, conducted prior to the SAG-AFTRA strike, has been condensed and edited for clarity.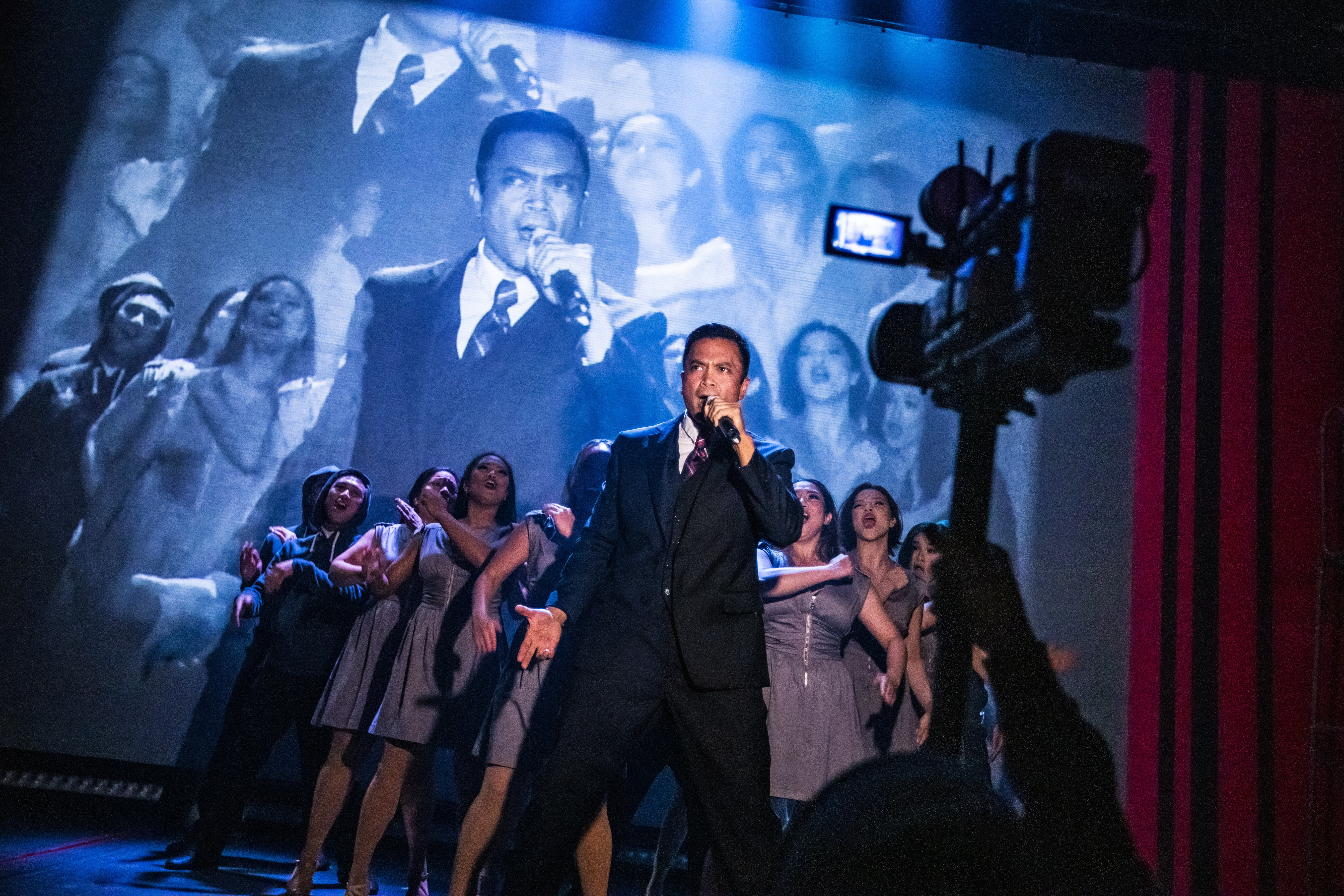 You've been on this journey for so long. How does it feel to be here on Broadway right now?
Jose Llana: I feel like we're crossing the finish line, finally. We've all been collectively holding our breath since our last production seven and eight and 10 years ago. With a bigger audience now, and the fact that we're telling the story in a much different world than we were 10 years ago, it's even more relevant today.
Conrad Ricamora: Having something sit in your bones for 10 years and coming back to it, everything just feels deepened. And now we get the luxury of being more specific and detailed with everything that we're doing, which is just such a gift.
Has it lived in your body for this long? Was it like riding a bike again, even though you're in the new space?
Jose: If you're riding a bike that's 10 years older [laughs]. I won't speak for Conrad, but I feel it in my bones a little bit more this time, jumping up and down on these platforms. My husband actually pointed out to me that I'm closer to the right age for Marcos than I was 10 years ago. He was elected president when he was a year older than I am now. So for me, it's fitting.
Conrad: Certain things feel harder 10 years later. Certain things also feel deeper, in terms of having lived 10 years of life. I just got married, and knowing that Cory was Ninoy's soulmate, and knowing what Ninoy sacrificed and gave up to speak against the government makes the character a little more alive for me.
Jose: And as you get older and as you work more, you just enrich yourself more as an actor. I have more tools to bring to the table than I did 10 years ago, and I feel like it's not the same performance — hopefully it's not — because you're bringing your life experience to what you're doing.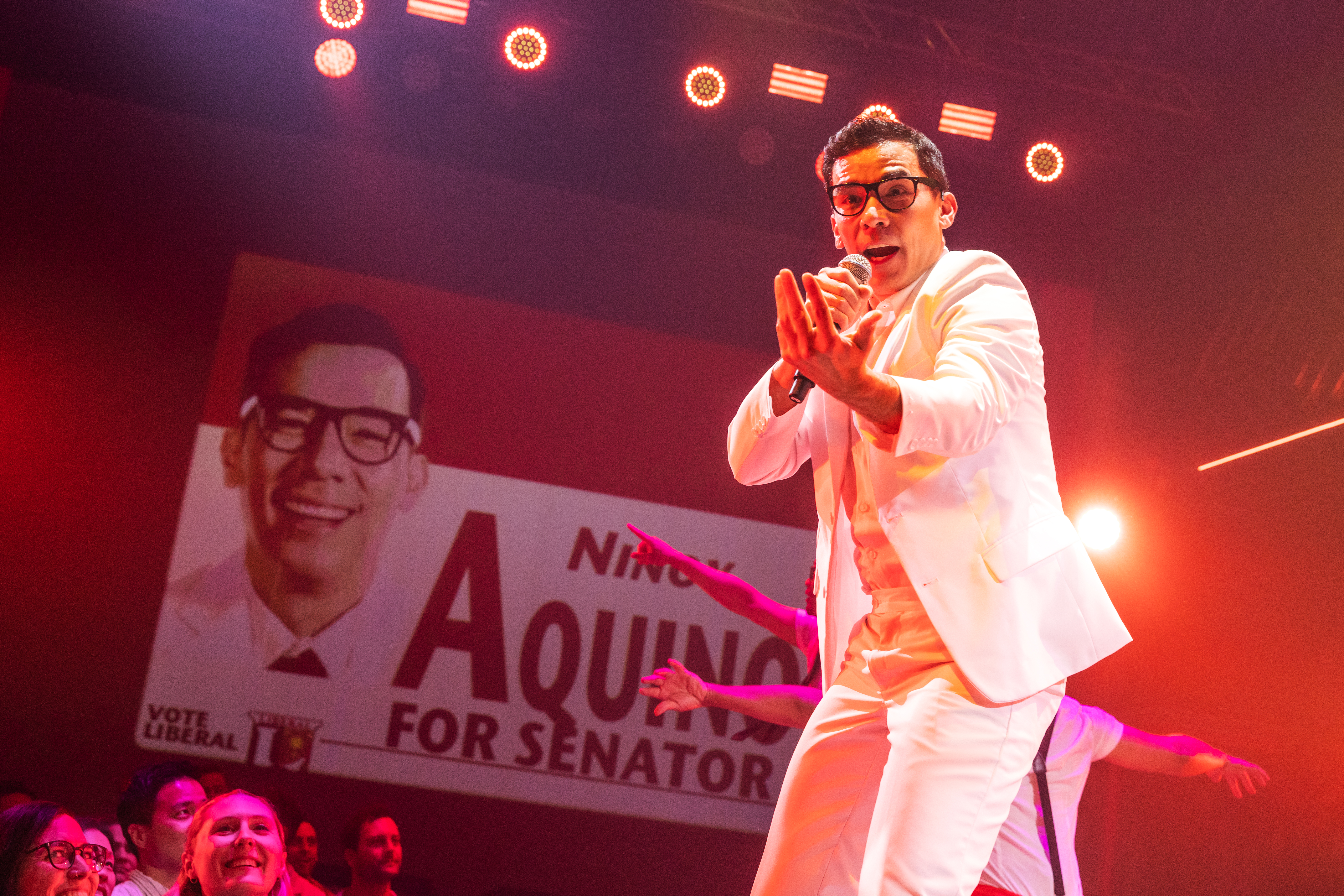 Arielle Jacobs is your third or fourth Imelda, too. So I'm sure you change in response to the actor you're playing opposite.
Conrad: Very much so. It feels like such a blessing because a lot of the times when you've done something so much, you can get comfortable and everything could become rote. Arielle is one of the most talented people I've ever worked with, and the choices that she's making are so stunning and surprising that it keeps the show fresh for me. It keeps me on my toes and thinking about what I'm actually saying and doing.
Jose: Arielle is not just an extraordinary talent, but she's just cool as a cucumber. No one's ever accused me of being that way. The amount of material she's learned and the amount of strides and choices that she's made, and then still at the end of the day, be kind and openhearted and cool…that's Arielle Jacobs in a nutshell right there. The three of us are having a great time playing together.
Here Lies Love has never been a small show, and you've done it in several different venues and spaces. What is the Broadway-sized version like for you as actors as you recalibrate your performances?
Jose: There's more opportunity for storytelling. The intimacy is still there, particularly with the people on the dance floor and in the gallery seats on the side. The majority of our work in previews is that Alex Timbers and David Korins and Annie-B Parson are really trying to understand what the show is like for people in the mezzanine and creating more opportunities for staging and storytelling. We have two satellite stages in the back so that the people in the mezzanine can really feel part of the show. They've really pulled out all the stops in terms of extending the stage all the way to the rear mezzanine, which doesn't always happen when you see a Broadway show.
Conrad: Everybody that I've talked to said that if feels more immersive now than it even did at the Public, just because you're even more surrounded by performers, by video, by lighting, and that's been my experience of doing this show. I was worried when we started rehearsal about how I was going to feel filling the space. But I do feel connected to the back row of the mezzanine. It just feels heightened.
Jose: It's also interesting to note that in the 10 years between the Public and Broadway, technology has changed so exponentially that the sound and lighting design are more advanced than we had. These creatives, who had a blast doing it 10 years ago, are now able to flex more muscles — and have more money to spend, obviously. There's a big difference between an off-Broadway budget and a Broadway budget, and you feel it.
As Filipino actors, what is it like to perform this particular show now, knowing that the son of Ferdinand and Imelda Marcos is now president of the Philippines?
Jose: One of our lead producers, Diana DiMenna, made a great analogy. She said that the show has always been a race car, but what's changed now is the racetrack. We are in a different world than we were 10 years ago. It's important for us as Filipinos, and particularly, I think that it was even more important now for it to be a fully Filipino cast, because it's such a singular time right now to talk politics in the Philippines, and to talk politics in general, and to remind people that if we don't tell our histories and if we don't acknowledge the mistakes that were made, then we're never going to learn from them.
The show was created in the world of Obama and a second Aquino in office, but now the story is being told post-Trump, post-Duterte, and during a new Marcos regime. It's a big responsibility but I've always had to lean into what David taught us, which is that we're telling a piece of art, we're sharing a piece of art, and part of that art is politics, and part of that art is also entertainment. Our show is a Trojan horse of fun and entertainment, with a lesson about democracy and holding our leaders accountable for their decisions inside.
Conrad: It doesn't matter who's in office. To me, the show is a wake-up call for all of us as citizens of whatever country, whatever democracy we're part of, to pay attention and not give anybody free passes just because they look like they're living a fabulous life or feel like a celebrity. Hold people accountable, especially the people that are supposed to be representing your interests, regardless of political party.