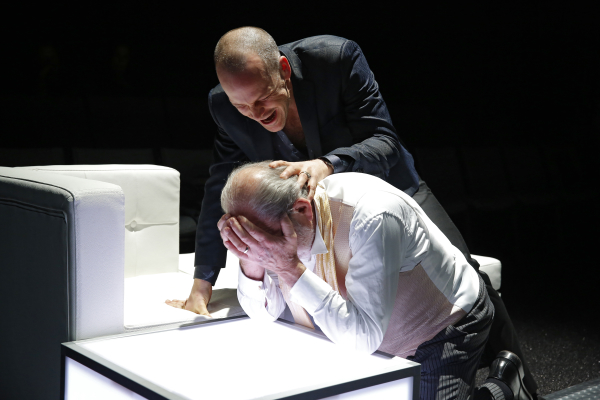 "The funeral baked meats did coldly furnish forth the marriage tables." This line is thrown into sharp relief upon entering Classic Stage Company for its excellent new production of William Shakespeare's Hamlet. Scenic designer Walt Spangler has transformed the space into a chic SoHo lounge. White leather sofas anchor the four corners of the stage, a circular banquet table in the center. A canopy of white flowers wilts overhead, with some clusters already dead. Justin Townsend bathes the room in an eerie pink light, contrasting nicely against the black chairs and undertaker-dark bottles of wine. The shadowy upstage area features a giant layered cake and a bar stocked with top-shelf liquor. Considering the joyous event, the guests are wearing oddly morose colors (costumes by Constance Hoffman). This grim affair has all the hallmarks of a wake repurposed as a wedding, but no one seems to acknowledge this morbid thrift.
No one, that is, except our unhappy protagonist. Hamlet (Peter Sarsgaard) is the oldest son of the recently deceased King of Denmark. He's clearly of age (perhaps even pushing 40 in this telling), so why did his uncle Claudius (Harris Yulin) ascend the throne instead? This question hovers over director Austin Pendleton's production like an unseen specter. True, Claudius did marry Hamlet's mother, Gertrude (Penelope Allen), and he is the dead king's brother, but that shouldn't make him the rightful heir. (This is Denmark, not Saudi Arabia.) It makes even less sense when considering the advanced age of the new king. If Hamlet is approaching middle age, Gertrude and Claudius are practically ancient, barely suppressing palsy as they generously pour glass after glass of vodka. What could explain this apparent coup of the old against the young?
Once we witness Hamlet in action, we immediately understand: He's stark raving mad. Sarsgaard slowly twists what first appears like ineffectual sarcasm into a deadly and unpredictable internal logic, regularly talking to himself and peering off into nothingness. Could it possibly be that he sees things the rest of us would rather ignore? Pendleton doesn't help his case: He removes The Ghost as a character, making Hamlet appear completely schizophrenic. Sarsgaard finishes the effect with a creepily authentic portrayal of a severely unbalanced man. When he's not torturing girlfriend Ophelia (an unexpectedly powerful Lisa Joyce) with his cruel and nonsensical words, he's doing coke with Rosencrantz and Guildenstern (Scott Parkinson and Daniel Morgan Shelley, who both play multiple roles in this highly efficient production). Undoubtedly, this basket-case trust-funder is in no position to wear the crown.
In a revelatory performance by Stephen Spinella, Polonius (the king's faithful adviser) emerges as the architect of the geriatric conspiracy. He's the voice of reason, marshaling the inept royals into action with his gentle good humor. His entire purpose is to present the illusion of stability in the realm. When he goes, everything falls apart.
Granted, that departure ends up being one of the show's weaker moments. Pendleton's convention for death is confusing and inconsistent, with a zombielike Spinella shuffling off. While this makes cleanup an easier process, it is never repeated for any subsequent deaths, making us feel as insane as our titular character when we try to reason it out.
That aside, clarity reigns in this simple and effective staging. Sarsgaard and Pendleton have previous collaborated at CSC to great success in 2009's Uncle Vanya and 2011's Three Sisters. This Hamlet proves they can bring that same magic to Shakespeare, illuminating every word of the verse. Dreamlike, the scenes bleed together, yet we always know who is where and with whom. This is by no means an action-packed Hamlet. A general lethargy pervades, but it is never boring. In fact, we can't look away. This is a testament to Pendleton's surefooted vision of a house on the brink of demise.
Allen's fragile Gertrude is the most pitiable figure in this production, giving Hamlet the benefit of the doubt until the very end. She reaches out to embrace her lunatic son, only to be rebuffed. She so wants to be the happy mom in a Zoloft commercial, but ends up seeming more like the housemother to an apocalyptic cult.
Those expecting a violent orgy of death in the fifth act will likely be disappointed by Pendleton's finale, which arrives not with a bang, but a whimper. It's a novel approach that, while not entirely satisfactory, certainly encapsulates the inevitable creep of death that stalks this play from its earliest moments. No one, not even wise Polonius, has a plan to transition power to the next generation. Instead, they've merely created a paranoid gerontocracy that will eventually be forced to yield power in death. Who takes it up after they're gone is the unsettling question we're left to ponder as we file out onto East 13th Street.