Former Bond Villain Toby Stephens on Bringing Noël Coward's Private Lives to the Movie Screen
In October, the U.K.'s Digital Theatre and CinemaLive inaugurated the new West End Theatre Series with a worldwide movie-theater broadcast of Merrily We Roll Along, Maria Friedman's acclaimed revival of Stephen Sondheim and George Furth's musical. This partnership continues with Jonathan Kent's revival of Noël Coward's Private Lives, starring Toby Stephens and Anna Chancellor as Elyot and Amanda, a divorced couple whose spark is reignited when they accidentally meet while on honeymoon with their new spouses.
In anticipation of the December 11 American broadcast of Private Lives, TheaterMania chatted with Stephens (best known stateside as villain Gustav Graves in the James Bond flick Die Another Day) about the filming of Private Lives, a fear of seeing himself on-screen, and what it was like to put a contemporary spin on a play from 1930 without updating the setting or language.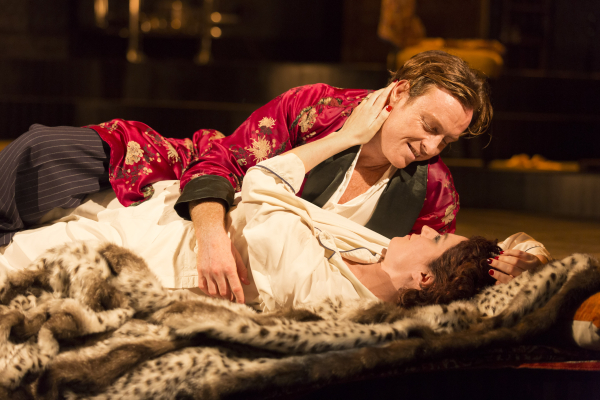 Tell me about the process of shooting Private Lives.
They came to us, I think, only a month before we finished, and said, "We've got this opportunity. We want to do this." We were, "Great, fantastic." It happened over a series of performances. It's a very clever way to do it — they place cameras just on the dress circle. They miked us up and did it over about four performances. They came in, did a test run, and basically had a studio in the basement [with] all these TV screens [to] make sure they got all the footage. It was quite an elaborate process, but they had about four shows to get it right. You're not just stuck with one version; you can cut from show to show, depending on which angle worked best. It was, in a way, quite filmic in those terms.
Is this the first time you've had a stage performance filmed?
I've done scenes from plays, and generally, it's painful to watch, because it's theater. It looks sort of limp and lifeless, because it's a live art. Whereas, with this stuff, the way technology is working, it's so clever and nuanced. You get the best out of it. Jonathan Kent, the director, is a very good friend of mine and is keeping me abreast of how it's been going. What's really exciting is that it takes something that is — theater is ephemeral. It lasts for a night. A performance is never the same. It's gone after you've finished. The sadness I always feel is that some of these great productions, these historic productions of plays, sort of disappear. I would have loved to have seen Olivier's Richard III as it was onstage. And now, this is giving us an opportunity to do that. You have something for posterity. It would be scary for me to watch something I did on film, but it's great that people in New York [will get to see it].
You're afraid to watch yourself?
I'm afraid to watch myself generally, but watching myself onstage will be a new experience. Normally, [theater] isn't compatible with filming. [Here] audiences are watching something they know is a stage performance.
When this production opened at the Chichester Festival Theatre, was the West End transfer already set?
It wasn't a foregone conclusion; there had been a production fairly recently in the West End. It was only really because it went down so well in the press. That galvanized the transfer. It was a very fresh version…it was done in a way it hadn't been done before. It gave [the play] a new lease on life.
How so?
What tends to happen with Coward plays is that they're done like they're in aspic. They try to imitate how people spoke in 1930. Whenever I'd see it, I just found it — I didn't relate to these people. I just didn't get them. When I read the play, what I really felt was fantastic about it was how well observed it was about relationships, about love. About how impossible love can be sometimes. These people are fantastic together but also have just very bad chemistry. I've never seen this done with just two people in a room talking to [each other] like real people — I've always seen a lot of people doing a lot of posturing.
So it was in the language.
The language they use just happens to be the language of Noël Coward. They're very witty. I wanted to strip out all the artifice, to show that these two people are real people. I wanted their relationship to be real. We achieved that. Where the play works is showing people [reflections of] themselves. Everyone has been in a relationship where they bicker and argue. That's where people really recognize it. We needed to do it for our time, which doesn't mean you have to modernize it, but we don't need to talk like they did in 1930.
For this play to work, you need to have a great chemistry with your costar, in this case, Anna Chancellor. Can you explain, or distill, how chemistry is created?
You've got to like the person. I got on well with Anna. We really got each other. We share the humor. In a way, we're not dissimilar in our humor with these two characters, and that really helped. The humor is so integral to their connection. In the first scene on the balcony, they're being witty, but the [new spouses don't] get it. As soon as they're together, they fall into step. They get each other. They start making each other laugh. That's the shoo-in, if you've got the same sense of humor. And luckily, working with Anna, we had that.
Tickets to the U.S. screening of Private Lives are now on sale.
To purchase tickets, click here.