Final Bow: The Popular Kids Bid Adieu to Heathers: The Musical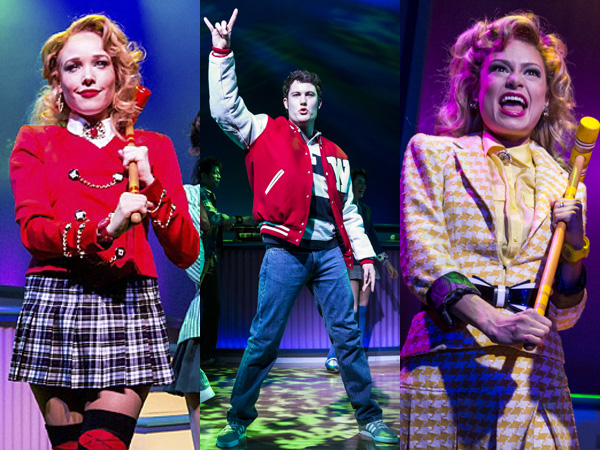 "F*ck me gently with a chainsaw," one of the most quotable shows off-Broadway will play its final performance Monday, August 4. Based on the cult classic film starring Christian Slater and Winona Ryder, Heathers: The Musical took New York by storm in March after a world premiere in Los Angeles.
Two of the original cast members, Elle McLemore and Jon Eidson, came along. Eidson plays football jock Ram Sweeney, one of the tyrants of Westerburg High School. McLemore plays Heather McNamara, a lieutenant in the powerful Heathers clique.
Eidson and McLemore joined Jessica Keenan Wynn, who plays queen bee Heather Chandler, for a chat at Worldwide Plaza, just outside the stage door at New World Stages. They talked about celebrity guests, bizarre stage-door gifts, and who is really the most popular kid in the show.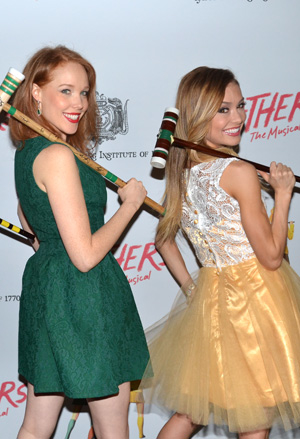 1. What is your favorite line in the show that you deliver?
Elle McLemore: "Jesus, I'm on the freakin' bus again because all my rides are dead."
Jessica Keenan Wynn: "Don't you trust him?"
Jon Eidson: "So do you want me to just whip it out, or what?"
2. Everyone loves inside jokes. So tell us, what is the best one from your show?
Jon: [The song] "Dead Gay Son" is riddled with little jokes. Everyone has their kryptonite in the cast, the thing that makes them crack up. When we're all on stage, especially after we've had the intermission to be real people, we come back and are like, Oh yeah, we're in Heathers: The Musical. Tony [Crivello] and Dan [Cooney] are hilarious and they've taken to bumping into people and picking people out in the cast to see if they'll break. We're all packing shoulder-to-shoulder into the pews and we usually get church giggles during that scene.
3. Every show experiences technical difficulties. What was the worst technical difficulty experienced during your show and how was it handled?
Elle: The other night my pill bottle fell into the audience. I normally just take the bottle and hold it, but it slipped from my hand and hit this girl in the forehead. I felt so bad. She looked a little disoriented, but she politely picked the bottle up and placed it back on the stage.
4. What was the most "interesting" present someone gave you at the stage door?
Jon: I've gotten underwear that has "You look better in your underwear" written on it.
Jessica: I got this beautiful stone that had a big tress carved on it, and on the back it said "Jessica Keenan Wynn – Heathers: The Musical." I'm not sure how it connects to the show, but it's a very nice gift.
Elle: I got an envelope full of pictures of Zac Efron holding animals. It had a note that said, "This is the only thing just as adorable as you."
5. Who is the coolest person that came to see your show? (You can't say your family.)
Jon: Tina Fey.
Jessica: RuPaul.
Elle: Stephen Sondheim.
6. If you could steal one costume piece from the show, what would it be and why?
Jessica: My red Swatch watch. I love how eighties and iconic it is.
Jon: I feel like I'm going to have to take a pair of my underwear with me.
Elle: I want my yellow blazer. That's the signature Heathers outfit.
7. What will you miss most about performing at New World Stages?
Jessica: [Worldwide] Plaza has been such a gift to us. We've bonded out here as a cast. We'll have a four-show weekend and we'll all sit out here together. It's been such a mild summer, so it's been nice to come out here and have a break.
Elle: It's been unique to be off-Broadway, but still feel a part of the theater community in midtown.
Jon: It really feels like a part of Broadway. We also have our own ecosystem in New World Stages, with Avenue Q and Murder for Two, when they were there. We see the other shows and we have friends in them. It feels like a neighborhood. It's pretty cool.
8. Jon and Elle: What's the difference between playing for an L.A. audience and a New York audience?
Elle: I think L.A. audiences have no expectations, but New York theater audiences are very discriminating in their tastes. There's something about doing a show here and knowing you did a good job that feels more satisfying.
Jon: There's a lot of really good theater in L.A., but I would echo what Elle said. I think the expectations there were lower and people were blown away that there was a new show and we were doing it in this tiny black-box space that fit, at max, around 150 people. Our costumes and the band were all thrown together. It felt like an underground rock show. Now we're literally underground, but in a real theater and being reviewed by The New York Times. It's a whole different game.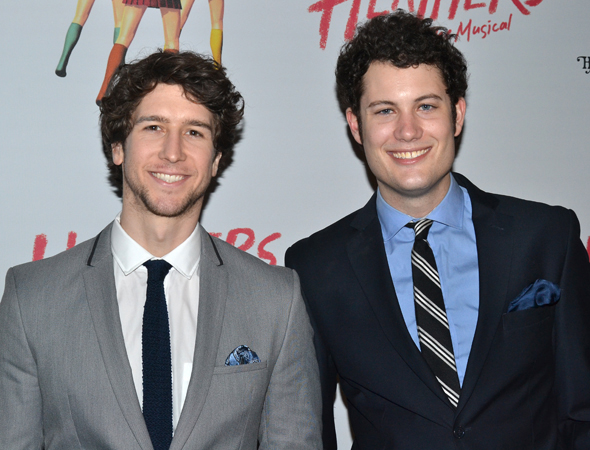 9. Be honest: Who's the most popular person in your cast and why?
All three: Evan Todd.
Jessica: If only because, like Jon, he really goes out of his way to connect with people and know what they thought of the show. He really makes everyone feel important.
Jon: Thank you for including me, but I would agree that Evan is, far and away, the true extrovert. He's been the rock of the show. Amazingly, he's also one of the show's producers. I'm really lucky, because we've also created this fun duo on stage.
10. This is the NYC debut for two of you (Jessica and Jon). What surprised you about the experience?
Jessica: You really feel a part of the Broadway community. Going into an off-Broadway show, I had no expectations. I knew we had heavy hitters behind the scenes. It's amazing that we can feel a part of that world. Andy Karl and Lesli Margherita came to our opening night. We had James Snyder. It's been an incredible feeling of inclusion.
Jon: We've been really lucky to be welcomed that way. It's been a surprise for me that it even happened. I've always wanted to go to New York, but I didn't think that auditioning for a little black-box show in L.A. was going to bring me here. But that's how things happen. You can't plan it. You just have to roll with it.