A Warm Little Women Reminds Us How Good a Story It Is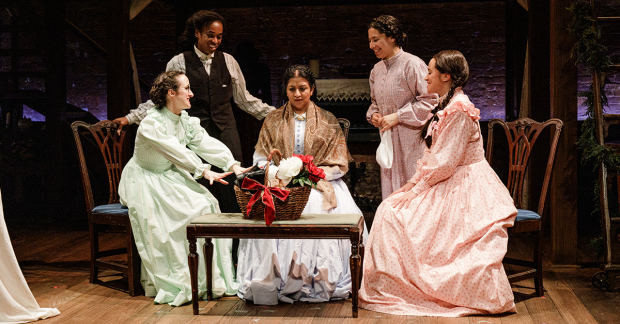 I'm always trepidatious when it comes to period dramas — especially period dramas reimagined through a contemporary lens. But Kate Hamill's dramatic versions of classics like Sense and Sensibility and Vanity Fair have always surprised me in the best possible ways, filled with clear-cut theatricality and modern perspectives, while taking only minor liberties in adaptation.
To say that Hamill's latest, Little Women, a production of Primary Stages at the Cherry Lane Theatre, is a CliffsNotes edition of the Louisa May Alcott novel isn't a bad thing. Purists may balk at the occasional lack of depth, but I found the show to be the perfect gateway drug for audience members being introduced to this beloved tale of familial togetherness.
Set in Civil War-era Massachusetts, Little Women mostly focuses on Jo March (Kristolyn Lloyd), an aspiring novelist taken with subverting traditional gender roles and yearning for a future where she can be independent. As she and her sisters Meg (Hamill), Beth (Paola Sanchez Abreu), and Amy (Carmen Zilles) grow up over the course of a year, the March siblings learn what it takes to become their own people in a world with prescribed notions for what a woman should be.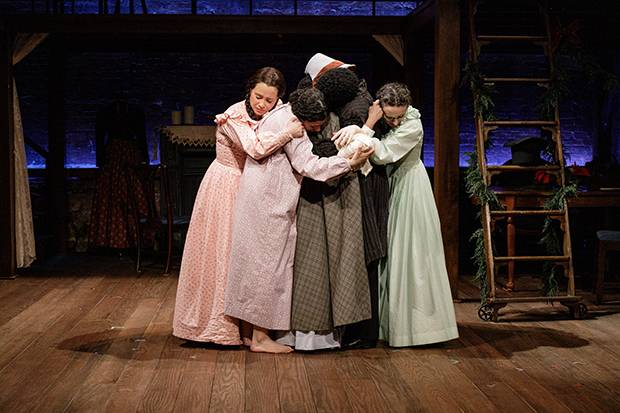 Hamill's fat-free adaptation, combined with Sarna Lapine's swift staging, plays out almost like a highlight reel of the lives of the March family. We zoom in on the potential romances between male suitors Laurie (Nate Mann) and Brooks (Michael Crane) with Jo and Meg, and telescope out on devastations like Beth's various illnesses. As the women mature and realize that society isn't all it's cracked up to be, the physical production turns progressively darker — warm lighting by Paul Whitaker and pleasant musical underscoring by Deborah Abramson become as haunted as many of the characters.
The actors themselves telegraph remarkable transformations between acts. I was most impressed with the striking ways that Hamill and Zilles showcase their characters' individual growth. Lloyd, too, is particularly good at showing Jo at her most defeated. It's hard not to wish that Abreu, whose character is frequently referred to as the family's conscience, had more of a character to work with. Beth never can catch a break.
If there's a downside to Lapine's production, it's that the performers all seem too close in age. If you were unfamiliar with the source material, you'd never be able to tell that the sisters range in age from 12-16; they all look like adults here. But that's a small thing in an otherwise wholly enjoyable Little Women, one that reminds us of two very important things: first, the bonds of family are the most important ties in our lives and should never be severed; and second, it's a classic for a reason, and Hamill gives it the respect it deserves.