A Theatrical Love Triangle Returns to the Met in Adriana Lecouvreur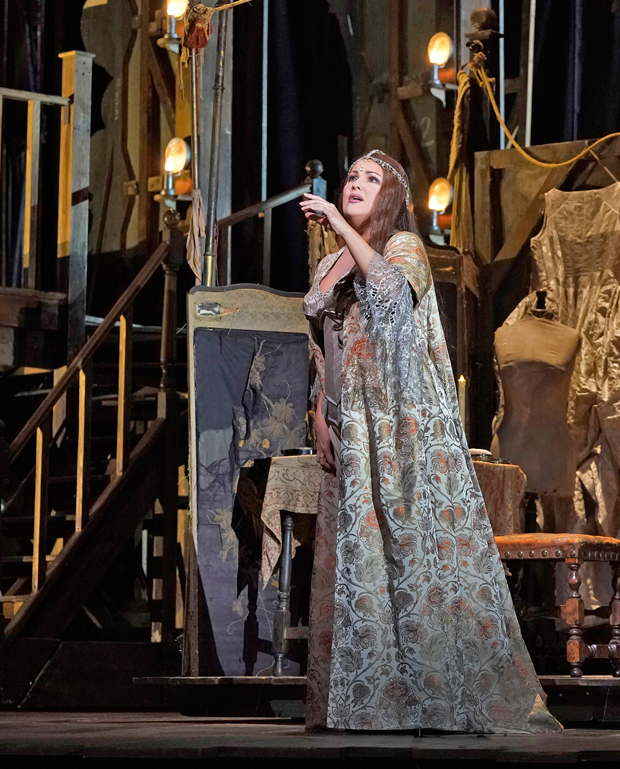 Francesco Cilea's historical 1902 opera Adriana Lecouvreur is a second-rate work in many respects, with a needlessly complicated plot, a ridiculous (not to mention ridiculously overextended) climactic death scene, and a general air of tawdriness that wouldn't be out of place in a modern-day soap opera or reality show. Yet, like one of his predecessors, Vincenzo Bellini, Cilea had a knack for lavishing even the most fatuous of storylines with some of the most purely beautiful melodies ever to be heard in an opera house. And given committed direction and powerhouse performances, Adriana Lecouvreur can still make for an enjoyable evening.
On those counts, Sir David McVicar's new production at the Metropolitan Opera, featuring Russian superstar Anna Netrebko in the title role, is a resounding success; certainly, it proved to be an excellent way to ring in the New Year at the company's annual New Year's Eve gala. The splendors run all the way down to Charles Edwards's breathtaking sets-within-a-set, Adam Silverman's evocative lighting, and Brigitte Reiffenstuel's imaginatively varied period costumes. The Metropolitan Opera has spared no expense in creating a luxuriant upper-class world here, but thankfully, this production never buckles under the weight of its visual spectacle — all the better to focus our attention on the singers.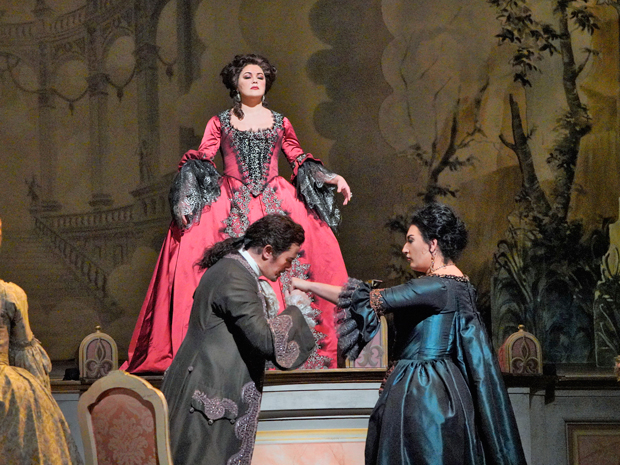 For all the plot convolutions, Adriana Lecouvreur essentially details a love triangle between the title character (Netrebko), a famous 18th-century French stage actor; Maurizio (Piotr Beczała), the Count of Saxony; and the Princess of Bouillion (Anita Rachvelishvili). In the hands of these three brilliant performers, one finds oneself caught up not just in these characters' shifting emotional temperatures toward one another, but in the sheer contrasts between the characters themselves.
Rachvelishvili immediately seizes our attention upon her first appearance with her opening Act 2 aria "Acerba voluttà," a declaration of her love for Maurizio that fuels the fierceness with which she fights for his affections throughout the rest of the opera. As the object of both women's affections, Beczała burns with a youthful ardor that makes one understand why Adriana and the Princess are drawn to him even when he transgresses. Best of all, though, is Netrebko, who manages to suggest a genuinely dimensional character in Adriana: a diva whose desire for love is as voracious as her devotion to art. Netrebko's rendition of Adriana's Act 1 tribute to the artistic muse, "Io son l'umile ancella," offers merely the first highlight in a performance full of them.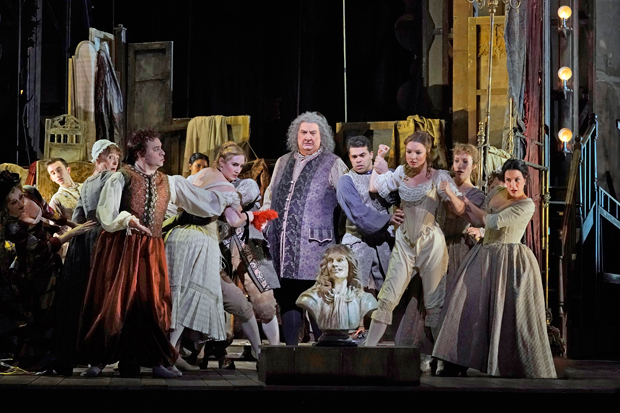 There are no weak links in the rest of the cast, with Ambrogio Maestri a particular standout, evincing touching autumnal wisdom as Michonnet, an older stage manager who secretly pines for Adriana. Andrew George's gossamer-light choreography in the third act "Judgment of Paris" ballet sequence fully reflects the playfulness of Cilea's music. Underneath all these moving parts, Gianandrea Noseda leads the orchestra in an invigorating account of the score that matches the melodramatic passion of the stage performers while maintaining a surface elegance throughout.
In the end, though, it's the conviction the three stars bring to their roles that makes this Adriana Lecouvreur stay in the memory. With Netrebko, Beczała, and Rachvelishvili onstage, this fluffy opera comes off as something like a masterpiece of deliciously sumptuous ribaldry.