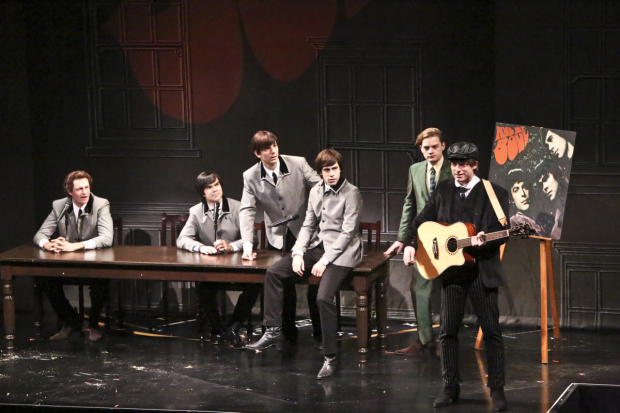 Shakespeare's comedy Much Ado About Nothing revolves around lies, exaggerated love, and the ramifications of gossip. What other modern group faces these issues on such an international public stage as much as celebrities do? Playwright Rolin Jones resets the shenanigans of the Bard's two sets of lovers within the culture of music superstardom in These Paper Bullets!, now playing at Geffen Playhouse, and turns the royals into fashionistas, supermodels, and a thinly veiled caricature of one of the biggest bands of all time, the Beatles.
The hottest British Invasion group, the Quartos, perform for swooning mobs of women while balancing the ladies in their personal life. Guitarist Ben (Justin Kirk) once had a failed romance with acclaimed fashion designer Bea (Nicole Parker) but his mates conspire to reunite them permanently. Bass guitarist Claude (Damon Daunno) adores the Quaalude-popping model Higgy (Ariana Venturi) and hopes for her hand in marriage. His drummer Pedro (James Barry) acts as everyone's wingman, while second guitarist Balth (Lucas Papaelias) is the only member to speak with brutal honesty about everything. There is a villain in the midst, Don Best (Adam O'Byrne), the Quartos' former drummer whom they had fired for being awful. Don resents his famous former friends and plots revenge.
Jones' libretto lifts Shakespeare's original text and mashes it up with 20th-century prose. Even sentences that come from the original play have slang and '60s references peppered about. At first, it seems haphazard, but Jones is toying with the audience, creating a sense of literary anarchy. Some of the dialogue is overly crass. The Hard Day's Night style that Jones parodies was wild, but still innocent. There are much cruder jokes that feel inappropriate given the surroundings. Green Day front man Billie Joe Armstrong, who found success on Broadway with American Idiot, adds to this musical rebellion by seemingly parroting the songs of the Beatles, copying riffs or vamps, but just when the audience thinks the Quartos will launch a Beatles song they know, Armstrong quickly veers into a different direction. The eight original numbers are completely Beatle-esque without being clones.
Parker is a treasure as Bea. Prone to pratfalls, acrobatics and saucy turns of dialogue, she commands every scene she is in. Kirk, who showed his flair for flippancy during his years on Showtime's Weeds is hilariously pompous and clueless as the band's "John Lennon," breaking apart the group after declaring love for his own Yoko. As the hopelessly romantic Claude, Daunno swoons like a child and acts just as impetuously. Venturi, as a character perpetually stoned, projects her lines airily, like it takes all her breath to speak her sentences before passing out. The supporting cast is stellar; most memorable are Kate Blumberg as the bombastic and nosy BBC reporter, Keira Naughton as the Higgy's constantly sauced lady-in-waiting, and Christopher Geary as the agitated Queen Elizabeth.
Jackson Gay's direction keeps the pacing frenetic. Michael Yeargan's sets move on a small turntable, taking the audience between recording sessions, posh high-rise suites and the drab world of Scotland Yard. Nicholas Hussong's projections set the scene as well as reveal plot with videos resembling VH1's Behind the Music giving the band's back story. Jessica Ford's costumes are exquisite, with vibrant colors and all the styles of Carnaby Street in the '60s including Nehru jackets, miniskirts, macramé pullovers, and pixie-cut wigs. The sound design was the element most in need of some tweaking. The microphones and amps sounded like they were on the same level, with the instruments assaulting the singing, making many of the lyrics unintelligible.
Jones and Armstrong have only enhanced the foolishness of their show's predecessor with a stylized jamboree of the Mod era to make These Paper Bullets! a theatrical festivity.