The Curious Incident of the Dog in the Night-Time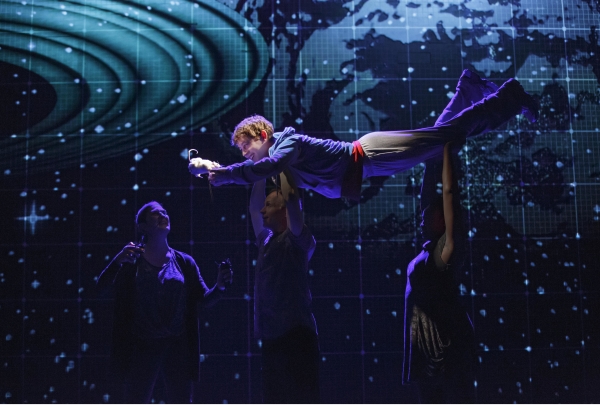 Christopher Boone, our eccentric protagonist in Mark Haddon's bestselling novel The Curious Incident of the Dog in the Night-Time, fancies himself a wily crime-solving Sherlock Holmes. Yet as his internal experiences take brilliant shape on the stage of the Barrymore Theatre in Simon Stephens' award-winning stage adaptation, we discover a much stronger resemblance to Homer's journeying hero Odysseus. No, Christopher does not face a Cyclops, or a deadly whirlpool, or a tribe of hungry cannibals. He does, however, take on the London Tube — an equally daunting challenge where every external stimulus is fired like a lightning bolt that threatens to tear your sensory faculties to shreds.
Christopher's journey begins over the body of a neighborhood dog named Wellington, who has been gruesomely stabbed to death with a garden fork. In the spirit of his fictional idol Sherlock Holmes, the 15-year-old mathematic savant (played by Alex Sharp) sets out to do some "detecting" to solve this murder mystery as well as an unexpected second query around the disappearance of his mother (a wonderfully vulnerable Enid Graham). From here, Stephens' play remains almost letter faithful to Haddon's original text, even preserving the novel's narrated structure. Though rather than building a novel within a novel as Haddon did, Stephens creates a play within a play (the production's only potentially groan-inducing element, as the idea is introduced to the audience with an exaggerated wink and nod). In an effort to nurture his limited capacity for emotional expression, Christopher's teacher Siobhan (a comfortingly anchored Francesca Faridany) suggests he write a play about his experiences (as opposed to the book's mystery-novel context), from which she reads throughout his epic journey. Amid this narration and its coinciding action, we gather that Christopher's behaviors would place him somewhere "on the spectrum," so to speak. But director Marianne Elliott's raw production paired with her young actor's stunning lead performance, successfully kicks the crutch of a diagnostic label out from underneath the play's more than capable legs. All preconceived notions and societal baggage are left at the door, allowing us to take in the sensory experiences alongside our central character.
Curious Incident comes to Broadway riding the buzz of London's West End, where the production was handed seven Olivier Awards in 2013. It takes only a moment inside this physically breathtaking world created by Bunny Christie (set), Paule Constable (lighting), Finn Ross (video), and Ian Dickinson (sound) to feel privy to a theatrical event unlike any of the living room dramas currently peppering the Great White Way. The designers' integrated contributions transform the Barrymore stage into a three-dimensional grid — a blank canvas whose organized sparseness continually surprises with the hidden treasures, powers, and facilities that are majestically revealed over time.
The same can be said of our fearless leader Christopher and his embodying actor. While Christopher's brain is often limited by its rigid linear processes — the ones that fail to comprehend metaphors, subtle cues of body language, and the value of an occasional white lie — the keen eye he lends to the world leads to several moments of transcendent beauty. Sharp's understated performance focuses our eyes on this unexplored dimension, while also periodically shocking us with sensory overload as we gasp for air at his balletic execution of Steven Hoggett's gravity-defying choreography.
As a young man incapable of extending his consciousness beyond his own experiences, Christopher never quite assumes the universality that some may be hoping to find in him. Just as his father (an alternately imposing and emotionally defeated Ian Barford) must be the one to reach out to his son with an open palm, we must be the ones to grab hold of his world. And clocking in at over two and a half hours, there is ample time to settle in — to experience the overwhelming noise of an approaching subway car, to absorb the intoxicating comfort of an ever-trustworthy mathematical formula, and to see the world for the surprisingly curious place that it is.