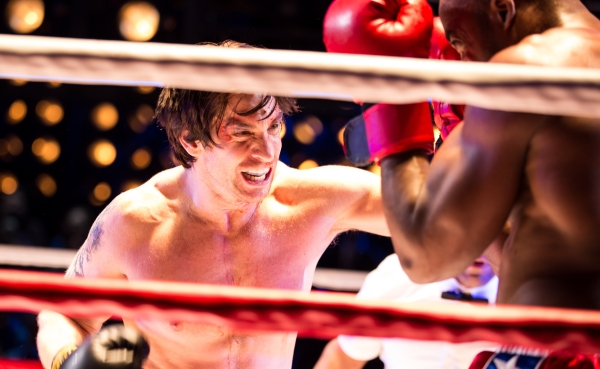 The Winter Garden Theatre transforms into the now-demolished Philadelphia Spectrum Arena in Rocky, the new musical based on the 1976 Academy Award-winning film. Rocky boasts an original score by Lynn Ahrens and Stephen Flaherty and a book co-written by Thomas Meehan and the man who started the whole thing, Sylvester Stallone. Producers have been trying to lure sports fans to Broadway for years, but Rocky comes the closest I've seen to an authentic sporting event within the context of a musical.
Rocky Balboa (Andy Karl) is an aging Italian-American boxer from a working class neighborhood in South Philadelphia. He competes in small-time bouts in church basements, earning maybe $40 on a good night. To supplement his income, he works as a "collector" for slimy loan shark Gazzo (Eric Anderson). Rocky has the hots for Adrian (Margo Seibert), the painfully shy little sister of his old friend Paulie (Danny Mastrogiorgio). Rocky tries to impress Adrian with his jokes, but she's not sure she could ever be comfortable with a boxer.
After third-ranked challenger Mack Lee Green withdraws from a scheduled match against heavyweight champion Apollo Creed (Terence Archie), Creed looks for a local fighter to fill in, stating, "America is the land of opportunity, where every underdog gets a shot, right?" He picks Rocky as that underdog, and the "Italian Stallion" begins a punishing training regimen under the guidance of Mickey (Dakin Matthews), the gym owner who had previously dismissed Rocky as "a waste of a life." Rocky is determined to show that his life isn't a waste, that he can go the distance with Creed: a full 15 rounds.
Karl captures the essence of Rocky with simple charm and affable dignity. You want him to win. Archie is perfect as Creed. With a politician's smile and some funky dance moves, he's a master showman, trafficking in "patriotism" and "The American Dream" in an effort to boost his own brand. Every time he descends to the stage from his rarified perch to mingle with the commoners of South Philly, we understand that he's holding all the cards in a rigged game.
Ahrens & Flaherty, the undeniably talented composers behind Ragtime, unfortunately phone it in for Rocky. Songs like "My Nose Ain't Broken" (the most memorable in an unmemorable score) express the surface ideas of pride and disappointment, but never dig very deep. Rocky incorporates music from the original film franchise, including "Gonna Fly Now" (the iconic Rocky theme) and Survivor's "Eye of the Tiger." Squeezing these blood-pumping anthems into an otherwise lethargic score salvages the show musically, but also exacerbates the clash of styles. Beefy tattooed boxers sing "Eye of the Tiger" as Rocky ascends the steps of the Philadelphia Museum of Art. The audience goes insane. Rocky and Adrian sing a sweet and forgettable duet about "Happiness." Everyone politely applauds.
Ahrens & Flaherty's one triumph is in giving a greater voice to the otherwise inscrutable Adrian. In the film, we never really get a sense of what drives her, but the contemplative and lyrical songs "Raining" and "I'm Done" (powerfully delivered by the clear-voiced Seibert) fill in the back story and help us to sympathize with Adrian on a new level: She wants more, but she's afraid to make a leap that might take her out of a depressing situation in South Philly.
One of the most notable features of the film is the way it portrays the urban decay of 1970s America: Philadelphia looks like Dresden circa 1945. Christopher Barreca re-creates this effect on stage with his imposing and dangerous-looking set. Colored mostly in black and grey, it has the aura of soon-to-be-obsolete industrial equipment grinding its way to an inevitable demise. (Several large sides of beef received entrance applause when they descended from the rafters for the meat-freezer scene.) Out of this darkness, patches of color explode: a brightly lit office for superstar fight promoter Miles Jergens (David Andrew Macdonald), and, on Creed, a pristine white coat (the type that wouldn't last a week on a pedestrian). There are a few people doing well in this wasteland.
For all its impressive wizardry, the set of Rocky makes for a remarkably cold experience. The action feels distant and the lighting is dim. This all changes in the final scene: The first several rows of the audience are relocated to seats onstage, forming the boxing arena for the Creed-Balboa fight. The ring slides forward over the former location of the audience, giving everyone in the orchestra a ringside seat. Steven Hoggett and Kelly Devine's stage combat is shockingly realistic, made all the more impressive above the ring by the presence of two roving camera crews taking close-up live video that feeds to a makeshift jumbotron. There's literally no room for error in this final sequence. As if by magic, director Alex Timbers has transformed a Broadway show into a premiere sporting event, with all the accompanying adrenaline and fervor.
One might expect Timbers (director of the hipsters-do-history musical Bloody Bloody Andrew Jackson and the Imelda Marcos dance party Here Lies Love) to pepper the entire proceeding with a heavy coat of self-awareness and irony. (After all, the whole idea of a Rocky musical feels like the punch line to a joke on The Simpsons.) I'm pleased to report that Timbers does not do this. In fact, his rigorous commitment to sincerity pays off hugely at a time when winking-at-the-audience meta-theater is starting to feel stale and predictable.
Rocky is like every great American sports film you've ever watched, but played out live in front of you. You'll cheer and wince along with the rest of the crowd as you submit to the artistry of the production and the heart of the story.