Review: Two Men Bond Over Basketball and LeBron in King James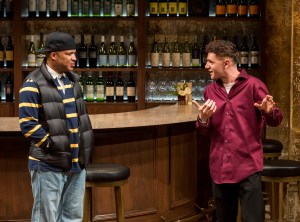 In Rajiv Joseph's outstanding new buddy comedy, King James, two lonely men become friends when they discover that they're both passionate about basketball, and in particular about the career of LeBron James. Out of that simple premise, Joseph has created one of the funniest and most moving plays about friendship in years, with two dynamite performances from Glenn Davis and Abbott Elementary's Chris Perfetti as a couple of guys from different backgrounds whose friendship plays like a cordial — and sometimes not so cordial — game of one-on-one. Basketball fans will love Joseph's insidery jokes, but even if (like me) you don't follow the game all that much, King James is a must-see.
Perfetti plays lifetime Cavaliers fan Matt, a self-important white guy working in a Cleveland wine bar who claims to know the problem with America, but he still does his laundry at his parents' house and tends to make hasty assumptions about people. After a failed business venture, his father gives him some valuable Cavs season tickets to sell to the highest bidder. Shawn (Davis), a Black writer and equally devoted Cavs fan who's never had the opportunity to go to a game till now, wants those tickets but can't afford what Matt's asking. While they haggle, they discover that they're both cut from the same Cavaliers jersey and that they have a budding fascination with this new rookie player named LeBron James.
Yes, rookie player. Joseph begins his play in 2004 when LeBron was just starting out, yet the mythology surrounding him had already begun to percolate into the zeitgeist. "You don't know nothin till you see him in person," says Matt. "He is insane. He can run the length of the court in four steps. I saw him do it, rim to rim."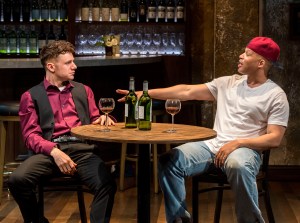 Perfetti delivers these hilarious lines with the passion of a true believer who's not just angling for top dollar on his tickets but who really feels a sense of awe for this new basketball god. Davis, wearing a hangdog expression and a puffy vest that insulates Shawn from the cold and the world (apt costumes by Samantha C. Jones), shows us a man who's been ready to worship at this church since yesterday.
We get to see how these two social misfits (neither of them seems all that lucky in love) come to rely on each over the course of a dozen years. Each milestone in their friendship is punctuated by a turning point in LeBron's career, including the time in 2010 that the King absolutely crushed Cavaliers fans when he left Cleveland to go play for the Miami Heat. Matt is equally crushed when Shawn tells him that he is moving to New York to become a TV writer. "I'm happy for you, man," Matt says over and over, trying to convince himself of his own lie.
Kenny Leon directs the entire production with the excitement of an actual game. From the moment we enter the theater, we feel like we're courtside as DJ Khloe Janel spins pop and hip-hop from their DJ booth (Lee Fiskness's lighting and Rob Milburn and Michael Bodeen's sound design help crank the atmosphere up into the party zone). Then, preshow, we hear a recording of Marvin Gaye singing his unrivaled rendition of the national anthem, delivered 40 years ago at the 1983 NBA All-Star game in Los Angeles (LeBron would be born the following year). Don't be surprised if you find yourself clapping along.
Leon also gives us a surprise at the beginning of the second half of the two-hour play with a stunning reveal of Todd Rosenthal's set, which takes us from the wine bar to the old curiosity shop owned by Matt's parents, where a symbolic globe of the world doubles as a bar and basketball hoop, and a stuffed armadillo (the men's spirit animal) presides over it all.
It's here that the play dives into the troublesome racial power dynamics that the men (Shawn in particular) have managed to keep from surfacing over the course of their friendship. Tempers erupt when Matt blurts out something provocative about LeBron, and when he tries to play the clueless-white-person card, Shawn blows up: "You're always going on about this is the problem with America, that's the problem of America. Well, guess what, man…. This, right here? This is it." Davis and Perfetti go hard in this scene with some edge-of-your-seat verbal sparring, and we feel like we're watching a ball soar through the air with no idea where it's gonna come down. But when it does in the last scene's final moment, it's nothing but net.
The play leaves off in 2016, when LeBron led Cleveland to its first NBA title, so there's no mention of the GOAT's most recent achievements, not least of which was breaking Kareem Abdul-Jabbar's scoring record back in February. But that's fine, because the larger point of King James is how two friends get past the fouls and keep playing. When I saw Davis and Perfetti in King James last year at Steppenwolf, I suspected that I had just seen one of the finest pieces of theater that I would see in 2022. That turned out to be true. It's one of the best plays you'll see this year as well.