Review: The Fears Is a Laugh-Out-Loud Satire of a Buddhist Support Group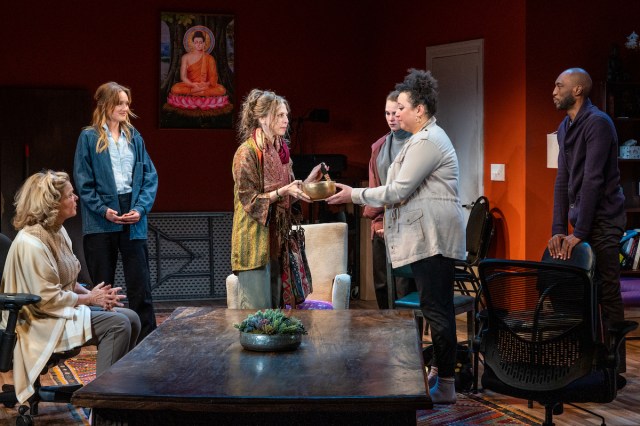 There's a fine line between support group and cult, as Emma Sheanshang hilariously demonstrates in The Fears, which is now making its world premiere at the Pershing Square Signature Center with producer Steven Soderbergh. Reveling in thwarted nirvana, this laugh-out-loud comedy occupies the space between ideals and reality — which is where the most interesting human behavior is found.
The Fears takes place in a Buddhist center in New York City, where Maia (Maddie Corman) facilitates a group for people who have survived extraordinary trauma. Maia challenges the group to stay in the present and asks for regular "weather checks" in which each member says what they are feeling. She credits this psychobabble to her mentor, Sunam. But it's Maia who is there every week to watch Rosa (Natalie Woolams-Torres) tiptoe up to her fear of cancer, or hear Fiz (Mehran Khaghani) talk about the sexual abuse he suffered as a child. He's more open than most about discussing these things, and volunteers his story to the group's newest member, Thea (Kerry Bishé), within minutes of meeting her.
An outsider with only the vaguest grasp of the group's customs, Thea seems to be our avatar of normalcy (an act Bishé keeps up for an impressively long time with her expressive eyes and uneasy posture). But we soon discover she's carrying her own exotic baggage, expounding on a grand theory of history to explain the terrorist attack that killed her mother. We can only discern dark glimmers of the terrible things that happened to Suzanne (Robyn Peterson) and Mark (Carl Hendrick Louis) — and we're sure we don't actually want to know the details of what Katie (Jess Gabor) went through.
Gabor delivers an extremely unnerving performance as the group's youngest, most anxious member, whose practice of Buddhism is tempered by her involvement with the macabre "Children of Death." Fiz dismisses them a cult, but Katie insists they're not very different from the Buddhist group. "If Katie says it's a group, then it's a group," says Maia to head off a potential argument (Corman's vocal inflections are the auditory equivalent of chamomile tea). But we wonder if Maia's extreme form of tolerance is helpful to anyone, especially the palpably vulnerable Katie.
As Maia produces a tone on her metal bowl and the participants settle in for a minute of silent contemplation, the angry, violent, thoroughly un-Zen noise of New York City assaults their serenity through an open window (Jane Shaw's magnificently vulgar sound design occasionally brushes up against the divine). We cannot help but laugh.
Sheanshang's send-up of the spiritual-industrial complex is nothing new and may remind viewers of Bess Wohl's Small Mouth Sounds. In fact, The Fears seems to be part of a recent wave of plays (including The Thanksgiving Play, Your Own Personal Exegesis, and Miles for Mary) in which people earnestly assemble for a larger purpose, only to be humiliated in their efforts. This may indicate a growing suspicion of civil society, as we abandon church coffee hours and other forms of in-person fellowship to retreat behind our screens.
But rather than showing how a group of seemingly good people can devolve into a blood cult (as Tracy Letts did in his mildly ridiculous drama The Minutes), Sheanshang tells the harder, more truthful story of regular people struggling to find peace in a chaotic world, clinging to whatever little bit of enlightenment they can find in the wreckage of disappointing jobs and faltering relationships.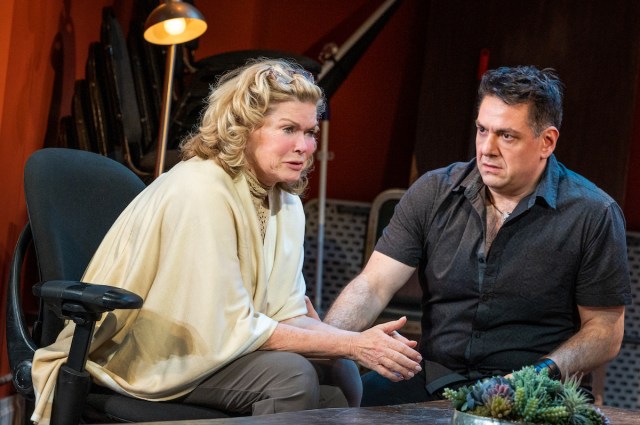 Through specific performances and under the surefooted direction of Dan Algrant, the cast succeeds in creating a small society of recognizably human individuals, complete with charms, flaws, quirks, and surprises. The electricity-generating friction between Khaghani and Peterson will have you reaching for the popcorn, while Woolams-Torres (as Rosa) exudes a low-grade resentment toward Katie. Without explicitly spelling it out, Sheanshang and Algrant suggest years of backstory in a play that only takes 95 minutes to perform.
David Robinson adds more color with his thoughtful costumes. There are some woo-woo clichés (Maia's outsize scarf), but other items (like Fiz's hideous billboard of a polo shirt) hint at lives beyond the group. Jo Winiarski's set captures the second-hand comfort of allegedly safe spaces like this Buddhist center, where sundry swivel chairs cohabit with colorful throw pillows and yoga mats. Scant natural light from a single window mixes with a synthetic overhead glow in this urban cloister (lighting by Jeff Croiter). It's not the Potala Palace, but it's what these casual Buddhists have to work with.
Somewhat ironic for practitioners of a faith tradition that eschews worldly attachments, the characters in The Fears seem to most fear loss — and that includes loss of this little circle of trauma. Sheanshang finds ample humor in the fundamental human need for community, which is why so many people wind up in cults in the first place. You'll laugh, most often in recognition of your own foibles lovingly projected onstage.