The smell of burning coffee wafts from a little machine as the meeting reaches a boiling point and voices are raised. No, this isn't a scene from budget negotiations in Washington, but the planning committee for a small charity event at an Ohio high school. Written collaboratively by the theater company the Mad Ones, Miles for Mary is the hottest comedy in New York this winter. Anyone who has ever suffered through a staff meeting will immediately recognize the passive-aggression and petty slights that dot this 110-minute howler. It's not funny when you're in the room, but it's downright hysterical when viewed from the outside.
Now upstairs at Playwrights Horizons, this is a return engagement for Miles for Mary, which made its debut at the Bushwick Starr in October 2016. Seeing the play for a second time wasn't quite as cathartic as seeing it after the presidential election. That initial viewing resulted in the kind of therapeutic laughter that left me in tears, but that had more to do with my clearer frame of mind than it did with the caliber of storytelling, which remains extraordinary. If you're feeling angry or depressed, this is the perfect show to take your mind off things.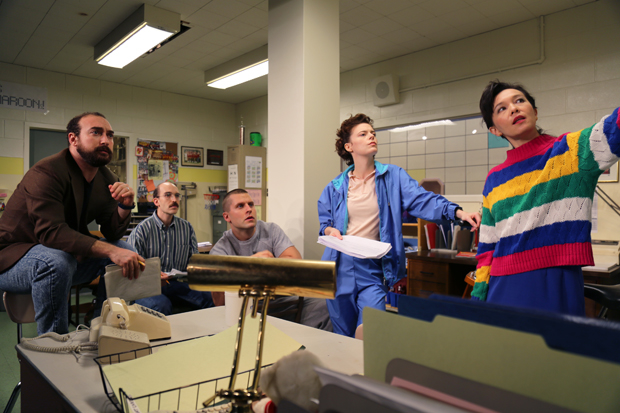 Miles for Mary takes place over the course of the 1988-89 school year in the Phys Ed office of Garrison High School, where a group of teachers meets regularly to plan the annual Miles for Mary telethon, which raises thousands of dollars for a scholarship in honor of a deceased star athlete. Brenda (Amy Staats) is the founder and chair of the event, but an injury has left her bedridden and relegated her voice to the speakerphone. David (Michael Dalto) has taken over leadership duties in the interim. The other committee members are health teacher Rod (Joe Curnutte), track coach Sandra (Stephanie Wright Thompson), A.V. club adviser Ken (Marc Bovino), and English teacher Julie (Stacey Yen). The latter two are married, but other fraught relationships emerge as the play progresses, revealing a system of factions and frictions at least as complicated as NATO.
A history teacher by day and wrestling coach by night, David naturally approaches his task like Henry Kissinger starring in a remake of Hoosiers, a synthesis of pragmatism and schmaltz that Dalto improbably manages to maintain. Brenda seems shut off from real participation by her captivity to the phone, but Staats is able to convey her thoughts and intentions through an impressive range of vocal inflections. In a slow build of resentful glances and veiled threats, Bovino and Curnette confront us with the depressing reality that the nerd-jock rivalry extends into the faculty lounge. Everyone seems well versed in the diplomatic language of the Dale Carnegie age, with the teachers engaging in "real-time check-ins" and cleansing two-minute breaks. It's painful to watch, if only because it is so very familiar.
Given the company's consensus-driven approach to theater making, we suspect that the maddening group dynamics captured in Miles For Mary are drawn from first-hand experience. Luckily, the troupe benefits from the leadership of Lila Neugebauer (The Wolves), the most skilled director of ensembles working in New York today. The complexity that she and the company bring to every moment makes this rather bland high school office a treat to behold, with so much shading and shade emanating from the faces around the conference table.
Ásta Bennie Hostetter provides a hilariously retro costume plot that would make even the most ironic of Bushwick hipsters blush. David's acid wash jeans, which seem to be suspended by elastic, are surely a low point, but Julie's Christmas shoulder pads deserve an honorable mention. Set designer Amy Rubin creates the overstuffed institutional room in depressing detail, all if it illuminated in Mike Inwood's harsh fluorescent lighting. Sound designer Stowe Nelson suggests bustling life beyond the office, with the sound of the marching band occasionally seeping in. It's all simultaneously funny, exasperating, and strangely nostalgic.
It would be too easy to look down and laugh at these aggressively mild Ohio schoolteachers, clinging to their platitudes and team-building manners like a kitten in an inspirational poster. But as ridiculously false as this comity sometimes appears, it serves a purpose. In this age of "telling it like it is," it also looks like a lost virtue.