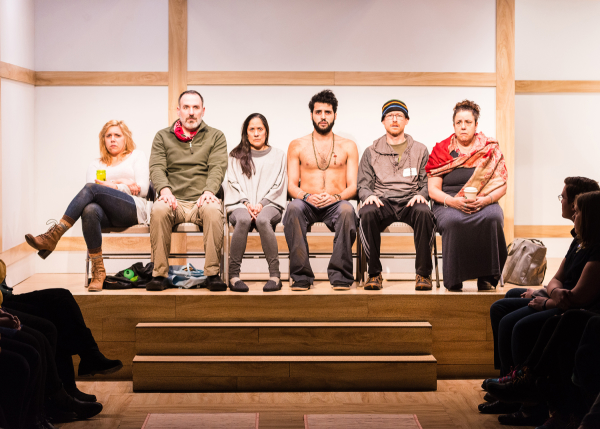 You can reach nirvana…for a price. At least that is the implicit promise hovering over Bess Wohl's Small Mouth Sounds, now making its world premiere at Ars Nova. Wohl (who recently authored the book to Pretty Filthy, a musical about the porn industry) has a talent for bringing American subcultures to the stage and making them immediately relatable. With Small Mouth Sounds, she's created a brilliant satire of commercial spiritualism, showing that its ethereal trappings are really a lot more mundane than they at first seem.
The story takes place on a spiritual retreat. Six harried urbanites attempt to find their inner peace under the guidance of an acclaimed author/guru (Jojo Gonzalez). That teacher remains unseen, but we do hear his congested voice intoning seemingly improvised bits of wisdom over a loudspeaker: "Perhaps the key to enlightenment is cold medicine." Alicia (Jessica Almasy) feverishly scribbles his every word in her notebook, compensating for an inability to adhere to any of the other rules of the camp. Lesbian couple Joan (Marcia Debonis) and Judy (the infinitely relatable Sakina Jaffrey) are looking to overcome their malaise, although the latter seems to be there only for the benefit of the former — she can't keep herself from laughing at everything the teacher says. Ned (Brad Heberlee) is coming out of a long string of bad luck. Jan (Erik Lochtefeld) seems generally clueless about where he is. Star pupil Rodney (Babak Tafti) ostensibly already has a strong sense of inner tranquility. He aggressively burns incense and performs yoga, as if he's competing in the granola-muncher Olympics.
Since these eager padawans are committed to silence, we learn all of this largely without the benefit of verbiage. Under the steady and sensitive direction of Rachel Chavkin (who directed Ars Nova's runaway hit Natasha, Pierre & the Great Comet of 1812), every member of the ensemble delivers a clear and specific performance using only body language and the occasional whispered word (or small mouth sound). From the earliest moments, it's impossible to miss Rodney's smug "enlightenment" or Alicia's messiness.
Tilly Grimes deepens these character details with her smartly chosen costumes: Ned keeps his head covered with a camouflage ski cap, perhaps as a way to hide something. Jan clomps around the stage in Chef Crocs that few middle-aged American men would ever buy. Rodney dons a loose-fitting mesh sleeveless shirt. A grey patterned scarf that dangles fashionably from his neck: Keffiyeh™ by American Apparel.
With the audience in traverse formation (two halves facing each other), Laura Jellineck's set brings us into the action, as if we were also participants on this mystical getaway. Light wood support beams frame the white walls, blending into a pristine floor. This austere Japanese motif is further augmented by Andrew Schneider's panel projection of moist foliage and passing clouds. Sound designer Stowe Nelson offers ambient raindrops to complete the sensation. A custom cell-phone ring of Buddhist wind chimes rudely interrupts the tranquil vibe, reminding everyone that there is a life of obligations beyond this sacred space — high-pressure jobs footing the bill for this transcendental tourism.
Indeed, while the teacher becomes increasingly frustrated that none of his superior chi seems to be rubbing off on his students, he's not too upset to accept their money. "No refunds, no exceptions," he reminds them as they begin their journey. For 100 minutes we marinate in this awkward mélange of spirituality and capitalism.
While the vast majority of viewers may never experience a similar retreat firsthand, no one in American society can escape the increasing commodification and aggressive marketing of previously rarified fields like art, education, and even otherworldliness. After seeing Small Mouth Sounds, one might wonder if it is possible to run a cost-benefit analysis on transcendence.