Review: The Thanksgiving Play Is Checkmate for the Well-Meaning Woke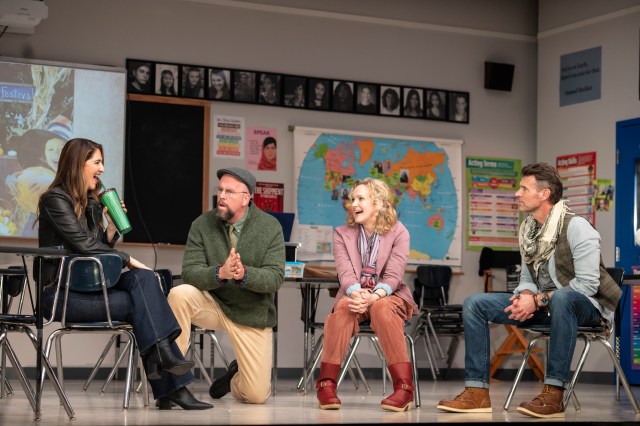 Two public school teachers, an amateur yogi, and a Disneyland performer join forces to devise an educational Thanksgiving play for a group of elementary schoolers. The stakes could not be lower. They also could not be higher.
The trope of nincompoops-making-theater has been funny since the Rude Mechanicals put on their first production of Pyramus and Thisbe, and Larissa FastHorse's The Thanksgiving Play (now on Broadway at Second Stage's Hayes Theater and performed by a quartet of expert nincompoops) is no exception. FastHorse, however, tries to beef up her romp with a single note of pointed satire that she and director Rachel Chavkin play early and often — starting with a lengthy video of school children performing an offensive Thanksgiving version of "Twelve Days of Christmas" (David Bengali provides projections).
From here, we meet the white characters with staunch progressive values who are handed the impossible task of producing a culturally sensitive piece of theater about the Indigenous experience of the first Thanksgiving (if that's even possible). Not one of them has ever met an Indigenous person…as far as they know. But no worries. These folks can perform enlightenment with the best of them. This is The Thanksgiving Play's starting and finish lines, leaving only comedic escalation to carry us through everything in between. Laughter usually keeps us airborne, but when the engine sputters, gravity starts to take its toll.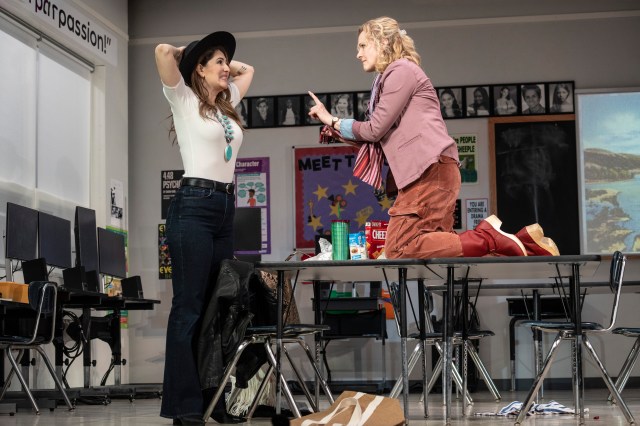 In the spirit of Yasmina Reza's God of Carnage, The Thanksgiving Play is meant to be a slow burn to pandemonium, starting with frazzled drama teacher Logan (Katie Finneran) who is on thin ice with parents and needs the Thanksgiving show that she is directing to be a hit. Her romantic partner — the egregiously named Jaxton (Scott Foley), whose artistic aspirations and proclivity for kombucha ring out through his chunky scarf (fabulous costuming by Lux Haac) — signs on to the project as one of Logan's actors. They are joined by third grade teacher and ebullient history buff, Caden (Chris Sullivan), who has prepared pages upon pages of dialogue for this playwriting dream come true. Finally, Alicia (D'Arcy Carden) waltzes into rehearsal late with a fresh Starbucks and carefree attitude befitting a shiny "Los Angeles actress."
Alicia is getting paid with grant money to be the play's authentic Native American voice, but it turns out Logan was merely fooled by one of Alicia's "ethnic" headshots (likely the same one that landed her the job as Jasmine's third understudy at Disneyland). Of course, it would have been unethical for Logan to ask Alicia for her race or ethnicity on the job application — and it would be even more unethical to fire her for that information. Logan ultimately determines that the liberal code of ethics requires her to put on a Thanksgiving play written and performed exclusively by white people. The question now is how?
It's a brilliant comedic premise that has aged like a fine wine since its 2018 off-Broadway debut at Playwrights Horizons. Who could have predicted that in just five years we would be living in a world where school board meetings would host theatrical protests against Critical Race Theory, and Ron DeSantis would pick and choose which pieces of Black history to allow into the state of Florida? FastHorse, in turn, uses her play to pose the query, What's a social justice warrior to do? — and answers with four pitiful versions of, Not much.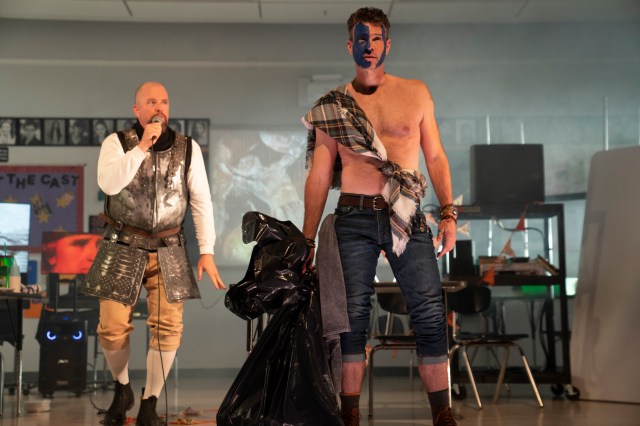 Finneran, a consummate comedian, is a perfect ball of tension as the well-meaning Logan who constantly falls short of moral perfection despite constant rumination: Can white people play Indigenous characters? Would it be worse to exclude Indigenous characters altogether? Foley, meanwhile, shows how men like Jaxton can confidently spin their notions of peace and love into grievances about the silencing of white voices. His charisma can even convince steadfast educators like Caden — who would rather avoid the Native American issue altogether and reenact an ancient European harvest festival — to don a tasteless warrior costume and perform a scene of gruesome violence for the entertainment value (Sullivan is at his best as the frustrated voice of reason when creative choices go awry). And then there's Alicia, performed by the infinitely watchable Carden, who makes her character's apathy seem like a viable life philosophy.
The Thanksgiving Play carries on like this for 90 minutes with constant collisions of irreconcilable ideals and minimal forward motion. As such, it often enlists shortcuts to chaos for the sake of comedic effect. As soon as our actors start maneuvering tables and plastic chairs in Riccardo Hernandez's faithful rendering of a public-school classroom, we know we're on a runway headed for destruction — equally a symptom of Chavkin showing her hand too soon (Alicia is all too eager to muss up her white T-shirt with fake blood stains) and FastHorse writing her play toward a clearly prescribed end. Our four actors sell every inch of mania they perform onstage, but not every inch of it is theatrically earned.
Be that as it may, FastHorse has made a delightful Broadway debut — and has also achieved a milestone to be celebrated as the first female Native American playwright to have her work produced on Broadway. It's a superlative I'm sure Logan and Jaxton would also be eager to celebrate, but don't let that tarnish this piece of history.