Review: A Tonally Chaotic Romeo and Juliet Off-Broadway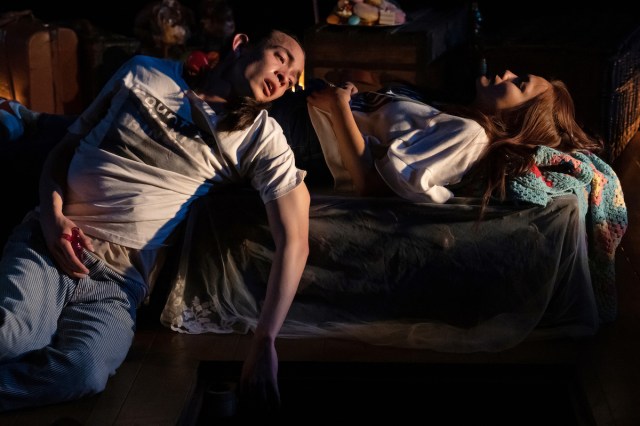 A sign hanging on the set asks us to choose. "Pick Side," it reads, pointing toward both sections of the traverse seating arrangement, the set occupying the no-man's land between the two halves of the audience. This seems to promise a Romeo and Juliet especially attuned to the issue of tribalism, that ancient human behavior we have not yet succeeded in shaking, even in our allegedly modern, highly mobile society. Unfortunately, this partnership production by NAATCO and Two River Theater (where it debuted last month) is often more interested in its own clever theatricality than the themes that still resonant in Shakespeare's famous tragedy of star-crossed love.
The story is well-known, but just to rehash: Romeo (Major Curda) falls instantly in love with Juliet (Dorcas Leung), daughter of his family's sworn enemies, the Capulets. Lord Capulet (Brian Lee Huynh arming the haggling patriarch with a razor-sharp smile) wants to marry off his daughter to Prince Paris (Rob Kellog), but Juliet would rather elope with Romeo. With the help of her faithful nurse (Mia Katigbak) and Friar Laurence (Purva Bedi), they hatch a complicated scheme involving feigned death — and nothing goes according to plan.
Hansol Jung provides the "modern verse translation," cutting some of the fat from a script with plenty to spare and simplifying a few of Shakespeare's more opaque turns-of-phrase. Jung's shaved-down Queen Mab speech is a definite improvement, but one suspects she could have gone even further in renovating and remixing a play that has been done to death in its original form.
Jung directs with Dustin Wills, delivering the same kind of inventive construction-site staging that made their earlier collaboration, Wolf Play, such a success. While the style of that play captured the furious improvisation of parenting, it's less clear here how form supports content. In fact, it often actively undermines it.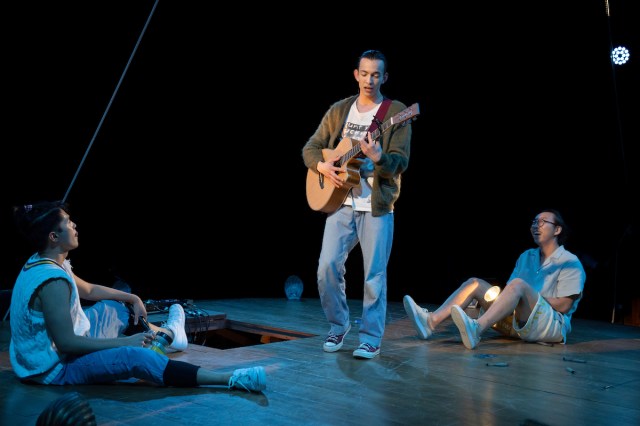 The setting seems to be the load-in of a theatrical production at a liberal arts college, the kind of place where preppy sweaters and bowties are worn ironically, while unloved items from the costume closet are appropriated as accessories in one's personal style (smartly layered costumes by Mariko Ohigashi). Romeo naturally becomes a sensitive boy with an acoustic guitar (Curda perfectly delivers on this front). His bros, Mercutio (Jose Gamo) and Benvolio (Zion Jang), prefer to beatbox and mess around with a sound looping machine (well-engineered sound design by Megumi Katayama and tuneful original music by Brian Quijada, who remains a master of aural surprise and delight).
The circular center stage, with its footlights and trap doors, suggests an older theatrical tradition under new management (set by Junghyun Georgia Lee). The young thespians slip in and out of roles while operating makeshift spotlights from two scaffold towers on either side of the stage, illuminating the darkness of Juliet's tomb with flashlights (lighting by Joey Moro). Aesthetically, it is reminiscent of Shakespeare's R&J, Joe Calarco's 1997 reframing of Romeo and Juliet for four actors in an all-boys boarding school, although Jung's version has less of a clear perspective on why this story must be told this way in 2023.
Jung and Wills maintain a flippant atmosphere throughout, with the actors mocking the overwrought sentiment of the play with exaggerated tears from offsides. A tonal shift seems to be in the works with the deaths of Mercutio and Tybalt, which are initially treated with the same glibness until the creeping tide of seriousness overwhelms the scene. Unfortunately, that shift is short-lived.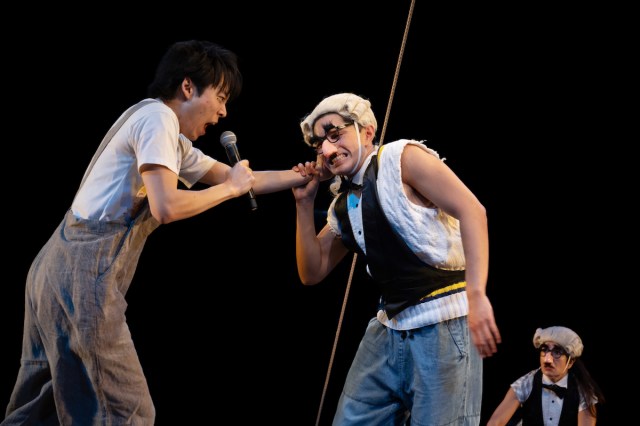 It's too bad, because it's something I suspect this cast could have accomplished, especially Daniel Liu, whose portrayal of Lady Capulet is one of the most captivating I've yet encountered. Unfortunately, Liu's considerable comic talents are often used to dispel the seriousness of the play, and we watch befuddled as he (in the role of the servant Peter) delivers a lecture on "Purple Rain" over the comatose body of Juliet. It's true that Shakespeare wrote this comic relief (sans references to Prince) into his original script, but it rarely works in practice, and certainly doesn't here.
Leung at least offers a clear and convincing take on Juliet: She's a smart girl who recognizes the folly of this romance, but is compelled over the cliff by the power of love. Impending doom swims with infatuation in her watery eyes. Her Juliet makes a choice and makes us understand why it had to be that way.
The same cannot be said for Jung and Wills, who seem to want to have their drama and snark it too. The result is tonal whiplash from a Romeo and Juliet that cannot decide whether it is a comedy or a tragedy. If we in the audience must choose, so must the creatives.