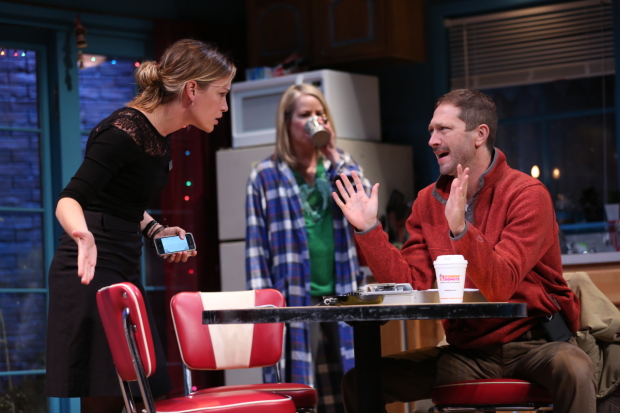 Three generations of Lost Girls reshape, revise, and rehash their sordid family history over the course of a raging New England snow storm. Playwright John Pollono returns to MCC's Lucille Lortel Theatre with director Jo Bonney, reprising the 2013 partnership that built the working-class comedy Small Engine Repair. Together, they introduce another clan of blue-collar folk (with the Bahston accents to prove it) in a story that — when it doesn't take shortcuts paved with sugar — poetically blends the grit of reality with a haunting lust for the past.
Maggie (Piper Perabo) finds herself caught in the middle of the play's three female generations. She's both a product of teen motherhood (her mom Linda played by a delightfully foulmouthed Tasha Lawrence) and a former teen mother herself to her now-teenage daughter Erica. According to the traditional timeline, it's Erica's turn to find herself in the premature family way — a scenario that's looking all the more likely when Maggie discovers that Erica has stolen her car and skipped out on school, potentially to see a boyfriend she knew nothing about. Maggie's equally frantic ex-husband and high school sweetheart Lou (Ebon Moss-Bachrach) and his saintly new wife, Penny (a warm Meghann Fahy), who join the crisis control center at Maggie and Linda's home, are the ones to surprise Maggie with the boyfriend news, injecting even more fear into a scenario that could already mean a 10-car pileup at the side of an icy road.
With the flip of a wall in designer Richard Hoover's detailed living room (complete with a proud mother's display of Erica's childhood artwork), we land in a Connecticut motel where a couple of teenagers are waylaid by a snow storm during their impromptu road trip. A sweet-tempered young man (Josh Green) has been roped into driving his sharp-tongued classmate (Lizzy Declement) from New Hampshire to Florida for a rendezvous with her much-older boyfriend. And what else could have convinced him to do such a thing but a hopeless and pathetic crush on his mesmerizingly rebellious passenger. In lieu of character names, the pair of kids are designated "Boy" and "Girl," adding a metaphorical layer to their literal roles, which Pollono cleverly unwraps over the course of the play. But while romance blooms between our two runaways, Maggie and Lou have a chance to rehash the series of events that destroyed their own young love.
With cigarettes and four-letter words constantly on her lips, Perabo sinks gracefully into Maggie's skin, which has been thoroughly calloused by the daily grind as a minimum-wage department store employee, not to mention a number of traumatic events whose shadows still linger behind her hardened eyes. Moss-Bachrach counteracts her edge with a mild manner that gives Lou a soft, calming presence. And yet, the mere sound of his voice is like a slap to Maggie's emotional sunburn, sending her into a tizzy of resentment, anger, and fear. The dialogue occasionally drives more toward landing sporadic jokes than to clarifying the characters delivering them, but with an admittedly quick wit and a mastery of the New England working-class voice, Pollono builds a compelling bond between these ex-lovers, whose present relationship grows more and more complex as we learn the details of their past.
On the other side of the wall, Green and Declement do not find the same level of authenticity in their relationship. The voices of our "Boy" and "Girl" are immature, as teen voices should be, but we find ourselves rolling our eyes at their clichéd naïveté rather than admiring the youthful impetuosity that establishes their sincerely meaningful companionship. Green is a wildly oblivious and unwaveringly optimistic jock with the innocence of a newborn deer, while Declement, with her multicolored hair, thick eyeliner, and dark baggy wardrobe (designed by Theresa Squire) wears her volatility on her sleeve like the punk rebel she is (like mother like daughter, we're led to believe).
A moment of powerful staging by Bonney (aided by the ethereal lighting designs of Lap Chi Chu), ties these two stories together, adding some memorable theatricality to what is otherwise a traditionally structured play. But the conclusion that follows this dramatic climax is disappointingly neat, considering the mess these women have been passing down from generation to generation like a family heirloom. Teen pregnancy, financial hardship, and domestic abuse is often a self-perpetuating cycle. A momentary happy ending is not enough to mark a new beginning — but as this brief sigh of relief offers a satisfying glint of light at the end of a dark tunnel, Pollono convinces us to swallow our pessimism and cheerfully take in his spoonful of sugar.