Go Back to Broadway With TheaterMania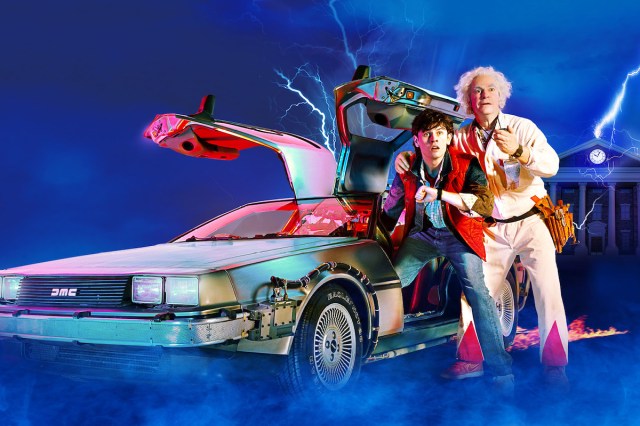 Before you go back to school, head back to Broadway with TheaterMania. We're hosting another one of our famous Broadway weekends this coming August 18-20, and you're invited.
It kicks off with a cocktail party at the Westin Hotel on Friday, August 18, immediately followed by an evening performance of Back to the Future: The Musical. Highly acclaimed in London, the show stars Roger Bart as Doctor Emmett Brown, scientist and time traveler.
Saturday will be a double feature: In the afternoon, guests will see the new sex farce The Cottage, followed by dinner at Bond 45. After that, TheaterMania is taking you dancing at the Broadway Theatre, where the immersive Imelda Marcos musical Here Lies Love is inviting audiences onto the floor (TheaterMania will also offer mezzanine seats for those who prefer to sit and watch).
The fun continues on Sunday with a matinee of the Tony-nominated musical comedy Shucked, which our critic called a "laugh-out-loud crowd-pleaser."
Guests arriving in New York on Thursday, August 17, will have the option to catch a performance of Some Like It Hot, which is also Tony-nominated and full of glitzy production numbers.
And for those who want to stay late on Sunday, an evening performance of Chicago (now officially Broadway's longest-running show) is available as an optional add-on.