Review: Shucked Pops With Toe-Tappers and Corny Jokes Aplenty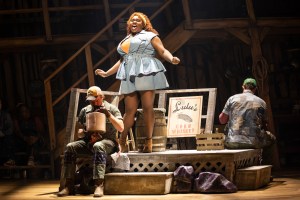 You could fill a silo with all the eye-rolling puns and cornball one-liners in the new musical Shucked, which just opened at the Nederlander Theatre. And that's a good thing in a show that knows what it wants to be — a rootin' tootin' hootenanny with, yeah, a little message to take home and ponder. With a book by Robert Horn, and music and lyrics by Brandy Clark and Shane McAnally, Shucked isn't a show for the ages, but then again, it isn't trying to be.
So, what is Shucked about? Well, it's about corn. But in Cob County, where corn is a way of life, there's a problem — it won't grow anymore. Wispy-haired farmer Beau (Andrew Durand) doesn't know what to do as he watches his crops die (Scott Pask's set features animatronic cornstalks that wither and droop), and no one in this isolated community can reckon just what's going on. Not Beau's adventure-seeking fiancée, Maizy (Caroline Innerbichler embodying sassy innocence). Not Maizy's instinctively savvy cousin and Cob County's premier whiskey distiller, Lulu (Alex Newell in a star-turn performance). Not even the resident philosopher, Peanut (a hilarious Kevin Cahoon), who's got thoughts on every topic under the sun — but doggone it if this corn thing ain't a noodle-scratcher.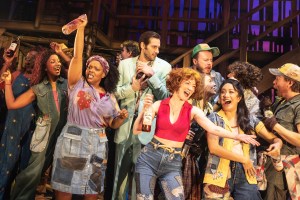 Maizy sees her chance to get out of Cob and offers to go find some corn-smart person with book-learning who can help them. So off she goes to the the big city (Tampa!) where she finds a down-on-his-luck co(r)n man named Gordy (John Behlmann) who says he's the answer to the town's woes ("Gotta corn problem? I'm your man," he sings). Gordy's real interest, however, is Maizy stone bracelet, which may be the key to a fortune if he can just dupe the townsfolk into handing over the rocks that the bracelet was made from. Lulu knows he's up to something, but once this city slicker starts batting eyes at the womenfolk and getting Beau riled up with jealousy, corn's the last thing on anyone's mind.
Chiming in like a Greek chorus and singing us the backstory of all these nutty characters are two young Storytellers played by Grey Henson and Ashley D. Kelley (dressed in Tilly Grimes's country-chic costumes). "Suddenly, the corn started dying, and no one could figure out why," says Kelley. "It was in an unsolved mystery," says Henson with a smile, "Which in fact … are just mysteries." Buh-dum, ching. Cahoon follows suit with Peanut's random observations on life — things like, "I think if you can pick up your dog with one hand, you own a cat. I think people in China must wonder what to call their good plates." Brace yourself for two and a half hours of that kind of yukking.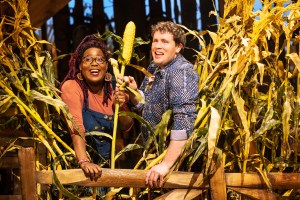 Fortunately, director Jack O'Brien knows how to milk comic material like this, and the jokes do land most of the time — but not always, and so it is with the songs. Clark and McAnally, both country music stars, turn in a couple of solid numbers that wouldn't sound out of place on the radio, such as Beau's ballad to a breakup, "Somebody Will." Then there are others that go in one ear and out the other, such as Maizy's tired, metaphor-heavy "Maybe Love." Behlmann has some fun belting out Gordy's lament to personal failures in "Bad," but that song also evaporates like water on a hot griddle.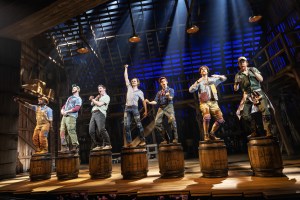 Choreographer Sarah O'Gleby saves the day in the testosterone-pumping number "The Best Man Wins," where Durand, Cahoon, Henson, and the men of the ensemble get together for impressive feats on whiskey barrels. Music director Jason Howland's six-piece band sounds great here as the men sing "Yee haw, hee haw" and dance around Pask's teetering-barn set, which looks like a strong wind could knock it down, while Japhy Weideman dramatically spotlights the men atop the barrels in this high-octane hoedown.
There is, however, one indisputable showstopper, and that is Newell's roof-raising performance of "Independently Owned," an anthem to female self-love and determination. Newell's perfectly pitched voice could carry those notes to the rear mezz even without John Shivers's crisp sound design, but no matter where you're sitting, in less than three minutes Newell takes us all to church.
For anyone who enjoyed Hee Haw during the 26 seasons it aired on TV, Shucked will seem like a familiar, if R-rated, version of that show. ("I have no idea what's gonna happen," says Peanut. "Heck, if I had a crystal ball … I'd probably walk real different.") Though Horn, Clark, and McAnally were inspired by Hee Haw, they wanted Shucked to also be about how we as Americans learn to accept folks who come from different places and have different ideas, a message that comes clear at the end in a surprise revelation. As the show suggests, aren't we all kernels on the same cob? Chew on that question for a spell. But even if you're not in the mood for some feel-good sentiment, as a laugh-out-loud crowd-pleaser, Shucked is a shucking good time.