David Cale Reminds Us We're Only Alive for a Short Amount of Time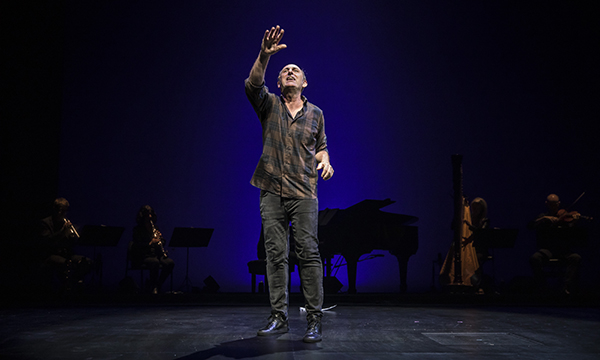 Playwright, actor, and performance artist David Cale has a long and storied history at Goodman Theatre, beginning with The Redthroats in 1988. After an absence of over a decade here, Cale returns to the Goodman to chart out his own childhood with the world premiere of an autobiographical solo show. We're Only Alive for a Short Amount of Time is a poignant look back at a troubled childhood and adolescence, and the things our parents leave behind for us, for better or worse.
The musical memoir is largely set in Cale's hometown of Luton 30 miles northwest of London. He remembers it as an ugly, sooty factory town "where the gray meets the gray." The only source of beauty in Luton were the many-colored birds he would tend to, and later breed, in a "Bird and Animal Hospital" built out of a discarded garden shed. The birds were one way to escape from a household plagued by his parents' volatile marriage. Another was music: Cale recalls disappearing into the music of Petula Clark as a young boy and seeking solace in Joni Mitchell's songs during his adolescence.
Cale himself plays the half-dozen roles that populated his early life — most significantly his mother, Barbara, a stifled hat designer; but also his father, Ron, a sullen drunk; and shy younger brother Simon. Dressed simply in casual menswear by Paul Marlow, Cale eschews costumes and props, relying instead on specificity of voice and posture to transform from one family member to another. His characterizations are understated but unmistakable — a certain shrug of the shoulders immediately announces the presence of the lonesome, yearning Barbara, while a swing of the arms is enough to introduce young Simon.
Directed with a gentle, minimalist touch by Robert Falls, there is no artifice in We're Only Alive for a Short Amount of Time. Both Cale's writing and his performance are relentlessly sincere, un-cushioned by irony or self-consciousness. Set designer Kevin Depinet occasionally brings in ornamentation from above — birdcages represent young David's makeshift aviary, and model airplanes suggest Simon's bedroom — but the stage is otherwise bare. At times, the wide, empty space threatens to swallow up the intimacy of the performance, but Cale captures and nurtures the audience's attention like he did the birds of his childhood.
The original music, written by Cale in collaboration with Matthew Dean Marsh, is as heartfelt and revealing as the story itself. The lush orchestrations evoke a rich, mid-century tone, especially when played capably by Marsh and an accompanying quintet. Cale is no crooner, but his voice aches with emotion. The story he tells in We're Only Alive for a Short Amount of Time is heartbreaking in its honesty. The theater world is richer thanks to the contributions of David Cale. Here's hoping we don't have to wait another decade to see more.