Brooklyn's Saoirse Ronan on Her Golden Globe Nomination and Broadway's The Crucible
Saoirse Ronan was getting her nails done when she got the call everyone wants: She's been named a 2016 Golden Globe Award nominee for her work in John Crowley's film Brooklyn. Ronan's brave work as Eilis Lacey, an Irish immigrant in America who finds herself just as tragedy strikes back home, has netted her universal acclaim, and the awards are icing on the cake.
In between fielding congratulatory calls, Ronan spoke with TheaterMania to discuss her work in the film and how she's preparing for what's going to be the most intimidating experience in her career: playing Abigail Williams on Broadway in Ivo van Hove's production of Arthur Miller's The Crucible.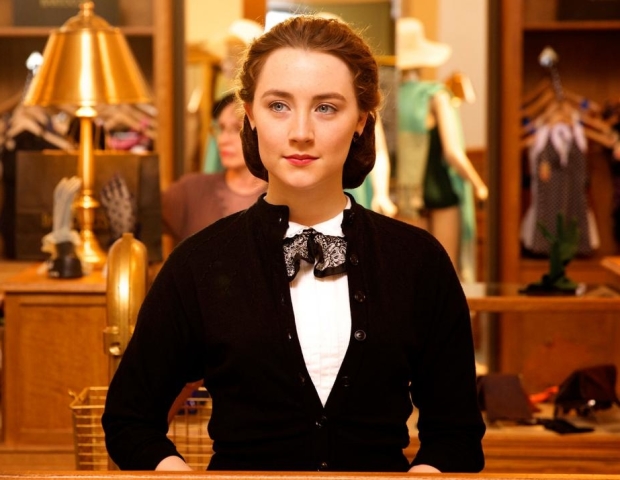 Congratulations on your nomination! How did you find out? Were you asleep?
I was awake. I'm in Dublin at the minute, so it's afternoon here. It was the best way to find out. I was in a nail salon getting my nails done as my phone was blowing up. I was saying, "People keep calling me, what are they calling me about?" My nails were wet with gel, and I eventually answered the phone and said to my publicist, "I can't talk to you now, I'm getting my nails done!" and she said, "You've just been nominated for a Globe, so you have to talk to us." I literally just left the nail salon where all the girls were pouring us champagne and cheering for us. It was amazing.
Brooklyn is an incredibly emotional and personal story. What was it like to play Eilis?
The fact that it was so personal made it even more emotional. My mom and dad moved over to New York in the eighties, got married, and worked there for ten years. They had me over there. New York and Ireland make up who I am. When we made the film, I moved away from home myself, so I had a kind of extreme homesickness. I really missed Ireland and being at home, but I knew it wasn't where I needed to be. There were so many adjustments that started to happen at that time. I was pretty much in the same place as Eilis. Regardless of Internet and the connectivity you've got to your family members through technology, it doesn't make it any easier. There were times where it was just quite overwhelming for some of the parallels that I had to the story.
Have you had time to start preparing for The Crucible yet?
I have, yeah. I've been thinking about it for the last year and a half and learning my lines. We've been going over that. It's great; it's a good distraction to have something like that to focus on while all of this lovely stuff is going on, too.
Are you familiar with Ivo van Hove's past productions?
I saw A View From the Bridge in London last year. It's just amazing. He's so familiar with [Arthur] Miller, obviously, and conceptually, the way he approaches things and presents a story is so different and interesting to watch. I'm really excited to see what he'll do with this.
Are you ready to play the villain?
Yes. I mean, I'm not ready to be onstage, because I've never been onstage before, but I'm aching to play someone bad, and she is. I find some similarities between her and Briony Tallis from Atonement. To play someone like that is exciting.