Bedlam's Andrus Nichols and Eric Tucker Are Bringing Lots of Drama to Downtown Audiences — and Inviting Them Into It
Staging two massive plays like Shakespeare's Hamlet and George Bernard Shaw's Saint Joan simultaneously might seem crazy, but the insanely talented folks performing them now at the Lynn Redgrave Theatre make it look like a stroke of genius. The company of Bedlam — Andrus Nichols, Eric Tucker, Edmund Lewis, and Tom O'Keefe — plays more than fifty characters and uses innovative staging, minimal props, and boundless energy to make these masterpieces extraordinarily engaging, fast-paced, and often laugh-out-loud funny, all while maintaining the integrity of the plays. TheaterMania met with the company's founders, Andrus and Eric, at the Black Cat Café on Manhattan's Lower East Side to get to the root of Bedlam.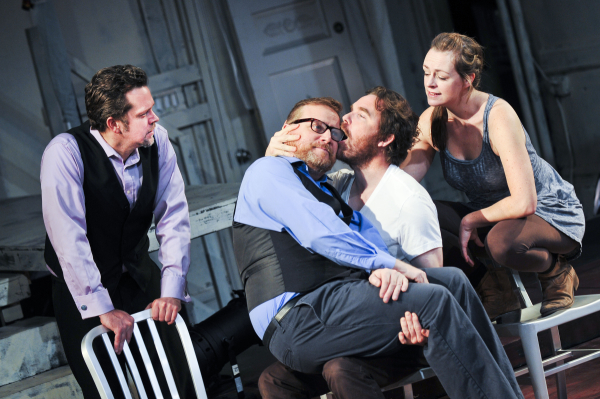 How did you two meet?
Andrus Nichols: Eric and I met at Shakespeare and Company up in Lenox, Massachusetts, about six years ago.
Eric Tucker: And then we worked on a show here in the city that she was producing and I was directing, and it just worked really well. So we decided if we're going to do a company, we should do it together.
So you two started Bedlam.
Andrus: We are the Bedlam. [all laugh]
What's the concept behind your company?
Andrus: A certain amount of aesthetic and appreciation for simple storytelling and inclusion of the audience. Theater that really could only be theater, that's not trying to be filmic or hyperrealistic, but that's an event and is aware of itself as being an event in the room with the other people who are witnessing it. This is sort of at the heart of what we do.
You call the plays you're performing now, Hamlet and Saint Joan, "epics." What in particular makes you think of them this way?
Andrus: I think they're both epic stories in slightly different ways. Hamlet is an epic in the sense that there are so many substories, a whole population of storylines. Joan is an epic in that it spans so much time and so many large ideas and many locations.
Eric: And I think a three-hour evening — the event is on an epic scale in that there are four people running around this space for three hours trying to populate it. It feels epic.
In both productions, the audience leaves the theater at the end of each act so that the seating can be changed. What's the reason for this?
Eric: I'd been toying around with that idea for many years. For me it's just about making the audience know they're part of the play. Their own placement feeds the energy of the story. In an interesting way, as the audience gets moved around, they're really sharing the space with us. There's no "this is your area, this is our area."
Andrus: At the end of Joan, the audience ends up as the jury. So like it or not, at that point in the play, they're in the middle of the action.
You also keep the audience engaged with very few sets or props. Did anything inspire that inventiveness?
Eric: I remember when I was working at Trinity Rep [in Providence, Rhode Island] and [current Public Theater Artistic Director] Oskar Eustis was there. He was artistic director, and he directed Angels in America. In Part 2, the angel has to do all these things in the air and be very mobile because she flies. We didn't have that kind of budget to make her fly. So there were these people who were dressed to look like they weren't there. Because of them, she could lie flat in the air or land and be picked up here and then put there. You didn't need wires, you didn't need a big budget. You just needed some really imaginative choreography and —
Andrus: Some strong people. [laughs]
Eric: They came up with a great alternative, and when I think about it, I would never see that any other way. What I love about it is that our imaginations make all these things spring out. The theater is where we come to do that.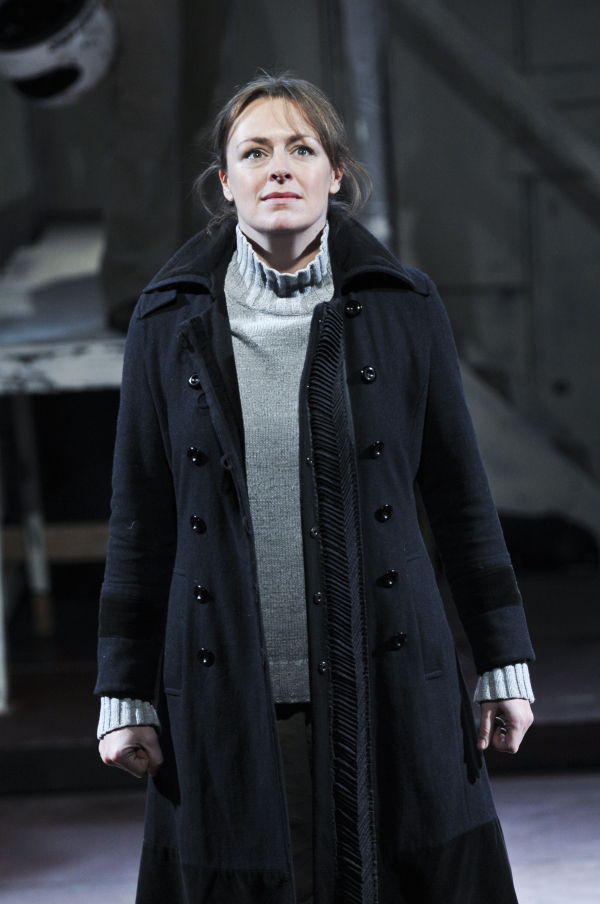 Are there any dream productions you would like to stage or roles you're dying to play?
Andrus: Oh God. [thinks very hard] It's weird. When I'm not working on something, I have a list in my head of all the things that I'm really hot for artistically. But when I am steeped in Joan and twelve characters in Hamlet, there's nothing that my artistic soul is desperately craving, because I've got so much going on eight shows a week.
Eric: You want to play Lady M[acbeth].
Andrus: I do. I want to play Lady M. I'd like to play Beatrice [in Much Ado About Nothing] too, really badly. I would love to do something at least semicomedic at some point in the next few years, [although] Joan's actually a blast. I'd like to play Liz Proctor [in The Crucible].
Eric: We really want to do The Crucible. I'm dying to direct it. I'd like to do [John] Proctor in that.
It's great that you don't have to audition anymore for those dream roles. Any audition horror stories?
Eric: I hate auditioning, I'm not good at it, and I've never been prepared for it.
Andrus: [chuckles]
Eric: I went on one musical audition, and the role was for a transvestite, and I went in and I dressed myself to look like I could fit that part.
Andrus: [laughs] Oh my God. I would have paid so much money —
Eric: [chuckles] I crashed and burned so hard. The song was so underprepared. It was awful. I looked like a fool. I just remember feeling humiliated. I just never liked auditions.
Andrus: I think I've probably stricken them from my memory.
Eric: So you just form your own company and don't do auditions.
Andrus: Yeah, exactly.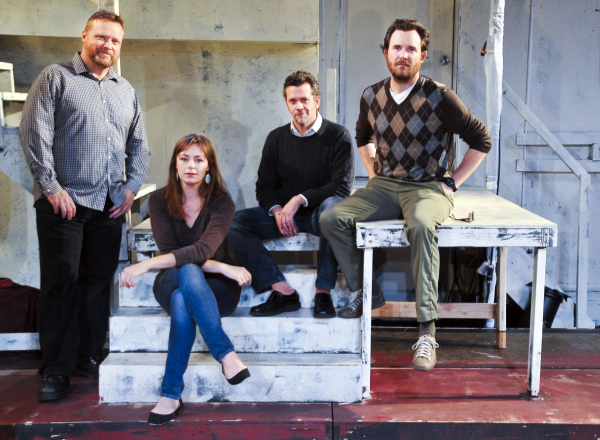 For tickets to Saint Joan, click here.
For tickets to Hamlet, click here.