4 Questions With the Kids of You're a Good Man, Charlie Brown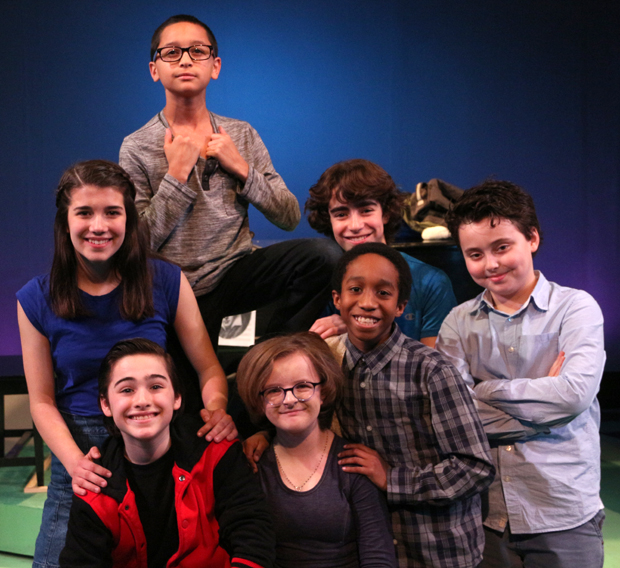 None of Charles Schultz's beloved Peanuts characters have aged into double digits, and yet, You're a Good Man, Charlie Brown — the 1967 musical comedy based on the popular comic strip — is almost always performed by fully grown adults. Setting tradition aside, the York Theatre Company has decided to mount an off-Broadway production with an all-kid (and all-star) cast.
The ensemble features Joshua Colley (A Bronx Tale) as Charlie Brown, Aidan Gemme (Finding Neverland) as Snoopy, Milly Shapiro (Matilda) as Sally, Mavis Simpson-Ernst (Evita) as Lucy, Gregory Diaz (School of Rock) as Schroeder, Jeremy T. Villas (Kinky Boots) as Linus, and Graydon Peter Yosowitz (The Odyssey) as the understudy to Charlie Brown and Snoopy.
TheaterMania spent some time with the group during rehearsals to ask them a few questions about the show and the iconic characters they're taking on. Find out who's a natural-born Lucy, who'd be up for a trade, and who's ready to make Beethoven Day official.
---
1. What is the greatest thing you have in common with the character you play?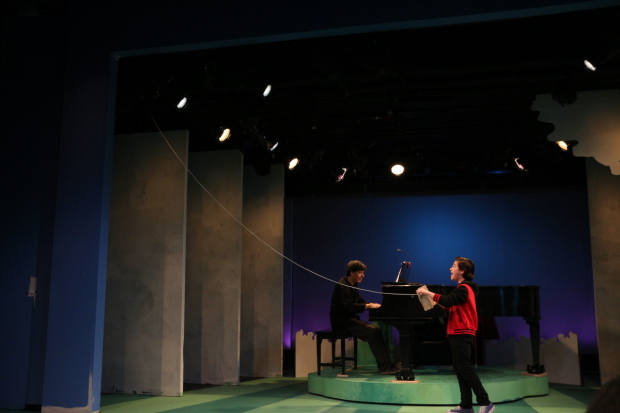 Joshua Colley (Charlie Brown): I love the character but I can't relate to him that much. He's really sad all the time and I'm not sad because I'm doing all of this. I'm not good at flying kites I guess. [laughs]
Aidan Gemme (Snoopy): It's kind of hard with Snoopy.
Joshua: What do you mean? You don't relate to a dog?
Aidan: I think the joy and the adventure is really something that I can relate to.
Graydon Peter Yosowitz (understudy, Snoopy and Charlie Brown): For Snoopy, I have a lot in common because I have two dogs — and they both enjoy "Suppertime" a lot. And for Charlie Brown, he can never achieve to fly a kite. I can't really fly a kite either.
Milly Shapiro (Sally): I'm probably most like Sally because I care about my grades a lot and I get really disappointed if I get a bad grade.
Mavis Simpson-Ernst (Lucy): I think I share a lot of qualities with Lucy. One that really stands out to me is her passion. If I want to learn a certain song, I will make sure that I learn it. Lucy definitely wants to be queen — and she will be.
Gregory Diaz (Schroeder): One thing that really stands out for me and Schroeder is that we both have a passion for Beethoven. We both like the Ninth Symphony and the Sixth Symphony and all the other symphonies out there.
Jeremy T. Villas (Linus): One quality I feel I share with Linus is his caring for other people. You know, Linus cheers Lucy up because she's really sad about her survey about her crabbiness — I feel like I help cheer other people up.
---
2. What is your own version of Linus' blanket?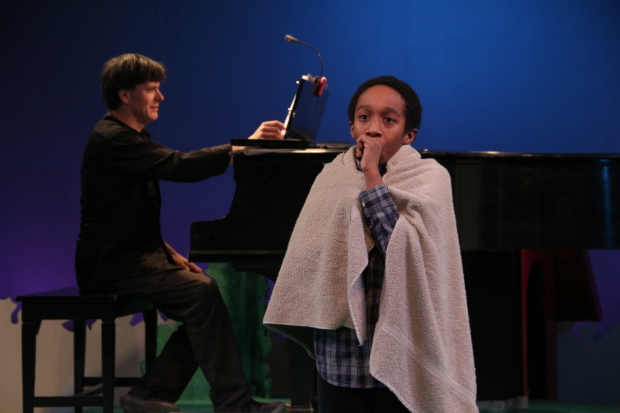 Joshua: I have one with little footballs on it because [Charlie Brown] can never kick the football.
Milly: Mine has flowers on it and it's really fuzzy and really beautiful.
Aidan: I don't have a blanket but I have a bunny and it has a little Mets jersey on it (let's go Mets!) I call him Spot but he doesn't have any spots.
Mavis: I sleep with a few stuffed animals. I have an elephant that has a blanket at the bottom that I got the day I was born, and I have a teddy bear that was my mom's. I also have this crocheted blanket from my great-grandmother I think. We call it the magic sleeping star because it's in the shape of a star.
Graydon: I sleep with Snoopy. I literally have a stuffed animal Snoopy.
Jeremy: When I was little I used to have this dog whose name was Mocha. I named it after my babysitter's dog that died.
Gregory: I still sleep with a blanket. I'm saying this now to everybody out there. I still sleep with a blanket. I can't sleep without it.
---
3. If you could trade roles with anyone, who would it be?
Aidan: I'd say Charlie Brown.
Joshua: I would say Snoopy actually. His song is so cool. He does a little tap number, it's really cool.
Mavis: I think I would want to trade roles with Snoopy because his numbers are so fun. His character the entire show is just always having such a great time no matter what. Suppertime, school time, morning time, any time of day — he's always so happy and excited.
Gregory: I'd say Linus. I like how Linus really expresses himself through his blanket — how he appreciates his blanket.
Graydon: I think I'd have to trade with Schroeder because I play piano myself. And I compose my own music.
Jeremy: I feel like I'd play Sally because Sally is really a fun character to play. She's very loud and annoying. I actually have that trait too sometimes so that would be a great role for me. [laughs]
Milly: I'd probably be Lucy. I feel the anger.
Joshua: She is a Slytherin. So she does have a little Lucy in her.
---
4. If you could make up a new holiday, what would it be?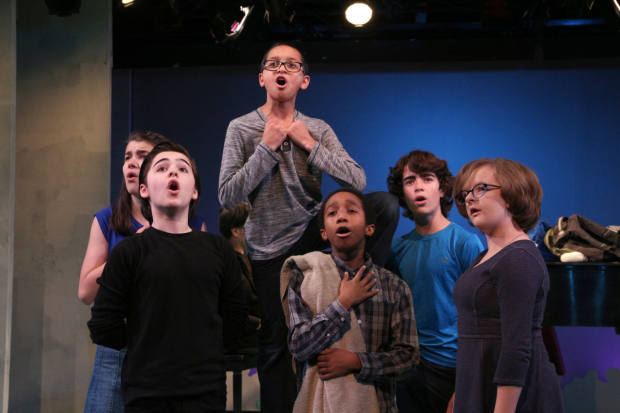 Joshua: Beethoven Day!
Aidan: Yeah, Beethoven Day just like in the show! Or National Snoopy Appreciation Day.
Graydon: America needs Snoopy Day.
Gregory: How about Blanket Day?
Mavis: I think we should have The First Queen of the United States Day — Lucy van Pelt.
Milly: I would probably say Harry Potter Day.
Joshua: Don't they already have one?
Milly: No, they don't.
Jeremy: For me, I don't think there should be a day that's specifically anything. It should just be everyday you should celebrate. Like for example, Valentine's Day, it's just to show love for people. Why don't you just do that every day?