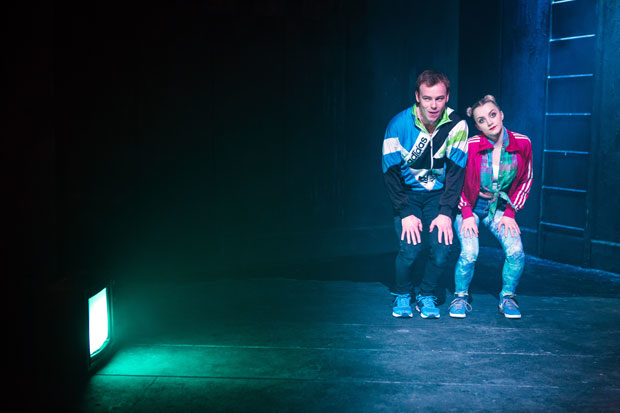 The first time we meet Pig and Runt, they're being expelled from their mothers' birth canals.
Born on the same day at the same time in the same hospital, but not of blood relation, Pig, whose real name is Darren, and Runt, really Sinéad, grew up next door to each other on the same housing estate in County Cork, Ireland. They were BFFs for their entire lives. And then they turned 17.
Pig and Runt are the protagonists of Enda Walsh's 1997 play Disco Pigs, a provocative game-changer that catapulted Irish theater into the present day and quickly made a name for its playwright. It's extremely clear why: Walsh invented his own dialect for Pig and Runt, a garbled patois that mixes Cork with gibberish. His tightly wound script is a hotbed of bottled up emotion ready to burst. And in Pig and Runt, Walsh introduced his country's theatergoing audience to a pair of teenagers whose lives were violently real.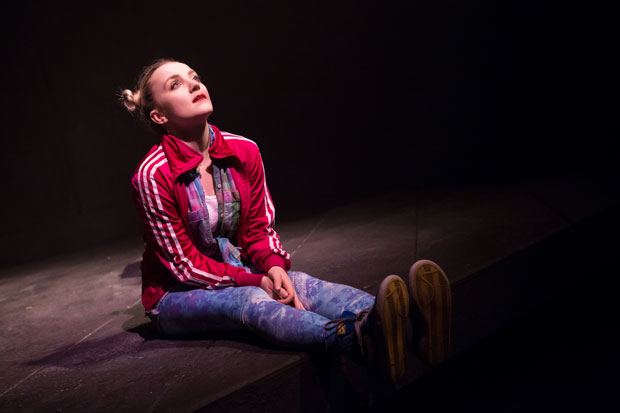 In the two decades that have passed since its premiere, Pig and Runt's self-destructive misadventures have become a bit passé, especially by contemporary American standards. Still, John Haidar's 20th-anniversary revival, first presented by Tara Finney Productions last summer at Trafalgar Studios in London and now at the Irish Repertory Theatre, is an admirable one. Moving at a hundred miles per hour from lights up, it features two actors, Colin Campbell and Evanna Lynch, who are almost supernaturally in sync. Though the piece is very much a product of its time, their performances are thrilling.
With a strong and unbreakable friendship, Pig (Campbell) and Runt (Lynch) never needed anyone but each other. They spend their days by the TV; their nights drunk and dancing, getting off on casual violence in a two-person scheme they invented where Runt tries to pick up guys and Pig plays her jealous boyfriend. But something changes on their 17th birthday, when Pig starts feeling things for Runt that he's never experienced before. By the time dawn rises on their nightlong discotheque hop, their relationship will have splintered beyond repair.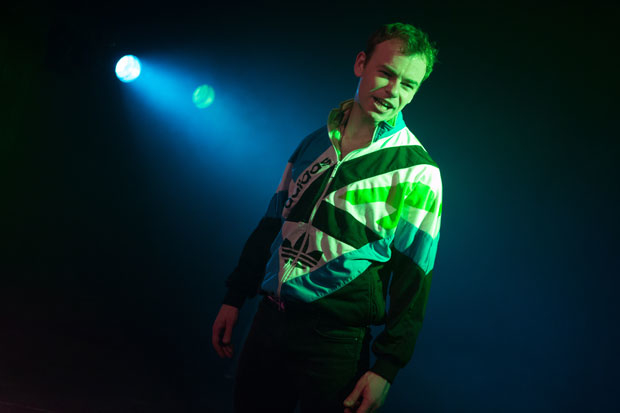 The strength of Haidar's production lies in the performances. Lynch, with her big, expressive eyes, and Campbell, exploding with previously untapped testosterone, are connected on a molecular level. Their performances feed off each other as much as Pig and Runt do, diving into Walsh's frenzied, confusing dialogue as if they've been speaking this impossible-to-understand language their entire lives (we, on the other hand, have a harder time figuring out what they're saying). The rumpled Adidas track suits provided by costume designer Richard Kent (who also designed the barren, almost post-apocalyptic set) and frenetic movement by Naomi Said adds to Pig and Runt's vigorous expressiveness.
In a world accustomed to violence, both real and entertainment-based, the events of Disco Pigs don't seem all that surprising anymore. Like many angry young plays, this work has lost its edginess as it has gotten older, and though Haidar, Campbell, and Lynch go for the jugular, the outcome doesn't feel as consequential as it likely did two decades ago. But as an example of world dramatic literature that rarely gets produced in this country, it's important, worthwhile viewing. That'll do, pig. That'll do.