An Afterschool Study Group Brushes Up on Ambition and Murder in Mac Beth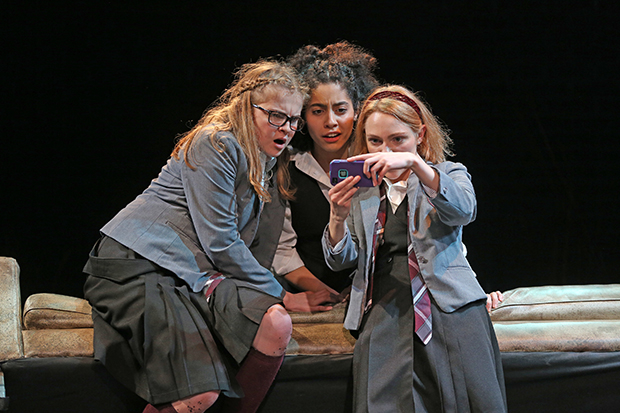 There's a mystical connection between the grisly paranormal and teenage girls. Just look at Bloody Mary or the Slender Man. Is there any doubt that if Abigail Williams of The Crucible were a teenage girl in 2019, she would have some dark fascination with the Momo Challenge? So writer-director Erica Schmidt is onto something when she reimagines Shakespeare's most supernatural tragedy as an afterschool group of private school girls studying Macbeth. The concept brims with potential, not all of which is realized in her new adaptation Mac Beth. It is now making its New York debut with Red Bull Theater at the Lucille Lortel Theatre.
Composed almost entirely of Shakespeare's verse, it places the play within the frame of seven uniformed young women meeting in an abandoned lot to incant the tragedy of Macbeth. They throw their scripts down and reenact the witches (Izabel Mar, Sophie Kelly-Hedrick, and Sharlene Cruz) foretelling the reign of Macbeth (Isabelle Fuhrman), and the reign of the descendants of Banquo (Ayana Workman). Lady Macbeth (Ismenia Mendes) is hell-bent on fulfilling this prophecy, but that requires the murder of the current King — and then anyone who might catch wind of this regicide. As the bodies pile up and Macduff (Lily Santiago) travels to England to meet with the rightful heir to the throne, Macbeth becomes increasingly violent and paranoid.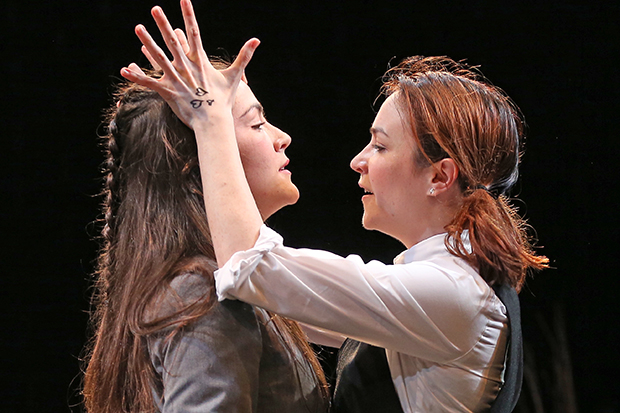 Beyond one shocking artistic liberty at the very end, Mac Beth is essentially just Macbeth, smartly shaved down to 90 minutes and seven actors. That's fine: It's a great play and Schmidt's inventive, seamless staging makes it soar. Her take isn't revolutionary (Shakespeare in the Parking Lot has been staging productions like this for years, and Joe Calarco reimagined Romeo and Juliet for an all-boys private school back in 1997 for the first run of Shakespeare's R & J). But Schmidt's smartly conceived production easily captures the wild DIY magic of the script in the hands of young performers.
Their performances are uniformly committed, even if the verse feels brittle. None of these actors are great Shakespeareans, but they compensate for stilted deliveries with sheer physical passion. This is especially apparent during the "double, double toil and trouble" scene, with the three witches relishing in the gross-out qualities of their foul brew. Mendes's wild eyes and pointed delivery convey Lady Macbeth's ambition to win, and Santiago's grief as Macduff emerges as the most memorable performance of the evening.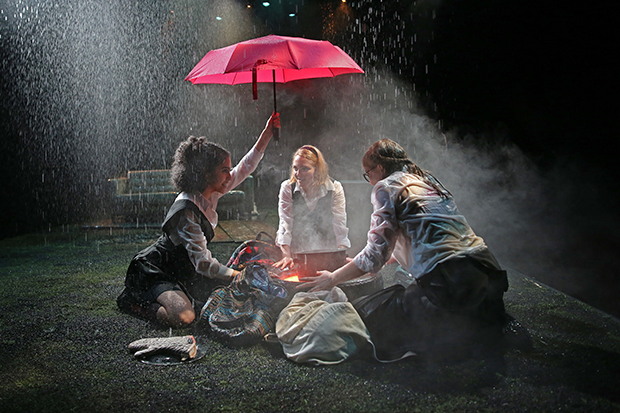 Set designer Catherine Cornell has fashioned an earthy and dynamic playground for the performers. It includes a striking and unexpected scenic effect late in the play. Jeff Croiter's lighting shows the passage of time, as the afternoon light cedes to dusk and then, finally, the witching hour. Jessica Pabst makes good use of the tartan elements of the school uniforms without resorting to outfitting the actors in kilts. Erin Bednarz's sound design strategically plucks our nerves and keeps the hairs on our arms standing at attention.
Mac Beth is powerfully designed and competently performed, but something feels unfinished about the final product, which emphasizes the ability of teenage girls to spin collective myth into deadly reality. In his program note, Akiva Fox diagnoses this as "shared delusional belief," a term that might also be applied to entire political parties and nations (or, this week, to outraged fans of Game of Thrones). Unfortunately, Schmidt's production relegates this distressingly widespread phenomenon to a small circle of teenage women. It's The Crucible before the rest of Salem catches the fever. That makes Mac Beth feel less like a universal tragedy and more like a sensational segment on the six o'clock news, to be viewed with horror and then quickly dismissed as the irrational behavior of youth — or, as some very powerful adults might brand it, "fake news."