A "Class Traitor" Confronts His Past in Returning to Reims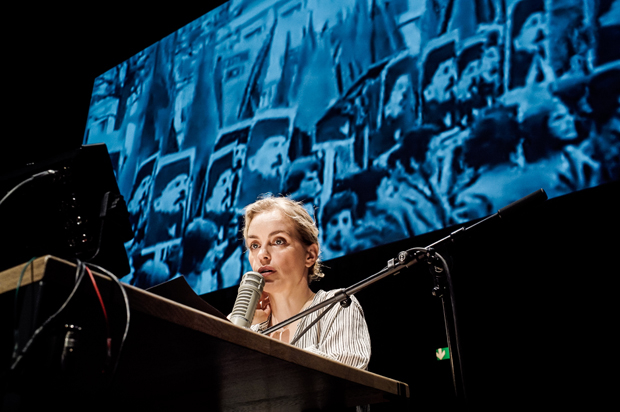 How is it that last century's Communists ended up voting for this century's Fascists? French author Didier Eribon attempts to answer that question by revisiting his own working-class roots in Returning to Reims, his trenchant memoir that has become an exhilarating stage play under the direction of Thomas Ostermeier. This Schaubühne Berlin production is now playing a very limited engagement at Brooklyn's St. Ann's Warehouse, which means that you only have a small window to see the most politically incisive play yet to come out of the Trump era.
Reims is where the French crowned their kings for hundreds of years, but by the time Eribon was born (1953), the industrial town was a stronghold of the proletariat. "Everyone voted for the Communist candidate at every election, ranting about the false left that the socialists represented," Eribon writes, letting us know that his were the kind of people who would call Bernie Sanders a capitalist sellout. Yet now, these very same people support the far-right National Front of Marine Le Pen, who our own president has spoken about in glowing terms. Eribon thoughtfully unpacks this seemingly seismic reversal while recalling his own childhood as the bookish gay son of two factory workers — a son who would eventually abandon his roots for a distinctly elite lifestyle in Paris.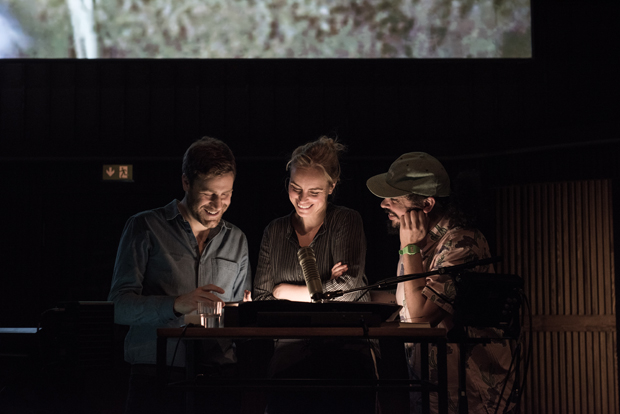 Ostermeier mostly allows Eribon's words to tell the story, presenting large unedited blocks of the book's text. A respected academic who has written the definitive biography of Michel Foucault, Eribon explains how he became increasingly alienated from actual workers as his star rose among France's Leftist intelligentsia. "I was a class traitor," he bluntly states as he considers how different his life of readings and gallery openings had become from the work-and-television existence of his parents.
The stage play frames Eribon's story within a fictional documentary that Paul (Bush Moukarzel) is creating around the book. Toni (Ali Gadema) has offered him time at his recording studio, and he has hired Katy (Nina Hoss) to do the voiceover. As she reads, we watch Paul's documentary on a large screen above the stage. Exceptionally produced by Sébastien Dupouey working in collaboration with Ostermeier, it powerfully illustrates an already evocative text.
You wouldn't think that a play that is mostly someone reading a book into a microphone would be so confrontational, but it often is. When Katy reads a line about how the joy of high culture is mostly in the rush of affirming one's social superiority, an audible shifting can be heard in the audience. Eribon's contention that education is a machine for sorting social classes and legitimizing the disparity through the illusion of merit is even more provocative. Some audience members will have to resist the urge to leap up and shout back at the stage. The accelerating pound of Nils Ostendorf's music matched my own pulse as shots of adrenaline coursed through my veins.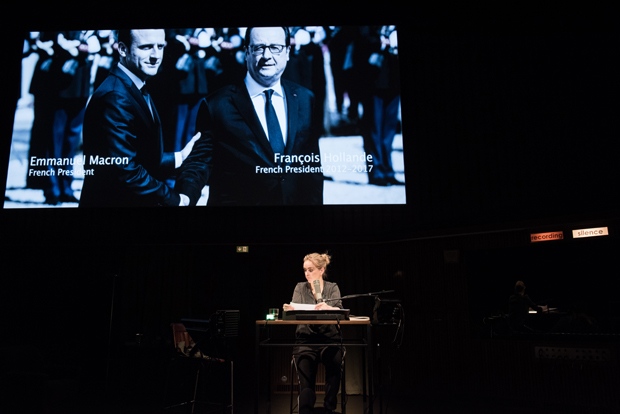 That's certainly not what I expected upon first looking at Nina Wetzel's drab set, the wood paneling and retro furnishings of which have seen better days. We instantly understand that the recording studio was constructed sometime in the three decades following World War II, a time the French call Les Trente Glorieuses. The design forces the audience to wonder if we're all just living in the ruins of a bygone golden age.
The stealthy provocation of Returning to Reims is heightened by Hoss's own subtle witchcraft. Her mellow narration at first seems like standard audiobook voice, but it increasingly starts to feel like she is whispering secrets to us that cannot be said aloud in polite society (sound designer Jochen Jezussek shrewdly engineers the mix of live audio and film). Nevertheless, she reads on with a dry Swabian insistence that only partially masks her emotional investment in the text. We see that clearly when Katy challenges Paul on a cut he has made from Eribon's book because he feels the point is too conspiratorial.
In Paul's well-intentioned act of "editing," the insidious way discourse has been limited in the West comes into full focus: By declaring certain ideas out of bounds for discussion, we actually build a wall around our very small patch of (usually bourgeois) existence and call it civilization, turning everyone who falls outside into barbarians. Eventually, they're going to tear down that wall, perhaps, ironically through someone who keeps talking about building a new one.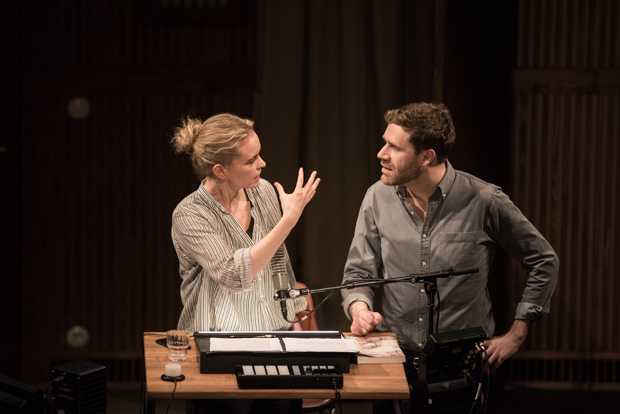 Returning to Reims will keep you thinking long after you leave the theater, resurrecting ideas you previously buried and spawning brand-new ones. It will be frightening, enraging, and absolutely necessary. As we stand here at the end of history, we all need to take a deep breath and realize that we have so much farther to go.