Tootsie Gets a 21st-Century Face-Lift Under a Broadway Spotlight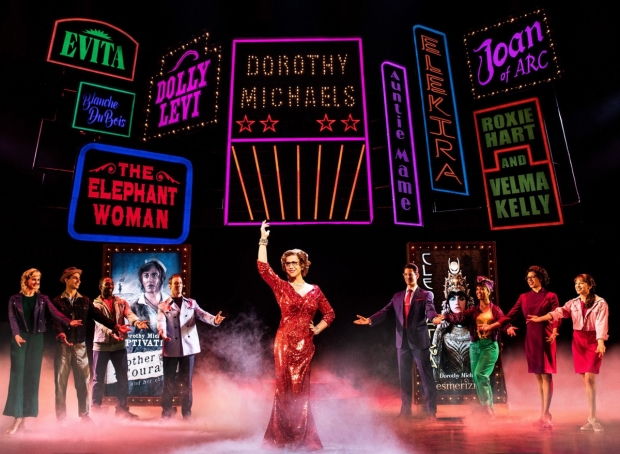 In 2019, a self-righteous straight white man who disguises himself as a woman to steal acting jobs from his female colleagues and then assumes the victimhood of their disenfranchisement is not your best bet for a sympathetic protagonist. All the more reason to tip our hats to Tootsie composer David Yazbek and book writer Robert Horn for renovating the 1982 film with awareness but not timidity, and shaping some of the most precarious material into one of the most hilarious musical comedies of the Broadway season.
The aforementioned self-righteous straight white man is Michael Dorsey, the talented but intractable actor famously played in the film by Dustin Hoffman and now given a Broadway belt by Santino Fontana at the Marquis Theatre. Fontana is dancing in the mouth of a lion with this role, which has the potential to be as alienating as it is theatrical. He certainly makes the theatrical portion look effortless. But we still have to ask ourselves why we should root for a man who, for all intents and purposes, is "all of the problem," as Michael's indolent but astute roommate Jeff says (Andy Grotelueschen does an excellent deadpan as the man with a front row seat to Michael's bad choices).
Fortunately, neither Fontana nor the writers ever require us to root for a suddenly woke man to get everything he wants — a self-possessed costarring performance by Lilli Cooper putting a hard stop to every sign of sanctimonious mansplaining. The production instead asks that we cheer on someone who thinks he knows everything to discover that he actually knows nothing. And where else should this journey unfold but under the bright lights of Broadway where characters are broad and the #MeToo movement is stagnant?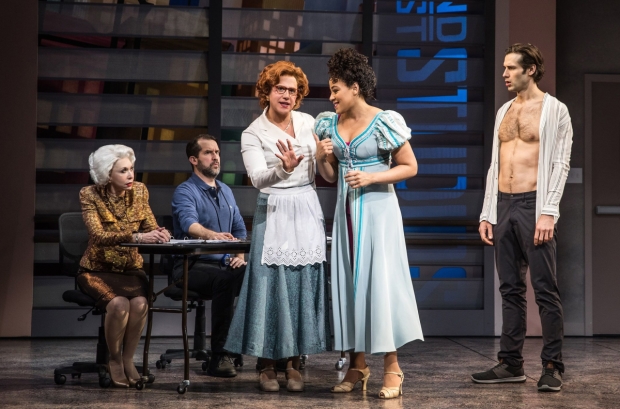 After the unemployable Michael transforms himself into Dorothy Michaels, rather than getting a regular role on a soap opera as he did in 1982, he lands a leading role on Broadway as the Nurse in a Romeo and Juliet musical sequel titled Juliet's Curse (not nearly the worst musical concept Broadway audiences have endured). Dorothy's Juliet is a woman named Julie Nichols (Cooper), a nomadic actor who is as passionate about her craft as Michael is, just without all the entitlement.
She clearly deserves better than the offensive dumpster fire of a production being crafted by director Ron Carlisle (Reg Rogers doing his best version of a predatory auteur), produced by Rita Marshall (the reliably sidesplitting Julie Halston), and starring reality TV celebrity Max Van Horn (John Behlmann giving a surprise standout performance as an airhead hunk with the hots for Dorothy). So to save their careers, Julie and Michael (as Dorothy) hijack the show and somehow turn it into a feminist masterpiece called Juliet's Nurse— all the while forging a deep friendship that, for Michael (and perhaps even for Julie, in a bit of a twist), feels romantic.
Considering the topic at hand, it's worth mentioning that the musical's creative team is overwhelmingly male — music director Andrea Grody and make-up designer Angelina Avallone constitute the entire female contingency. Director Scott Ellis, choreographer Denis Jones, scenic designer David Rockwell, costume designer William Ivey Long, lighting designer Donald Holder, sound designer Brian Ronan, hair and wig designer Paul Huntley, dance arranger David Chase, and orchestrator Simon Hale certainly do justice to the story while crafting a sleek but cheeky production that parodies Broadway musicals in the most loving way. But the fact that a musical about walking a mile in a woman's shoes didn't think to recruit the opinions of women (or employ them) is off-putting, to say the least.
That being said, laughs don't lie, and Tootsie gets regular roars from the audience. It may be the only time I've walked away from a musical remembering more lines from the book than the score. Horn dodges the cheesy low-hanging fruit of typical musical-comedy fare, and lobs his audiences well-crafted joke after well-crafted joke, some landing instantly, and others with a delicious slow burn that reassures you good musical comedy didn't die with The Producers. David Yazbek, meanwhile, delivers a dependable score that spotlights his clever lyrics, though it leaves us without any memorable melodies to rival the ones he gave us just last year in his 2018 Tony-winning music for The Band's Visit.
The only tune audiences will remember on their way out the door is "What's Gonna Happen," a much-reprised patter song sung by the scene-stealing Sarah Stiles as Michael's self-doubting ex-girlfriend Sandy, whom he beat out for the role of the Nurse. For the musical's sake, it would probably be preferable for the lead character to have the unforgettable showstopping number. But after having to digest the fact that a man is a more hirable woman than she is, Sandy deserves that victory.