Tony-Nominated Set Designer Beowulf Boritt Returns to the Seine of the Crime
"I knew at my interview with Evan Cabnet that this show needed a river flowing across the stage," says designer Beowulf Boritt about his set for Thérèse Raquin, Helen Edmundson's adaptation of Émile Zola's novel about an unhappy French woman whose adulterous affair results in the murder of her husband. Hollywood actress Keira Knightley made her Broadway debut in the title role, a part that required her to climb into a replica of the Seine River eight times a week while wearing a heavy 19th-century dress. Boritt created the river, which occupied the upstage quadrant of Studio 54.
"Any out-there idea like that gets my juices going," admits Boritt, who won a 2014 Tony for his giant rotating set for Act One. "Water creates incredible challenges, but it was the right idea and the right image for the show." Indeed, Zola (the father of literary naturalism) spent a lot of words describing the power of water in his novel. The Seine, in which Thérèse and her lover drown her husband, is practically a main character.
The set was struck back in January. Here, Boritt walks us through the highlights of his design with these original photos. He also discusses some of the acrobatic stunts required to get his set to look just right: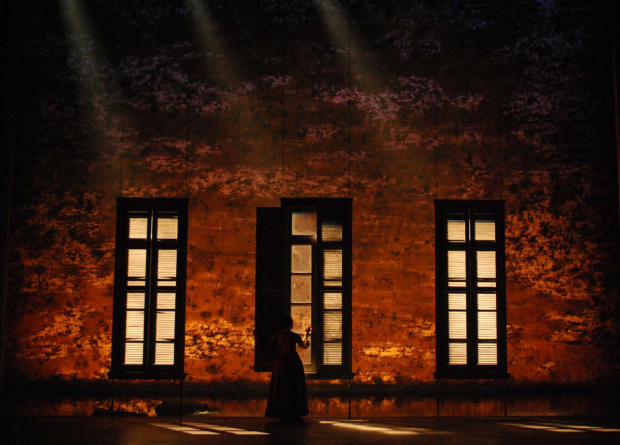 The play begins in the French countryside where Thérèse lives with her aunt and cousin, Camille, who will eventually become her husband.
Beowulf Boritt: The backdrop was a giant piece of canvas fifty feet wide and forty feet tall. We painted it with stucco so when you lit it from the front it looks like a concrete wall. From behind, you get this beautiful sunset effect. Anything we did was reflected in the water. Getting a piece of canvas that big to be flat is next to impossible, so all through tech there were these horrible wrinkles. We finally found that if you take a Hudson sprayer and fill it with hot water you can get the canvas to be flat. Of course, the backdrop was behind a pool of water, so we couldn't use ladders to get at the upper part. Eventually, we got a chain motor that you use to lift scenery. We hooked my assistant, Alexis Distler, onto it and they flew her up in the air with a sprayer. She spent a couple of days up there just hanging around and spraying down the canvas.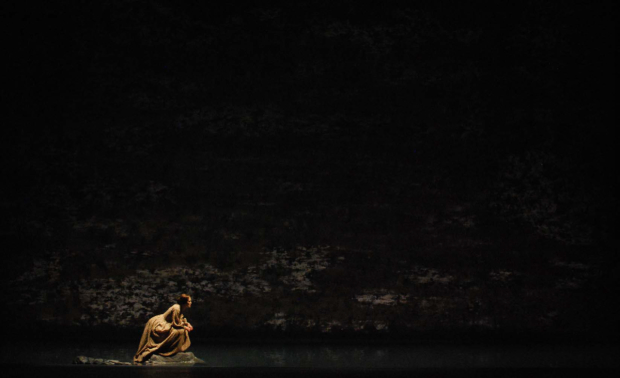 This was one of my favorite looks. We wanted her to go into the water and get totally soaked, but the play moves so fast there would have been no time for a costume change. We settled on some rocks in the river.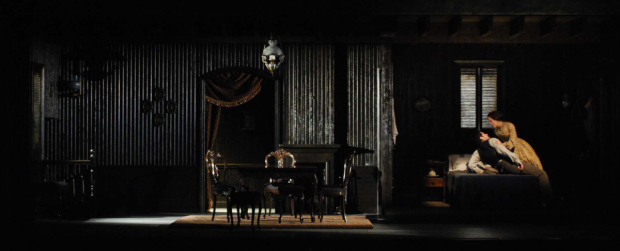 That moment is her being put in a box or locked in a coffin. Zola writes in the novel about the apartment being dank and wet. It's right off the Seine. It's musty. I wanted a wooden interior that never really dried out. It's always shiny and gross.
We wanted this scene to be this magical fairytale thing where they escape reality for a few minutes. It's that moment when you're newly in love with someone and everything seems like a good idea. The room is basically a pendulum hanging high above the stage. The first day the actors were there, we flew it up in the air just to show they weren't going to die. So I started jumping around on the bed to show that it was safe. Suddenly, I heard this little British voice from out in the house say, "Oh, is that supposed to be me having sex?" It was Keira Knightly.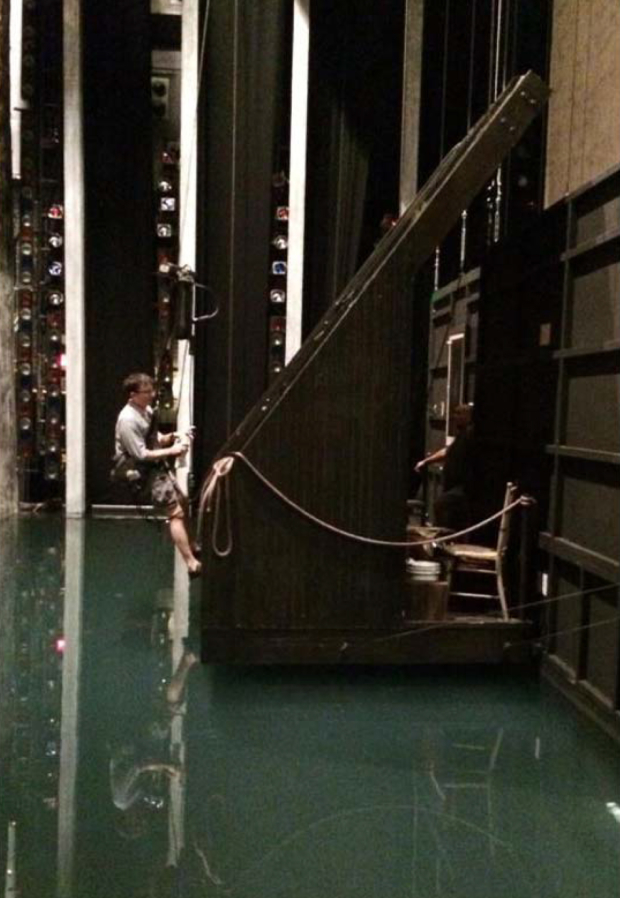 Because the room was entirely over the water, it was tricky to do any notes on it. I was trying to play with the paint treatment on the glass and there was no way to get at it. In the end, they tied me onto the chain motor and flew me in the air and I spent a morning hanging off the back of the room with a paintbrush.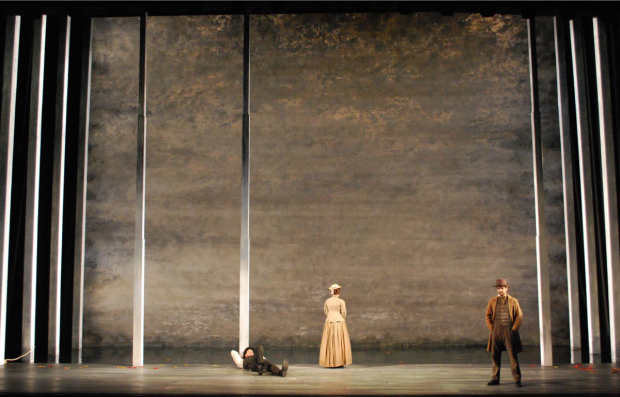 This is our dark version of Sunday in the Park With George. As the apartment flew out, the trees were telescoping in. They were forty feet tall and had to contract down to ten feet. Hudson Scenic built those. Making forty-foot-long telescopes that look like they're made of wood is not an easy thing to do, but they did it.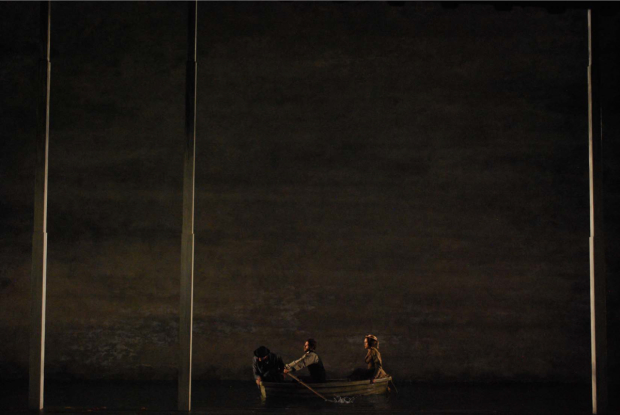 We had to find the smallest boat. My props supervisor, Buist Bickley, got this little fiberglass dingy. He and our fight director, J. David Brimmer, took it out to a state park in Pennsylvania to do fight rehearsals.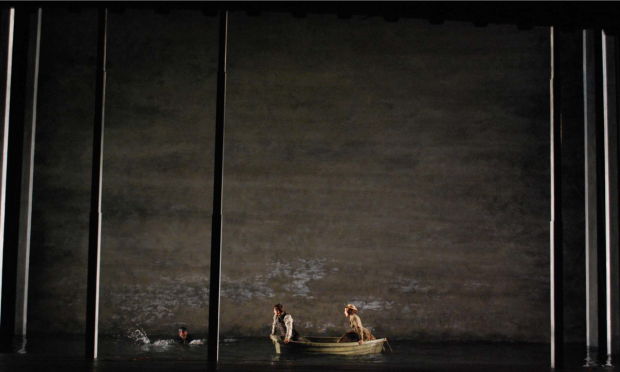 There were a couple of steel cables attached to keep the boat from drifting into the wings when they started fighting.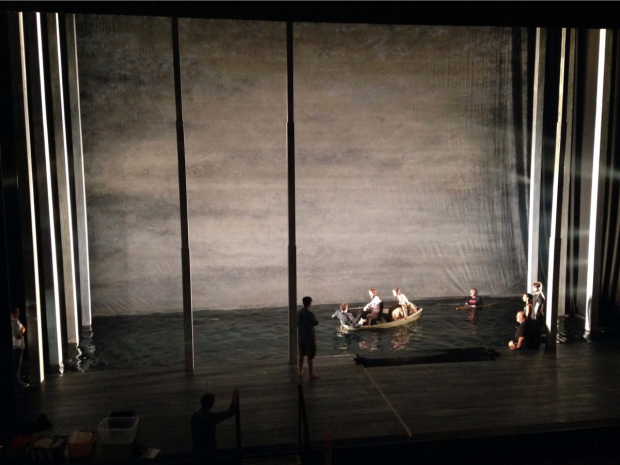 We spent a whole day getting the first act finale right. Brimmer choreographed it with some fight walkers and then showed the actors. We put them in in street clothes first and then costumes. Keira has this huge dress. They came out looking like drowned rats each time, but they were down for anything.