Theater Postponements and Cancellations
The New York City theater community has responded to directives from the New York state and national governments regarding the outbreak of COVID-19, with news about closures and postponements for their productions. We have compiled a list below and will update as additional theaters announce schedule changes.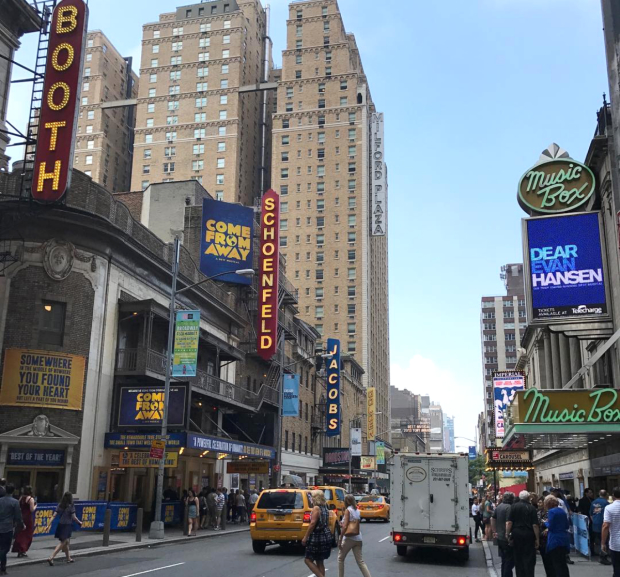 — At this time, all Broadway theaters are closed until April 13.
— The Broadway League has canceled the 2020 Jimmy Awards, the National High School Musical Theatre Awards, "out of respect for the health and safety of the many students, families, theater professionals, and fans who attend and participate in this national program each year."
— All public performances of shows at La MaMa are suspended as of Friday, March 13. La MaMa and CultureHub have additionally closed this weekend's interactive exhibition, Re-Fest, and instead the event will be live-streamed all weekend.
— Carnegie Hall announced that it will be closed for all public events and programming through May 10.
— Irish Arts Center is suspending all programming and classes through the end of March.
— Producers of Beyond Babel have suspended performances from March 13-April 6. The production is currently scheduled to resume performances on Tuesday, April 7 and will now run through Saturday, May 30. The production will go on hiatus immediately following the 8pm performance on Thursday, March 12.
— Amas Musical Theatre's Romeo & Bernadette: A Musical Tale of Verona and Brooklyn, scheduled to begin performances at Theatre Row on March 17, has been postponed indefinitely.
— The Metropolitan Opera has canceled all performances through March 31, effective immediately.
— Clubbed Thumb's production of Tumacho will play its final performance on Thursday, March 12, and will cancel the remaining performances.
— Lincoln Center Theater has suspended performances of the new musical Flying Over Sunset in the Vivian Beaumont Theater, as well as its production of the new opera Intimate Apparel in the Mitzi E. Newhouse Theater, effective immediately. Performances of both productions will resume the week of April 13. The Lincoln Center Theater/LCT3 production of The Headlands at the Claire Tow Theater concluded its run with its Wednesday, March 11 performance.
— 59E59 Theaters has suspended all public programming effective immediately. The building will shut down at 5 pm on Thursday, March 12. 59E59 Theaters plans to resume performances on April 1.
— All Ars Nova programming is suspended for the next 30 days. This includes all remaining performances of the initial run of Heather Christian's No show with id 333650 exists!, as well as on-site staff activity at both the Ars Nova Hub and Ars Nova at Greenwich House. The company hopes to resume performances in mid-April — including a rescheduling of Oratorio for Living Things — pending the status of COVID-19.
— Soho Rep. is postponing its New York premiere of Hansol Jung's Wolf Play, originally scheduled to run from March 17-April 19. Performances will be moved to a later date TBA.
— Playwrights Horizons is canceling all remaining performances of Daniel Goldstein and Michael Friedman's Unknown Soldier, effective immediately. Performances were originally scheduled to run through March 29.
— New York City Center has announced that performances of Encores! Love Life, Front & Center, Studio 5, and Flamenco Festival 20/20 are canceled.
— All shows and events at the Public Theater are canceled from March 12-April 12.
— New York Theatre Workshop will be suspending all public programming for 31 days, effective immediately. The company hopes to be able to resume activities in mid-April. Affected productions include Endlings, Sanctuary City, and Next Door at NYTW.
— HERE is suspending programming as of March 12. The company will close its theaters and offices through March 31, effective immediately.
— Theatre Row will be closed to the public through April 1, and Keen Company's production of Blues for an Alabama Sky will end its run effective immediately.
— The Shed is suspending its exhibitions and performances effective Thursday, March 12, at 6pm through March 30. Agnes Denes: Absolutes and Intermediates, originally scheduled to be on view through March 22, is now closed, and performances of Help through March 30 are canceled.
— Theatre For a New Audience (TFANA) has canceled all remaining performances of Gnit, originally scheduled through March 29.
— New World Stages productions have suspended performances through Sunday, April 12.
— Ensemble Studio Theatre will postpone all of its programming, including its production of Redwood, effective immediately, until further notice.
— The Acting Company has postponed its March 23 reading of Arthur Miller's A View From the Bridge , starring Bobby Cannavale and Rose Byrne, until further notice.
— The Sheen Center has suspended all programming through the end of March. The building will be closed to the public as of 5pm on Friday, March 13.
— The Vineyard Theatre has announced that starting Friday, March 13 all performances of Dana H. will be suspended through March 31. The theater will play to 50% capacity from April 1-12. This is in accordance with guidelines from the CDC and state and local health officials' executive orders. The production will extend to April 19 in order to accommodate patrons who want to see the production or must reschedule.
— Performances of Transport Group's The Unsinkable Molly Brown at Abrons Arts Center are postponed until further notice.
— New 42, which operates the 499-seat off-Broadway New Victory Theater on 42nd Street, has announced that the remainder of its 2019-20 season has been canceled effective March 13 through June 14.
— WP Theater has suspended programming as of March 12. The company's administrative office will be closed through April 12, and the biennial Pipeline Festival performances are canceled, effective immediately.
— Rattlestick Playwrights Theater has suspended performances of The Siblings Play after after the Saturday, March 14 performance until further notice.
— Chamber Magic has suspended performances until further notice.
— Playwrights Realm is canceling the April New York premiere of Noah Diaz's Richard & Jane & Dick & Sally.
— St. Ann's Warehouse and Good Chance are postponing the return of The Jungle to New York, which was slated to begin on April 1.
— The McKittrick Hotel, which houses the shows Sleep No More, The Woman in Black, Speakeasy Magick, and the rooftop Lodge at Gallow Green, will close for a period of 30 days through April 12.
— Brooklyn Academy of Music (BAM) will immediately suspend live programming through Sunday, March 29.
— Feinstein's/54 Below has canceled all activities until April 8 at this point. Artists are being rescheduled and ticket information is on the website for refunds.
— MCC has announced changes to its season programming. The New York premiere of All The Natalie Portmans played its final performance on Thursday, March 12. The world premiere of Nollywood Dreams will be rescheduled for a later date in the 2019-20 season, with new dates to be announced. Miscast 20, the 20th annual MCC Theater gala, previously scheduled for Monday, April 6, will now be held on Monday, June 15, at the Hammerstein Ballroom at the Manhattan Center.
— The Flea Theater has decided to cancel all Flea performances through April 2, effective following Friday, March 13, performances.
— Abingdon Theatre Company is postponing all programming until further notice.
— Irish Repertory Theatre has announced that all future performances of Lady G: Plays and Whisperings of Lady Gregory and Incantata are canceled. The upcoming productions of A Touch of the Poet and The Smuggler will be postponed. Gregory Harrington and Friends has been canceled.
— All public performances and shows at The Tank are suspended as of Friday, March 13, until April 12. I Am Nobody performed on March 12 and is on hiatus until further notice. The upcoming production of I Was Unbecoming Then has been postponed until the 2020-21 season.
— The Play Company's production of Sarah Einspanier's Lunch Bunch had been scheduled to start performances the week of March 15. PlayCo is canceling performances from March 18-31. Previews are now scheduled to begin April 1, and PlayCo is adding performances from April 21-26.
— Café Carlyle has announced that all performances from March 24-May 2 have been canceled.
—59E59 Theaters has postponed performances of Melissa Bubnic's Boys Will Be Boys, which was scheduled to start performances March 26.
— Classic Stage Company has postponed its upcoming production of Assassins, which had been set to begin performances on April 2. The company says they intend to resume rehearsals and present the show in the coming months.
— Baryshnikov Arts Center has canceled all of its performances through April, including the US premiere of SOS (The Song of Songs) on March 25-26. The theater aims to reschedule that presentation for a later date.
— Ars Nova has canceled the rest of its season, including the world premiere of Heather Christian's Oratorio for Living Things.
— McCarter Theatre Center has canceled all performances through June 30, including the full run of Nathan Alan Davis's The Refuge Plays, which was set to run May 8-June 7.
— Lincoln Center Theater will reopen Flying Over Sunset and Intimate Apparel: The Opera in the fall.
— Josh Groban's Great Big Radio City Show, scheduled to take place at Radio City Music Hall on Saturday, April 18, has been postponed to Monday, October 5. Tickets for the April 18 show will be valid for the performance on October 5.
— Roundabout Theatre Company has announced the following schedule changes: The Broadway productions of Caroline, or Change, starring Sharon D Clarke, and Birthday Candles, starring Debra Messing, will now open in Fall 2020. The off-Broadway productions of Exception to the Rule (Roundabout Underground) and …what the end will be will open in 2021.
— 59E59 Theaters has canceled its 2020 Brits Off Broadway festival, originally scheduled to begin on April 14.
— Manhattan Theatre Club has canceled its productions of Qui Nguyen's Poor Yella Rednecks and Emily Feldman's The Best We Could (a family tragedy). Both plays were set to begin performances in May.
— Manhattan Theatre Club has postponed the Broadway premiere of How I Learned to Drive. MTC is finalizing plans to mount the production in the upcoming 2020-21 season.
— The American Theatre Wing has announced the postponement of the 65th Annual Obie Awards, which will be held on a date sometime in the future and reconceived as a virtual event.
— New York Stage and Film and Vassar College will postpone their 2020 season to 2021, though it will continue to serve artists throughout the course of the year.
— Cat on a Hot Tin Roof, directed by Austin Pendleton and Peter Bloch, has been postponed till January 2021, when it will take place at the Wild project and star Matt de Rogatis as Brick. Additional details will be announced in the coming months. Pendleton and Bloch previously worked with de Rogatis on Wars of the Roses: Henry VI & Richard III and The Glass Menagerie.
— Theatre By The Sea, located in Wakefield, Rhode Island, has postponed its 2020 summer season until 2021.