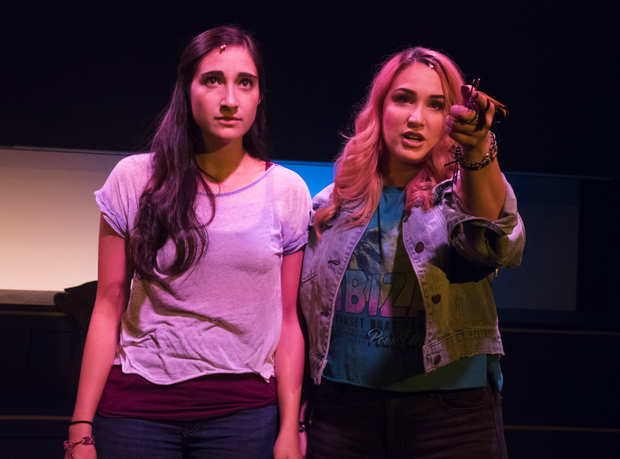 Motor vehicle accidents claimed 40,200 lives in the U.S. last year, according to the National Safety Council. For all the time we spend fretting about terrorism and nuclear war, we feel precious little angst about one of the ways we are likeliest to die. That may change for you after seeing Kait Kerrigan and Brian Lowdermilk's The Mad Ones, now making its New York debut with Prospect Theater Company at 59E59. It would certainly be the most useful takeaway from this musical cliché.
Originally titled The Unauthorized Autobiography of Samantha Brown, The Mad Ones has been in gestation for the entirety of the composers' collaboration, which perhaps accounts for our sense of watching several book musicals that have been copied and pasted together (Kerrigan and Lowdermilk are credited equally with book, music, and lyrics).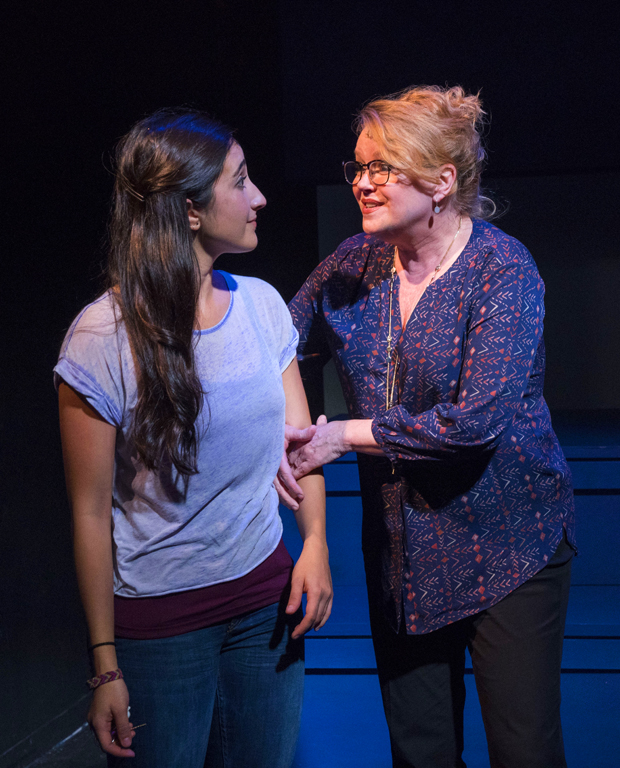 Most immediately, The Mad Ones is about high school valedictorian Samantha Brown (Krystina Alabado) and her best friend, Kelly (Emma Hunton), who died just before graduation when she was hit by a speeding automobile. That's not really a spoiler considering Kelly tells us as much about 20 minutes into the show (and by then we've already guessed). Could it be the four pair of headlights embedded in the set? That would seem like an unsubtle choice in any other show but this one, which is unrelentingly on the nose.
Mostly told through flashbacks, the story is also about Sam's relationship with her overbearing mother, Beverly (Leah Hocking), a statistician who has written a book about road accidents. She has endowed her daughter with a deep fear of driving and a belief that mistakes have life-threatening consequences. She hopes that fear will rocket her daughter straight to Harvard University. Kelly, on the other hand, wanted Sam to get her driver's license and go to a state school with her.
Hunton plays Kelly with a devil-may-care smile that costume designer Jessica Pabst accentuates with a crop top and jean jacket featuring sequined angel wings sewn on the back (get it? Because she's dead). Kelly is the kind of girl who eats Arby's like no one is watching and shouts "Yaas, Queen," even when there's nary a homosexual to be found. When she does her little Spice Girls robot dance (the most memorable part of Alexandra Beller's choreography), we can see the stiffness in Samantha's shoulders melt away — which is why mom sees her as a threat.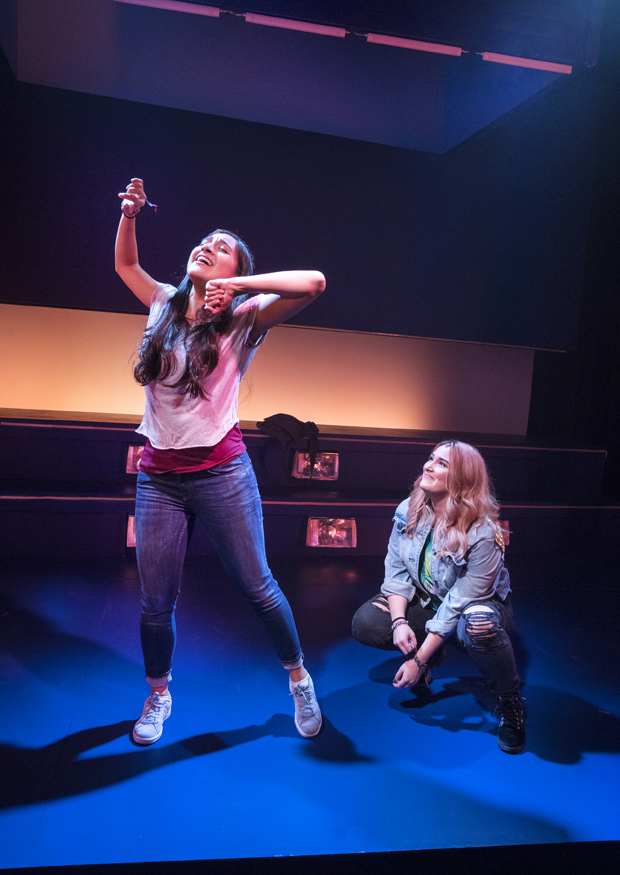 Unfortunately, Alabado and Hunton regularly fall into the musical-theater trap of not knowing what to do with their hands, slapping their thighs and shrugging every other line. Only Hocking seems to intuitively get the overwrought emotion of the piece: "Sam, you have to eat cookies / while I'm still alive / to make you cookies," she sings with operatic intensity, her arms solidly extended after chucking a tray of baked goods stage left.
Jay Armstrong Johnson (stepping in for Ben Fankhauser, who is on vocal rest until December 5) capably plays Sam's dumb boyfriend, Adam, the final plot point and least important character in the show. In his big number, "Run Away With Me," he tries to convince Sam to do just that by comparing them to Romeo and Juliet. She looks away in embarrassment, and we understand immediately: She read the play and he didn't.
Kerrigan and Lowdermilk set their confused story to a generic musical theater score. The one standout song is the title number, which Lowdermilk (who did orchestrations) reinforces with a throbbing beat as Kelly and Sam consider going on a spontaneous road trip à la Jack Kerouac (from whom the title is borrowed). As they sing in their lower registers about driving away together, we cannot help but notice that it sounds an awful lot like the dance remix of Tracy Chapman's "Fast Car."
Director Stephen Brackett's staging is efficient, aided by the simple steps that constitute the largest part of Adam Rigg's set. Strangely, that set also features a small room hovering above the stage like Dorothy's house; it is never inhabited or acknowledged. David Lander illuminates Sam's memories in dreamy washes, flashing L.E.D.s, and (of course) those fateful headlights.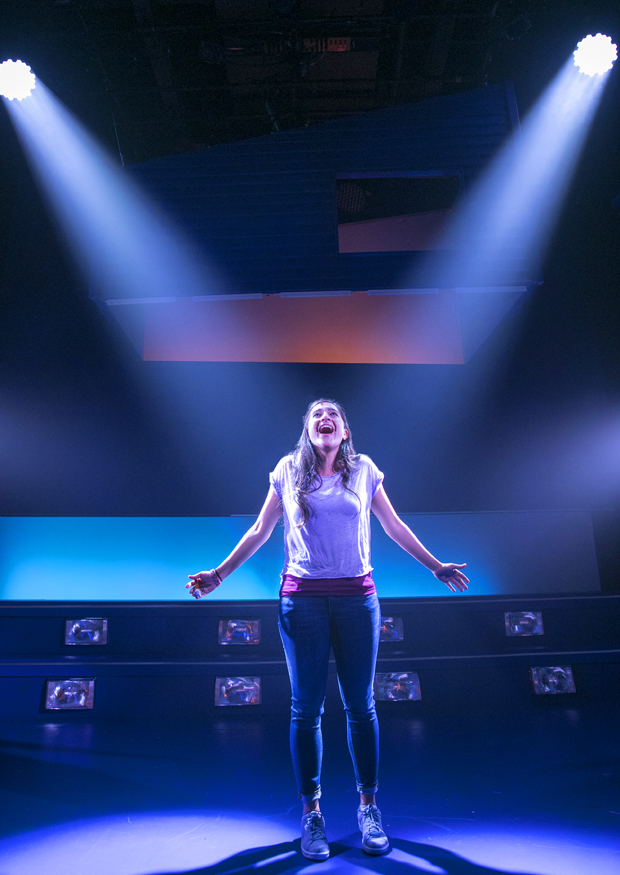 After sitting through 100 minutes of muddled plotlines and passionate wailing, it is hard not to see The Mad Ones as a musical tribute to YOLO: We learn that, when your friend gets run over, you've just got to get right back behind the wheel; and never look in the rear view mirror unless there's a poignant life lesson tailing you. The Mad Ones is full of such metaphors, but if you want to see a great musical, I suggest you hit the road, Jack.