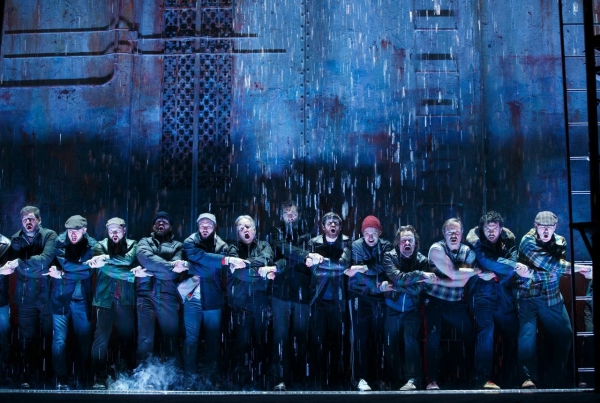 Here are three names you never expected to see in the same sentence: Richard Rodgers, Oscar Hammerstein II, Sting. What does the 16-time Grammy-winning singer-songwriter have to do with the men responsible for integrating plot and songs onstage for the first time? On the surface, nothing. However, Sting has a great deal of affection for the work of the esteemed songwriting duo, a feeling very evident throughout his Broadway songwriting debut, The Last Ship.
All of the qualities of the great shows of Rodgers and Hammerstein are there: sweeping melodies with evocative lyrics; a sensitive book (by John Logan and Brian Yorkey) that proudly owns its overwhelming sentimentality; even a tough-talking but lovable elder figure who sets the course of action on its way. But The Last Ship, directed by Joe Mantello at the Neil Simon Theatre, is hardly a reverent tribute to the creators of Carousel. Sting and Logan expand upon what Rodgers and Hammerstein created to paint a soul-stirring portrait of a bygone generation of men whose contributions to society are far too often overlooked.
Sting's experiences as a youth in the Northern England shipbuilding community of Wallsend loosely inspired the plot, of which there are two narrative threads. The first follows Gideon Fletcher (Michael Esper), who leaves behind his home and his girlfriend, Meg (Rachel Tucker), to sail the world so as not to follow in his father's shipyard footsteps. A decade and a half later, Gideon returns after his father's death to pick up the pieces. An attempt to reconnect with his lost love goes awry when she introduces him to both her 15-year-old-son, Tom (Collin Kelly-Sordelet), and her long-term partner Arthur Millburn (Aaron Lazar), who gave up the workman life for a more lucrative one as a lackey for the yard's new owners.
The second strand involves the actual workers, who find themselves out in the cold when the new leadership summarily shuts the shipyard down. Resistant to the offer of alternate employment, foreman Jackie White (Jimmy Nail) and his colleagues take matters into their own hands. With the guidance (as well as financial support) of Father O'Brien (Fred Applegate), the men rally to take back their work and build one last ship, if only so they can have some closure.
You're not wrong if this plot reminds you of The Full Monty or Kinky Boots, but unlike those shows, The Last Ship doesn't traffic in stereotypically comedic working-class characterizations. This is an affectionate, respectful representation of the men who toiled their hard-earned hours away to feed their families, only to have their livelihoods ripped out from under them. Logan and Yorkey's book deftly weaves both strands of plot together, and while you can't help but wish there were fewer clichés and more character development, his figures receive full-blooded portrayals that make up for textual shortcomings.
With deep-set eyes, Nail is an imposing, evocative presence as a man who grasps his one last opportunity to do what he loves before it gets lost to the ages. As the profane preacher who encourages the men to climb every mountain (as it were), the incomparable Applegate is simultaneously hilarious and heartbreaking. Esper and Tucker make for sympathetic, highly relatable leads, whose inherent likability and inner conflict spill onto the surface in a thrilling fashion you'd find only in a musical.
Sting himself makes a more than credible Broadway debut as songwriter with his story-driven tunes impressively fitting the theatrical mold (even the older ones he sneaks into the show — "Island of Souls," "All This Time," and "When We Dance" — feel like they could have been specifically written for this). Perhaps there are a few too many ballads, but it's hard to find any fault in an upbeat character song like "Show Some Respect" (performed in the second act by the steel-piped British actress Sally Ann Triplett as Jackie's wife, Peggy). Other notables are the wistful "What Say You, Meg?" (given to Lazar, who deserves more from his character than stock villain qualities) and the magnificent "The Night the Pugilist Learned How to Dance" (a duet between Esper and Kelly-Sordelet, who sweetly captures the vivacity of youth). Rob Mathes provides fascinating fiddle-and-flute-heavy orchestrations alongside breathtaking choral arrangements.
In casting the ensemble, Mantello clearly went for grittiness, which would account for nearly two dozen men and women with unconventional looks and body types that don't resemble your typical Broadway triple threats. Performing Steven Hoggett's herky-jerky choreography, which emphasizes stylized movement over dance, in blue-collar costumes by David Zinn, this chorus looks like they've just sailed into New York City themselves, a turn of startling realism from a genre that so heavily relies on glamour.
Zinn's scenery is similarly devoid of glamour, but that's in keeping with the scrappy nature of where the show is set. Extending far into the audience, Zinn's multilevel industrial sculpture perfectly captures the musical's darker tone, which Mantello introduces through Christopher Akerlind's deep-blue-sea-colored lighting. All of these design elements, including Brian Ronan's sound, come together as particularly awe-inspiring buttons for each act. Yet in Mantello's steady hands, the bigger moments never obscure the smaller, more emotional ones. This transparent honesty is part of the reason why The Last Ship will sail on in your memory long after you leave the theater.