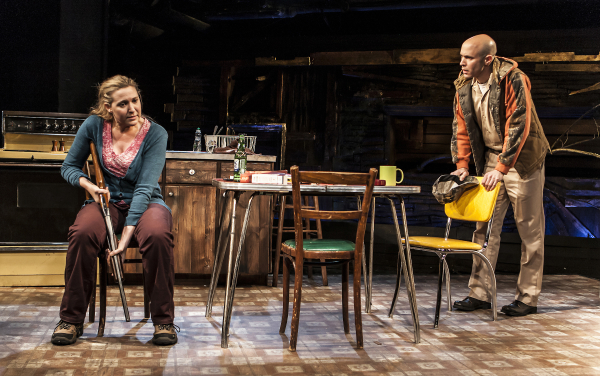 A woman takes the stage of the Bank Street Theater clutching a large semiautomatic shotgun in the opening moments of Lucy Thurber's The Insurgents, now receiving its world premiere from Labyrinth Theater Company. It's obviously a stage prop, and she's just here to tell us that as something of a live-action trigger warning. Like most such warnings, its inclusion seems fear-based and unincorporated into the larger piece. While this could have been a prime opportunity to pull us into the world of the play with a bang, it ends up feeling more like the first shot in a series of strange misfires aiming for something incredibly profound.
Thurber is the author of the monumental Hill Town Plays. No playwright has a better handle on the decay of small-town America and the anxiety of the rural working class. Unfortunately, this worthy theme is somewhat undermined here by Jackson Gay's bold but ineffective direction and Thurber's own unfinished-feeling script.
Sally Wright (Cassie Beck) won an athletic scholarship to an elite university. Yet when she was sidelined by an injury, the scholarship was rescinded, sending her back to the small New Hampshire town where she grew up. Her brother, Jimmy (Aaron Roman Weiner), and father, Peter (Dan Butler), think it's time for her to take a job and start chipping in. But Sally is still lost in her studies, specifically about various American insurgents: John Brown (Butler), Nat Turner (Craig "muMs" Grant), Harriet Tubman (April Matthis, in a performance simultaneously spectral and earthy), and Timothy McVeigh (Weiner).
One of these terrorists is not like the others: While the former three see injustice in terms of race, McVeigh thinks it's all about money. He asks, "In this post industrial society what is the real difference any more between the poor white and the poor person of color?" While Weiner gives a convincing and sympathetic voice to McVeigh (an impressive feat when portraying a mass murderer), the other insurgents shake their heads in skepticism. Yet all four of them agree that violence is a necessary means to rectify state-sanctioned injustice. Arguably, such antigovernment sentiment has only become more widespread since 1995 (the year McVeigh committed a horrific attack on the federal building in Oklahoma City), especially among working-class whites.
"The face of America is changing," Peter says during a heated argument with Sally. "They want to make me disappear. They want to take my jobs, my land, hell your college education. I mean you think if you'd been a little black girl they would have kicked you out school like that?" Butler's delivery is eerily authentic and heartfelt. When you see his rusting kitchen (smart scenic design by Raul Abrego) and cheap Wal-Mart clothes (costumes by Jessica Ford), you can't really blame him for feeling disenfranchised. Still, Sally thinks he's got the wrong culprit. She's haunted by the memory of her kindly coach (Matthis) and Jonathon (Grant, bringing specificity to a role that feels underwritten), her wise and compassionate former employer. Both were African-Americans. She wants Jonathon to know that her folks aren't bad people, and she wants her dad to know that black people and immigrants are not to blame for his ever-increasing poverty.
Thurber is telling the story of poor Americans of all tribes at each other's throats while the exploitative status quo persists. Yet when someone tries to destroy that system, we call them terrorists. By the end of the play, Sally is waving around her Beretta and raving, "I just want justice and there's no justice — there's no justice." She's right, but it's hard to sympathize when she's pointing a gun at our heads.
Thurber and Gay attempt to abruptly close up this can of worms with a sing-along of Creedence Clearwater Revival's "Long as I Can See the Light." It feels forced, like "Kumbaya" in the middle of a hostage situation. The actors look shiftily from side to side as they lead us in song. Some audience members politely (but quietly) sing too, referencing the lyrics planted in our programs. Others seem confused or unwilling to join these gun-toting fanatics in song. It's extremely awkward.
This is unfortunate, because Thurber's story is a vital one that's not told enough in the halls of our nation's cultural institutions. It's easy to dismiss Peter's rant as the product of ignorance and racism, far harder to confront the systemic injustices that have led him to this politically incorrect opinion. Thurber is bravely attempting to do the latter, but it seems likely that her audience will mostly do the former, shrugging at Peter's racism and thinking it has nothing to do with them. A play with sharper language and clearer direction wouldn't allow us off the hook so easily.